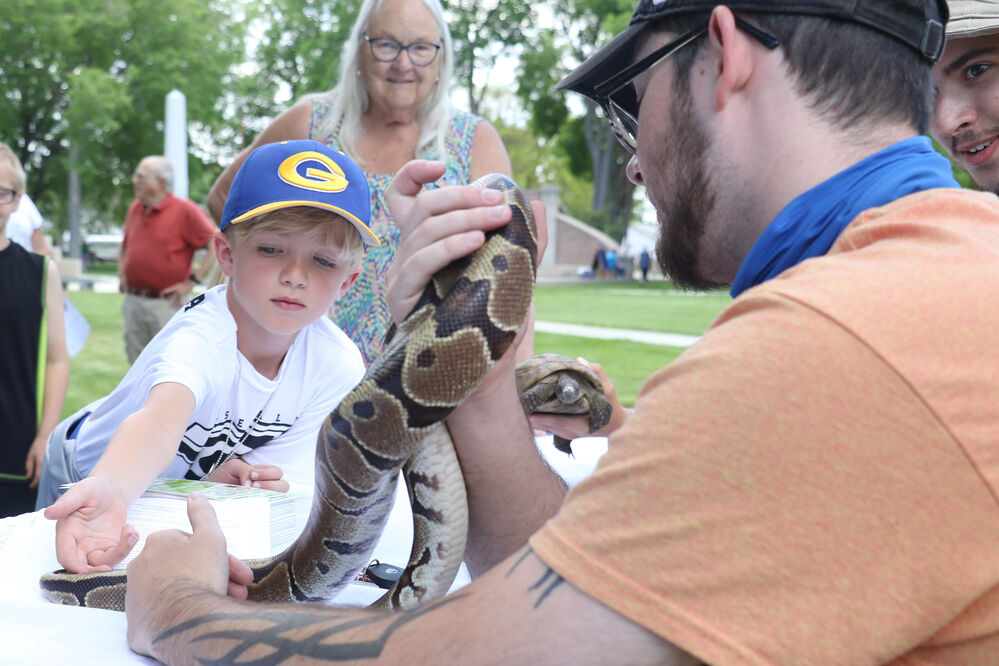 Children ran around Legion Park with blue tongues and bags of goodies Wednesday afternoon.
The Gering Library's summer reading sign up event went off without a hitch, and families were enjoying making crafts, hitching horse rides and eating snow cones as they lined up to register for summer reading.
"(It was) way better than I even expected, as far as the numbers of people that have come out," youth librarian Christie Clarke said. "It seemed like everything had gone off really well."
Clarke has been working on putting this event together for a while, and she was excited to finally see it come to fruition, although Tuesday's weather made her slightly nervous.
"Every single day I checked the weather report like many, many times a day. That was my biggest fear that we were going to get rained out," she said. "I was worried that it was going to be a huge thunderstorm and swamp this out."
Instead, the day couldn't have been better. The sun was shining, there was hardly a cloud in the sky and families and friends were able to meet up in person, some for the first time since the last in person storytime in October.
"I think it's really one of the first chances that people, with families especially, have to get out and to do something, instead of being inside their house," Clarke said. "There (were) a lot of storytime moms and parents here, and I saw them greeting each other. They haven't seen each other in a while; their kids haven't seen each other."
The Tails and Tales summer reading kickoff event took over the entire park from 1 to 3 p.m., with special activity tables from various community partners, including Panhandle Humane Society, Skippers Cupboard, the Bird Conservatory of the Rockies and Riverside Discovery Center.
RDC brought Karl the tortoise and Alberta the boa constrictor for children and adults to pet — some were braver than others.
"Ewww! Slimy!" grade schooler Vincent Jording exclaimed when he touched Alberta, who has been at the zoo with her partner Albert for 36 years.
"She's not slimy, feel her again," zoo volunteer Taylor Copas said to him. Copas explained that boa constrictors used to be worn as jewelry by Cleopatra when other rulers came to visit.
"Talk about intimidation," he said.
While some children and adults faced their fears to pet the snake, others made animal crafts or took a ride on a horse-drawn wagon provided by Rick Henderson. Still others gathered by the bandstand to listen to "Miss Christie" give a furry storytime.
Children, teens and adults alike seemed to enjoy the family fun event. It not only got them out of the house, but it finally start feeling like summer.
"(My favorite part was) I think, seeing the numbers of people out in this community here, walking around with their families in the strollers, and moms and dads and grandparents, just seeing everybody together again, participating in something fun," Clarke said.
Children, teens and adults can still sign up for their respective summer reading programs throughout the month of June at Gering Public Library. The next upcoming events include the adult birdfeeder craft event at Legion Park on June 8 at 6 p.m. and the children's storytime and Wildcat Hills Nature Center program at Legion Park on June 9 at 10 a.m. and 1:30 p.m., respectively.