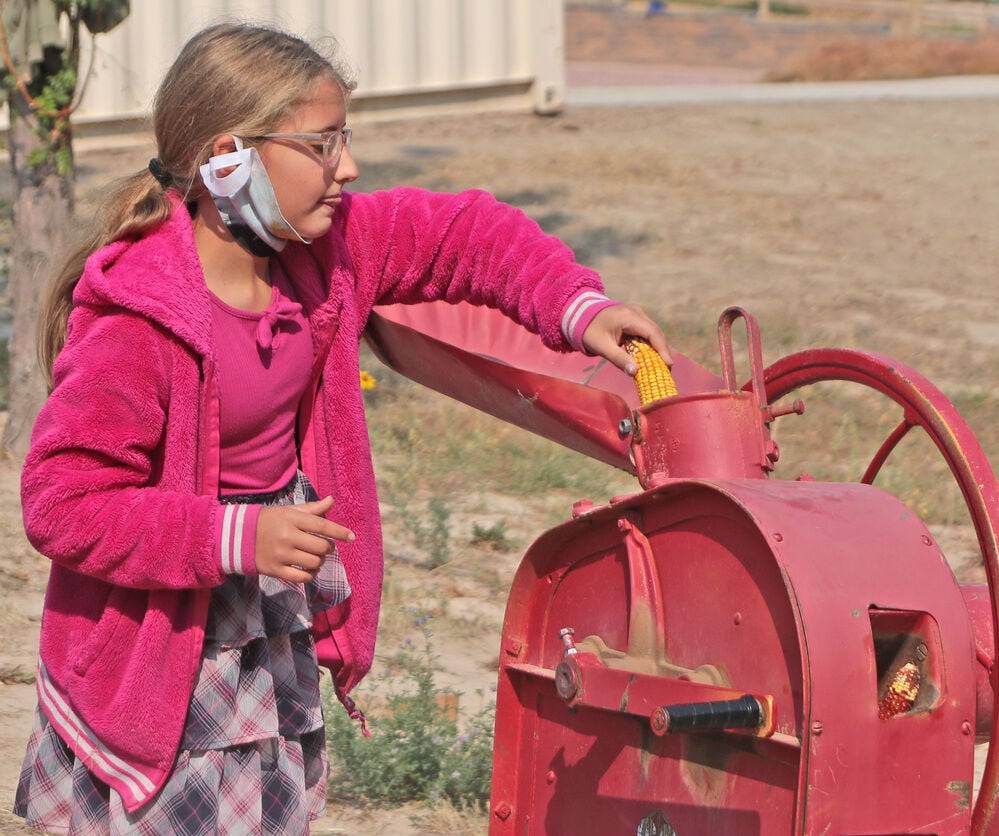 Area fourth-graders got to see first-hand how agricultural technology has changed through the years at the Tools and Technology Through Time event at Legacy of the Plains Museum.
At the two-day event, there were demonstrations including grinding corn, growing potatoes, growing sugar beets and blacksmithing.
David Wolf, the Legacy of the Plains Museum executive director, said the event is an important lesson in local farming history.
"We have a separation now from when people were on the farm, to where they're at now. It's no longer just one generation, now it's two or three generations (since some of the children's families were farmers). I think it's important for people to know where their food comes from, especially when the dominant industry in this area is agriculture, not just crops but also livestock," he said.
Amy Ranalletti, a fourth-grade teacher at Lincoln Elementary in Gering, echoed Wolf's comments.
"It's important to see all of the advancements we've made, especially in this community, to where we have come from. They got to see technological advancements that are used all around this area, and why they have made this community better," she said.
Wolf said he hopes students were excited to learn with all of the interactive demonstrations during the event.
"It shows just how far we've come and gives that historical perspective. We show (the kids) that this is how you dug potatoes, this is how you harvested sugar beets by hand — the labor intensity of it," he said.
Hands-on demonstrations captivated the students, Wolf said.
"We try to have something hands-on at every station," he said. "There's a lot of talk about kids and technology today like tablets and phones. That's true, they do have a lot more access to that than we did, obviously, but they still like doing stuff. They still like smelling stuff, they still like touching stuff and they still like seeing it. I think it's something they're not getting in other places. It's just important for us to keep it going."
Lincoln Elementary fourth-grade teacher Tracy Steele said the students showed a lot of interest in the demonstrations.
"My kids really enjoyed the Gentry cabin to see how families lived. They loved the connection to one of the volunteers that had taught them about corn. I think they liked seeing the technology pieces — the sewing machine, the books, the pump for the water," she said.
Hands-on experiences have deeper meaning for the students, Steele said.
"Doing is always one of the best ways to learn. Hands-on experiences allow children to experience history firsthand, instead of just reading about it. This allows them to discover new trades, ways of thinking and even lead them down a new path for the future. We appreciate the volunteers who share their knowledge and make this field trip possible," she said.
The event also highlights that it wasn't just inventors who were changing the face of technology, especially in agriculture, Wolf said.
"Innovation isn't just by some scientist in a laboratory somewhere. It's a farmer sitting here going, 'Man, this is hard work. What can I do to, to make it a little bit easier so that I could I can grow some more stuff? That's what a lot of this innovation was driven by," he said. "I always would joke that if you pose a problem to a farmer and say he can't do something, and he or she will find a way around it. When you're out there working day after day, you find and see problems, and you figure out a way of getting around it."
One of the inventions he highlighted was a potato sorter that was invented by TJ Lockwood, who owned Lockwood Grader Company in Gering. The company made equipment to make harvesting and sorting potatoes much easier.