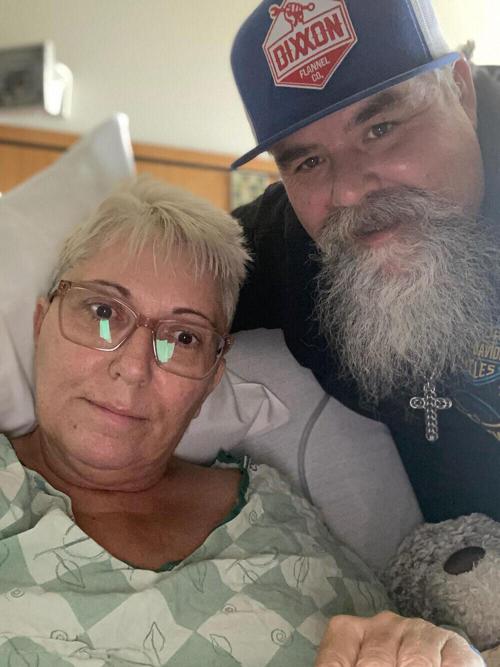 Just short of two months after the Finishline Café temporarily closed, its owners reopened the community restaurant.
On Saturday, Oct. 2 at 7 a.m., owner/chef Jarvis Brill returned to the kitchen with the help of his mother, daughter and friends. His wife, Jaci Brill, will welcome guests via Facetime from her hospital bed at Regional West Rehab.
On Aug. 7, the driver of an SUV collided with Jaci Brill's motorcycle near Rapid City. The accident seriously injured her legs, with lacerations from her thighs to her calves, requiring several blood transfusions and surgeries. Only recently, the woman became stable enough to move from a hospital in Rapid City to Scottsbluff.
It will be longer still before she can leave the hospital. Jaci has been laying down in bed for more than 50 days straight.
"She's gonna need to learn to walk again," Jarvis, her husband, said.
Jarvis had been with Jaci, staying in their camper with their dogs, and only returned to Nebraska Tuesday, Sept. 26. When he came back, he needed to clean the café and order new food.
"We're excited to be back," he said. "We've missed our customers ... it's not like they're just friends, they're family."
The Brills had been running the restaurant, located just off 10th Street behind the Gering Dominoes, for 11 years. It's a small establishment, seating less than 50, but they had done it all by themselves. Finishline was their only source of income.
Building owner Paul Reed, family friend Kristy Petersen and several other operators of local establishments set up fundraisers and auctions for the Brills. These were to help cover Jaci's expenses and ensure the Brills could continue operating their café.
Brill said he will try to be timely with the meals, but it goes to show that it takes five people to replace the work Jaci could do at Finishline.
"And I'm sure people will understand," Jarvis said. "...As long as you give somebody a cup of coffee and a menu, they'll wait."
One customer, a California native, had been in Phoenix since before the crash, and Brill said he grew concerned when he hadn't seen the couple at the restaurant in a while. When he saw Brill moving boxes at the café, he had thought the Brills had moved. He was informed of the crash and the community's response.
"I told him about what the community did ... and he just thought it was amazing," Brill said. "He said if that was California, you'd never get that kind of outreach."
The auctions and fundraisers included creating "Team Brill" shirts, which Brill and the other workers will wear when they reopen. People called and messaged him, wishing the family well, the entire time the couple were away. It did well to lift Jaci's spirits, Jarvis said.
"I would've never guessed it in a million years ... that a community would come together (like that)," Brill said. "...I don't even know how we can thank everybody."
Brill said he plans to visit everyone who donated and supported them with his wife when she gets out of the hospital.
"If she can come here to walk a bit ... if she can at least still be here, that's a win in our book."