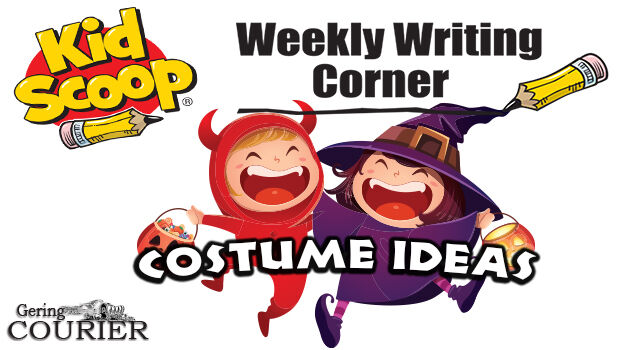 In partnership with Kid Scoop, an educational content supplier for newspapers, the Gering Courier is asking local students questions on various topics. This week, Lincoln Elementary 5th graders share their best Halloween costume ideas.
Mrs. Sarah Cline's 5th Grade Class
My costume idea is a sparkly artist, so here is my idea for your costume. My idea is to have a beret of any color, for example it can be red, orange or black. My idea for the outfit is a cream colored dress for a girl, for a boy you can do some black pants of any sort, and pair it with a white office shirt. You can get just a plain white apron,and paint some splotches of paint with some fabric paint,and sprinkle some glitter on the paint while the paint is still wet. Let it dry. When the apron is dry you can start getting ready. For the makeup get some face paint, and paint some little splotches on your face. You are done now, enjoy your Halloween costume!
This is what I would do for a Halloween costume. I would grab a Halloween basket, but before you do anything with it, you should grab a colorful halloween costume that you like. Then you should buy any animal mask like a fish mask. Then decorate it. Then tape the basket or bucket to your costume. Put the mask that you bought on. I hope you like my idea.
My costume idea is about a person that has abnormal powers. They have a gas mask and they have a black outfit. Under the armpits there is a green strip all the way down the front to the feet. Wear a black hoodie with a type of bunny ears. Now you have a hero costume.
Do you like animals and Halloween? Well then you should get a costume of your favorite animal. There's many to choose from. You could also make one with family members. It would be a good family hobby. You got cats, and dogs. There's many you can get. Maybe you can get one.
I think a cool Halloween costume is a Damascus Skelton. You will need yarn and red and purple cloth. You will also need a costume layout and a blueprint of what you're going to do, because you're not gonna want to forget how to make it. Now we will need a skeleton look, so we would make bones and we would use the white yarn we bought to make it. We also will get the purple cloth and make wiggly lines, but not too wiggly. Now for the last and final thing, you will need red cloth. Make a couple of lines, not too many lines and that is all you need. There's a Damascus Skeleton and I hope you enjoyed this.
My costume idea is something that relates to something that you like as a hobby or something you often do. So if you like sports, what sport do you like the most? Maybe dress up as someone in that sport or just dress up with a jersey from that team or an outfit from that team. That is what I would do every Halloween. I would just think of what I do for a hobby or what I do often or something I am interested in. That is my idea of what costume to wear.
My best costume idea is that you should be a president like George Washington, because they represent our country with honor. Plus they provide us with homes, food, safety, and freedom. First, you're gonna need a white beard, stockings for tall socks and breeches for pants. You might want to wear a waistcoat and a coat on top of the waistcoat, cravat and a nice tricorn hat. Have a great Halloween!
For your Halloween costume you could be your favorite animal. If your favorite animal was a cow, you could wear white and some black spots. If your favorite animal was a dog, you could dress in the color the dog is and then have some floppy ears. If your favorite animal was a panda, you could dress in white and then have black ears, legs, and arms. These are just some ideas of some animals, but there are many more animals to be. That is why you should consider dressing up as your favorite animal for your Halloween cos
Do you know what to be for Halloween? If not, you have come to the right place. If you like rainbows and cerael this is perfect for you! All you will need is a cardboard box, green, blue, yellow, orange, purple, and black paint. If you haven't guessed what it is yet, it's the cereal Fruit Loops. You will also need some hot glue and an adult's help. Oh yeah, one more thing you need is some foam circles. Hot glue the foam circles to the box. I hope this helped you.
The best Halloween costume idea I have is a whipped cream can. To make the whip cream can, you have to go to Walmart and buy hot glue, red, grey, blue, and white cloth to make the sides and bottom of the can. You have to wrap the red cloth around the grey and glue it. Next you have to cut out letters in the blue and then glue the letters on the can. Finally you have to make a valve with the white and a cap for the valve. That is how to make a whip cream can costume.
My costume idea is to be a police officer. Because they help the country be safe and they also help people fix their problems. You would need tannish colored pants, black shoes, black glasses, black tie, and some handcuffs. It would be cool to be a police officer this Halloween.
The best and funnest Halloween costume is a silly monster with googly eyes and a silly outfit. You can get this outfit on Amazon, any store, or even homemade like a diy project for Halloween. You can get the googly eyes at any store. You can be any color or you can have someone be a monster with you. All you need is a headband, googly eyes, shirt, pants or shorts or skirt, even a dress if you want. How you make it is glue the googly eyes on the headband and make them stand up with something holding them up, any clothing, shoes, and your halloween basket.
A fun Halloween costume idea is a Disney character. If you love Disney movies then that would be perfect for you. Sometimes when you are picking out a costume, you sometimes want a sibling to be something with you. If you do a Disney costume then you and your sibling can each be one character from that movie you pick. Maybe you and your friend want to do something, well there are a lot of Disney costumes that you and a friend can do! That's why a Disney character is a fun Halloween costume idea.
My costume idea is a mail man because you can hold more candy than a plastic bucket. You would wear a vest and satchel. You need blue pants and a blue shirt. You can also ride a bike, and the bike would be a part of the costume. If you take a bike you could get to houses faster. That is why I think a mail man is a great idea.
If you do not know what to do for Halloween, I have an idea for you! I think a superhero is a great idea for a Halloween costume because boys and girls can both do it. Also because you help people when you are a superhero and everyone needs help sometimes. I like to do this costume because I like to think I am superman and have amazing powers. Hopefully you like my idea for a Halloween costume.
My costume idea is Tanjiro from Demon Slayer. It's a type of anime. I recommend to get the costume online. The costume comes with a sword, but don't bring the sword to school. It would be a good idea to just take the costume to school and then when you go trick or treating later, then you would take the sword then maybe you could even make a Demon Slayer Trick or Treat basket. Have fun being Tanjiro.
A Halloween costume idea is a dog. You can have paint on your face and you can have it on your shoulders too. You can paint or color your hair, or you can leave it how you like it. You decide what kind of dog you want to be. You can be a fluffy dog with short hair. I like to be a fluffy dog so I can be nice and hot while trick or treating. You can be a short hair dog. That's why I like to be a dog.
Mrs. Kristina Mueller's 5th Grade Class
Don't know what you are being for Halloween? Well I have an amazing idea! You can be a robot. You can either buy a box and decorate it, or you can get it from a costume store. First, I need to tell you the supplies. You will need at least 10 boxes, glue, markers,or spray paint, maybe some pieces of paper. If you want to, jewels or whatever you like! And when you need to cut the eye holes, make sure it's a parent or guardian who does it. And when you are done, you will have an amazing, fashionable, unique robot!
My costume idea is how to make a devil princess costume. For this costume you would need a red dress, the devils horns, the devils staff, some red tennis shoes, or red high heels. You can use makeup, but ask your parents if you can wear makeup. If they say yes, tell them to help you put it on. This look is for girls only because if you're a boy your parents will not let you wear it because you're a boy. I don't think this costume has been tried before.
For my costume I am going to be a sugar skull and it is going to be a really pretty one and I am going to tell you all what it has so what it has is a wig, nail polish, heels, face paint,and it is a really beautiful dress. And what I am going to do for my face is have glitter and make it look like a real sugar skull and I am going to decorate the heels so they look super cool.
A good Halloween costume idea is Mary Poppins. It is a good costume for all ages and it's not too scary if a little kid wants to wear it.You can probably just buy it at Walmart for easy access,or you can just make it at home. All you need is a blue dress, an umbrella, and a red hat. I hope someone likes my suggestion and might dress up as Mary Poppins this year.
I think a good costume would be a Minecraft character, why you might ask, well their blocky design will make it easy and you can choose which character you want. You can almost choose anything to be your trick or treat bucket which I think is cool. You can also make a custom character if you want. Also a lot of people will get what you are. You can make yourself have diamond armor with a diamond sword if you want. So that's why I think this would be a good costume.
My costume idea is an angel costume. I think it is not a bad idea because it's not inappropriate or bad for the school. I would get a ring for the angel's halo. I will also get white clothes and wings for the angel. I will buy wings and then put a whole bunch of feathers on them. Why I would like to be an angel is because I am nice. I'm not a bad kid and I love everybody that is beside me including myself.
A great idea for a Halloween costume is a mouse. To do that, you can get face paint and ears. Also you can get either a shirt and pants or a leotard and pants. One other thing is you can get gray or black shoes. You can also get some gray or black gloves for the hands. One more thing is you could do something with your hair if you want. You can also get a tail. That's one idea for a Halloween costume.
My costume idea is a stick figure that has black outlines and lights for the body. Then I can go to a dark place in my house, I'll turn off the lights and turn on the led lights on the costume. if I'm far from a person it looks like I'm a stick person and for the head is like a see through mask that covers my whole head and the lights will be on the head too. When I'm done trick and treating. I'm going to my house so I can turn off the lights in my house and run around in the stick figure. I'll add a couple of details like add different colors to make it look like I'm a different stick figure.
A great idea for a costume would be a Dinosaur. because they are big and they look really cool, and strong.You can make one by yourself by going to a local store and getting cardboard, paint, and tape. You can also buy the costume from most stores like Walmart ,and Target and some towns also have Halloween stores. So I think this would be a good idea for a costume this Hollween.
Do you like cookies? Would you like to be one for Halloween? Cut a piece of cardboard in 2 big circles. Then ask an adult for permission to use a cutting utensil to poke 2 holes in the top of each piece. Connect the pieces with a strap to go over the shoulders. Paint black spots to be the chocolate chips. Let it dry, then put it on and you are a cookie!
If you don't know what to do for halloween, I think you could be an astronaut. They are cool. You can maybe make a mini spaceship with it too. That would be awesome. You could pretend you are going to space. Maybe your friend dressed up as an astronaut too. You might see an astronaut at the Halloween Store, but i know you could find them online. That is my idea for a costume for halloween.
If you can't figure out a cool and fun costume idea for halloween, I've got one for you!
If you don't know what you need in order to be a robot for Halloween, here's what you'll need:
• A robot head (made out of cardboard & aluminum foil)
These are some basic materials you might need to have a cool and fun halloween costume.
If you do choose to be a robot for halloween make sure to cut holes for eyes and a mouth so you can breathe. Also, make sure to have adult supervision when using a hot glue gun. You can find these materials at usual stores such as; Home Depot, Dollar General , and the hot glue guns at Staples. A robot may be fun and cool for halloween but it also would be a fun DIY (do it yourself) to do with your family, hope you like my idea!
I will be telling you about a great Halloween costume idea! You should really dress up as a hotdog. It's funny and you will get a ton of giggles from the people giving you candy!
Sometimes you might even find fellow hotdogs, such as small doggos, and other people dressed as a hotdog. You may make friends with other people on Halloween if you have a funny costume! Funny costumes are a great way to be the light in somebody's day! They may be going through a rough day or just not the happiest time of their life. So that's why you should dress up as a hotdog. I think dressing up as food is cool.
My costume idea is if there was a Dogman costume. A lot of people love reading Dogman and it would be cool to see Dogman on Halloween. Also, Dogman books are very funny, so if people see a Dogman costume on Halloween all of the kids would be excited. There should be a Dogman costume because a lot of people around the world read Dogman every day.
My ideas for good halloween costumes are mostly inflatable. If you choose an inflatable costume it gives you good ventilation, heating, cooling, and a good amount of space. A few costume ideas would be maybe you would dress up as an inflatable dinasour or maybe an inflatable alien. There are also family friendly options like Pikachue or a cartoon character. My dog is a dachshund so he is going to dress up as a hotdog. As you can see those are some of my halloween costume ideas.
What should I do for halloween? I have an amazing idea. I could be a teacher, and could wear these fancy clothes and carry around a ruler. I could probably find a backpack that a teacher would take to school and maybe put a couple books, like reading, math, social studies, science, and some reading books into it as well. I would also order some fake glasses to go with the outfit. Then I could find cute hairdos and make my outfit look perfect just like a teacher would.
I think you should be a Rubik's Cube. It would be a fantastic idea.The supplies you will need are tape, paint, boxes, and string. To make it, first cut out two holes on top and on the bottom. Second, outline with a pencil six squares on each side. Third, paint the outside of the squares black. Fourth, paint the correct color code in the squares. Fifth, put four small holes on top and put string through it as shoulder straps.You should be done. I think it would be a good idea because your friends will like it, and you might get a lot of complements.That is why I think you should be a Rubik's Cube.