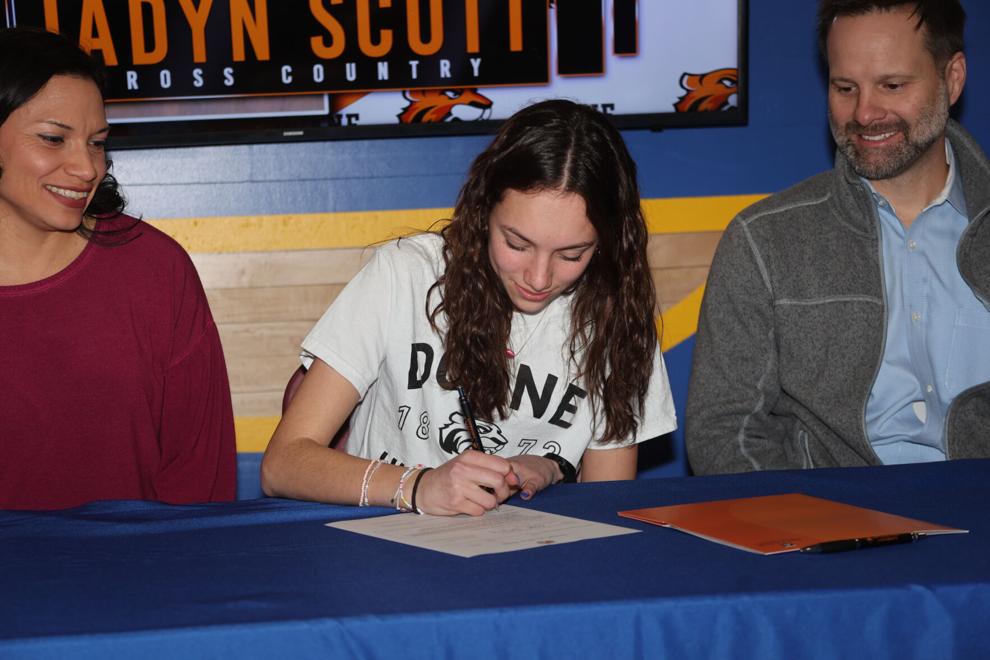 Gering's Jadyn Scott will be taking her running talents to the collegiate level after a stellar senior season with the Bulldogs.
Scott, who placed fifth at the Class B state cross country championships in the fall, signed a letter of intent on Tuesday to run cross country at Doane University.
She said the decision was easy after making a campus visit.
"I didn't really want to attend college especially for running until (this year) because that was when I realized that it was my last (prep season), and I wanted to continue running," said Scott, who is undecided on a major. "Doane, I just felt like it was a perfect match. The coach has been amazing and reminds me a lot of (Bulldogs coach Rick) Marez.
"I am comfortable around Marez so I know I will be comfortable around him. The girls were amazing and reminded me of my (Gering) teammates," Scott said. "I feel grateful that I get to continue my running career. Not a lot of people get to go to college or with a scholarship, so I am very blessed."
Scott had a running career that saw her to continually get better since she started as a sophomore.
"It has been amazing. I honestly admit that I wish I would have competed my freshman year when the girls won state. That is definitely something I regret a lot of times," Scott said. "But I have amazing friendships and bonds from my three years that I have ran."
Marez said Scott has all the tools to be a successful runner and that includes a competitive nature.
"I love her spirit and attitude," Marez said. "I have had a lot of runners that were very talented and they have known it and they had to learn to be competitive. For Jadyn, she was very competitive and learned. It was new for me to find out that she was talented in a different way. I am excited because she came on at the end of the season like she was describing. She learned that she doesn't want it to be over."
Marez said Doane is getting not only a runner, but a student and a outstanding person.
"I have been nagging her every year about running in college and tell her that she has the ability and has the talent and you are smart and you can do this," Marez said. "I think being competitive brought it out of her. I am excited for her to go to Doane. I think the environment that they have created. I think the environment that they have built will be perfect for Jadyn and not just as an athlete, but as a person.
"Again, from what we produce at Gering High School, it is just phenomenal runners and phenomenal kids and I think that is what they are going to get."
Scott's top time as a sophomore was 21 minutes, 29.16 at the Class B-4 districts where she finished 18th. Her best finish was sixth at the Chadron Invite where she took sixth.
Those sophomore times continue to fall as a junior. She knocked off over a minute from her previous personal best to a third-place finish at the Scottsbluff Invite with a time of 20:13.66. She also won the Gering Invite title.
Her senior year was one of accomplishment.
She continuously placed in the Top 10 in meets, and also was among the top five finishers in a number of meets. She had a personal best time of 20 minutes at the Sidney Invite where she was second.
She placed third at the district meet and then placed fifth at state.
"My sophomore year, my two closest friends kept nagging me to run and once I went out, I created stronger bonds with them," Scott said. "I run because of the bonds I have with the girls. They make running easier in a way and less stressful on me."
Doane assistant cross country coach Dustin Llewellyn was on hand to witness Scott signing on with the Tigers, and said she will be a great fit to the cross country program
"We knew it would be great fit with both Jadyn and the Doane team," Llewellyn said. "The most important part to us is the person first and foremost. It was just a natural fit and when she came and visited with her dad, the girls said whatever you have to do, get her here.
"We love her and who she is. So, it was one of those things that we needed to get Jadyn to Doane and we are thankful she chose Doane University to continue her education and her running."
Scott is ready for the challenge.
"I definitely am ready for something new," she said. "I definitely will miss the high school running, but I am ready for the next level. I am grateful for both my parents for pushing me and I am grateful for an amazing coach like Marez that obviously knows what he is talking about
"And, I am thankful for my teammates and girls that I have shared everything with over the years."
---