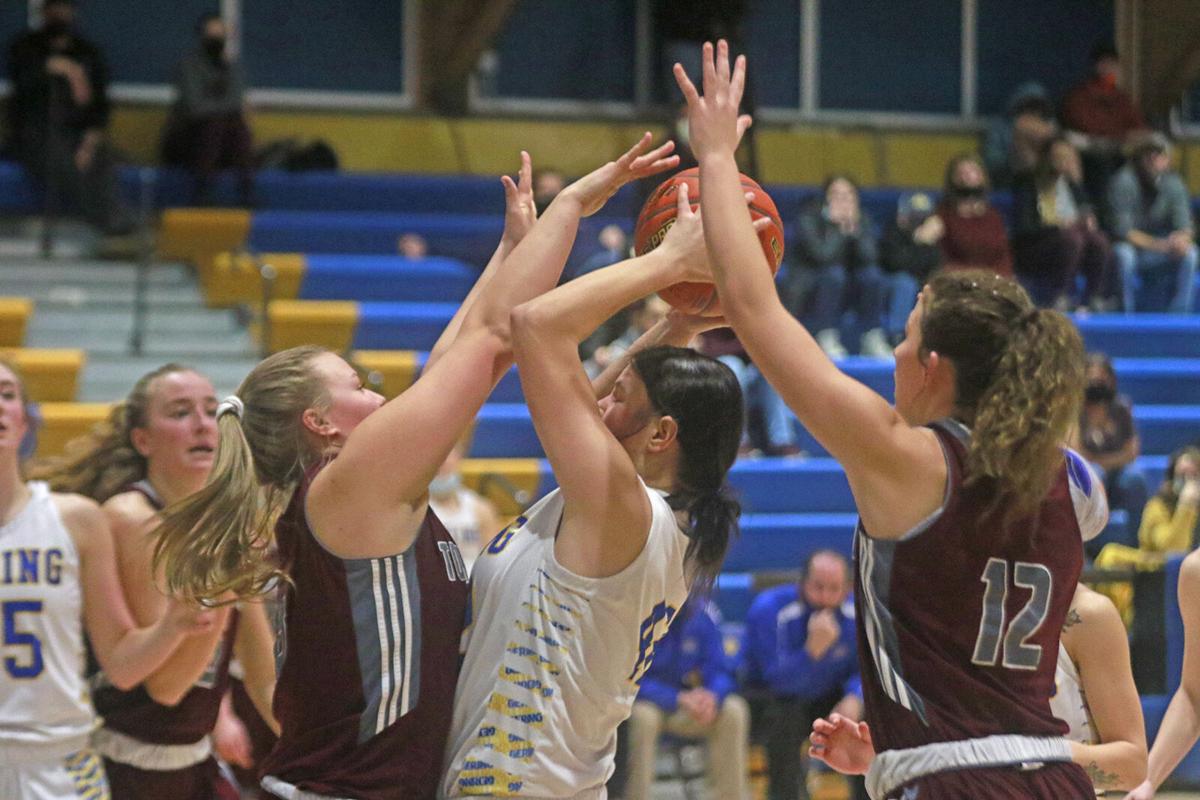 The Gering girls used a second-half surge to down Torrington 65-55 on Tuesday in Gering.
The two teams went into halftime tied at 28. The Trailblazers took the lead early in the third before the Bulldogs caught fire on offense.
Sydnee Winkler and Kiara Aguallo combined for 17 points to lead Gering to a 23-point third quarter. The Bulldogs also clamped down on defense giving up just nine points to the Trailblazers
Entering the fourth quarter, Gering held a 51-37 lead. Torrington found its rhythm again in the final frame scoring 18 points including two big 3-pointers form Lauren Orr and AJ West to keep the Trailblazers within striking distance.
Winkler and Aguallo again provided the scoring punch for the Bulldogs down the stretch. Aguallo scored four in the final quarter and Winkler added three, all from the charity stripe.
Gering coach Steve Land said both teams played evenly in the first half as both teams looked for a weakness in the others defense.
"Both teams wee just trying to feel each other out," Land said. "It was a very physical game and tied up at halftime. Both teams were just being physical and rebounding. Both teams missed a lot of shots. We actually started hitting shots (in the third)."
Land said two big plays helped deliver the knockout blow for the Bulldogs.
"Sid Winkler hit a three and then Kara Aguallo hit a three, and they opened us up to that six or seven point lead," he said. "I think we were relaxed after that. We started executing the offense and then we knocked down a lot of free throws tonight. Overall, our third quarter was our best quarter of the year, and that's where we separated. We continued to play well enough to knock down some shots and make free throws down the stretch."
Defense also played a big factor in the win for Gering, Land said.
"I think our press bothered them a little bit. We got him to turn the ball over in the full court (press), and we took advantage of a couple of quick runs. Once we developed that 10 point lead, I think we played even better. Credit to our kids for hanging in there. We talked about, you got to hit some shots against that 1-2-2 zone. We don't see a lot of 1-2-2 zone defenses. We put in a new offense just last night at practice. We got some cutters in the middle, we found them a few times and we were able to drive and score. Overall, it was a really good performance from our kids."
Despite landing in foul trouble fairly early in the third, Land said Nikki Todd played a great defensive game.
"We had to sit (Todd) down for a while. She was just a little slow rotating, but she played (Reece) Halley very well. Halley is their top scorer at 18 points a game and Nikki did a nice job. I think (Halley) probably got her average by the end of the game, but we'd subbed in four or five girls at that point," he said.
Gering travels to Bayard on Thursday, and Land said he expects another tough battle.
"We will have to turn our attention to Bayard. We got them Thursday night out there. We have three games this week, and we'd like to prepare a little bit differently for all of them. We're playing a small gym over there, and I haven't even watched a lot of videos (of Bayard). I'll go home tonight and watch video and see what we need to do against Bayard," he said.
Aguallo led Gering with 23 points, and Winkler added 14.
West had 18 points to lead Torrington. Also in double figures for the Trailblazers were Halley with 14 and Sierra Allen with 11.
Torrington 15 13 9 18 — 55
Lauren Orr 3, Caitlyn Flanagan 1, AJ West 18, Sierra Allen 11, Reece Halley 14, Michaela Morehouse 5, Mattie Jones 2, Tannya Woodruff 1.
Sydnee Winkler 14, Kiara Aguallo 23, Cloey Fries 10, Anaveah Rios 2, Madison Seiler 2, Carleigh Pszanka 4, Nikki Todd 9.