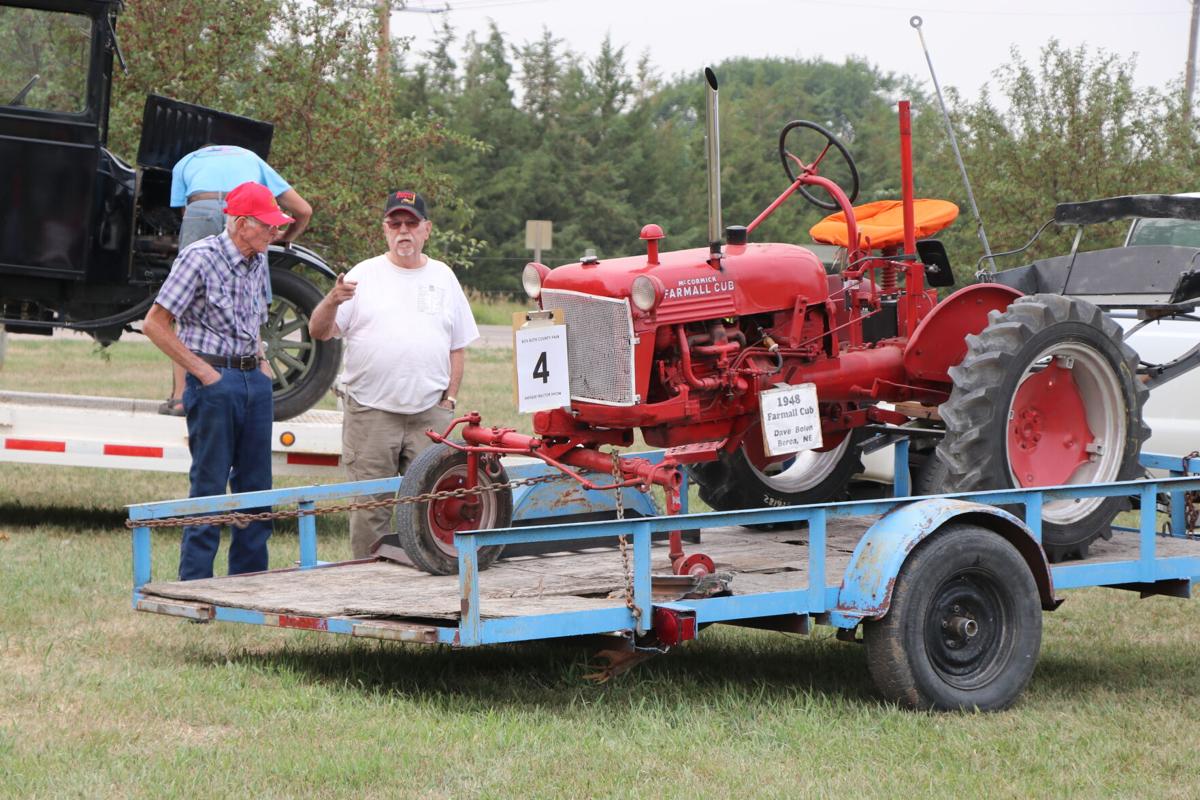 Close to twenty years ago, a few old tractor lovers got together and shared their passion for antique tractors at a small meeting.
"The club was started in 2004 with a small group of friends who were tractor enthusiasts from around Rushville who appreciated tractors and wanted to have some fun doing it with tractor drives, pulls, shows and rodeos," said Hiway 20 Tractor Club President Matt Thorson.
To be exact, the first official meeting took place on Sept 24, 2004.
"The late Buster (Wayne) Davis was the original master mind of starting the club," said Thorson.
Other original members included: Dave Tiensvold, Elwin Lawrence, Jerry & Becky Yardley, Blaine Yardley, Paul Winters, Daryl & Carol Schnieder, Kenny Hood, Duane Lockman, Dean Johnson, Harold & Norma Obermiller, Brad Eichenberger and Brett Kersey. Dave Tiensvold, Elwin Lawrence, Dean Johnson, Harold & Norma Obermiller, Blaine Yardley are still members, while several have passed.
At one time there were 69 members from the area. The club currently has 38. Most of the members are along Highway 20.
"We have members from Crawford, Chadron, Hay Springs, Rushville, Gordon, Alliance, and Hemingford. In the past we have had a few members from South Dakota," said Thorson.
Some of Hiway 20 Tractor Club's annual events are: Dawes County Fair Tractor Pull at Chadron, Friendly Festival Tractor Pull at Hay Springs, and usually a tractor drive in the local area. Non-members are always welcome to participate along with the club activities....pulls, drives, and shows.
"Some of the special events that we have done in the past: Tractor Rides- Beaver Wall, Mission Ranch, Belmont Tunnel, Mirage Flats-Sandhills, and Crawford Cook Shack. Tractor Shows: Chadron State Park, Fur Trade Museum and Rushville Fun Days," said Thorson.
In 2015, the TRAN (Tractor Relay Across Nebraska) route was on Highway 20.
"That Route started at the Wyoming line and finished at Yankton, SD," said Thorson. "The route took eight days. Many of the club members participated with the group that was on the drive. It is still an annual event using different routes across Nebraska. Gordon Greenamyre, who just passed on May 28, 2020 at the age of 92, had participated the last four years going the whole route."
So what classifies a tractor as an antique tractor?
"At the moment, the club states that a tractor made before 1959 is an antique and a tractor made before 1972 is a classic which we allow for the pulls and drives," Thorson said. "We let newer tractors on the drives but they must be cab-less. The club has bylaws that are in place for safety for the pulls and drives."
The club its own pulling sled and scale for the tractor pulls.
"The tractors are individually weighed then put into the weight classes. The classes start at 2500 pounds and go up 10,000 with 500 pound splits. The pulling sled has four main parts to it: friction pan, a weight, drive system, and distance monitor," explained Thorson.
When a tractor hooks on to the sled and starts pulling, the weight that is on rollers moves forward putting more weight on to the pan making the tractor pull harder until it either spins out or runs out of power.
"Each pull is measured then by the distance monitor. The monitor reads in feet and inches and also can tell us the speed of the tractor. There has been a few times where two pulls in the same class that it has come down to an inch to determine who was the winner," said Thorson.
"My first pull was in Hemingford in 1998," said Thorson.
The club is looking to grow membership in Box Butte County. This year antique tractors were on display at the Box Butte County Fair on Saturday.
Club member, Dave Bolen, has three antique tractors and had his 1948 McCormick Farmall Cub on display. He was going to drive it in the parade but had an unfortunate event happen when he lost a front tire after the tractor busted through the trailer that morning.
"Less and less people that are interested antiques," said Bolen. "It's getting harder to find these tractors and the parts to fix them up. But it sure is a fun hobby. We have to preserve this part of history."
Antique tractor enthusiast Doug Hashman had his 1956 500 Case tractor with a plow on display.
"It was my dad's first new diesel tractor," Hashman said. "It was the best you could get at the time. He bought it new and farmed with it for a few years and traded it for another one. It sold to a neighbor and farmed most of its life close to Berea. I tracked it down when it was for sale again and I brought it back home."      
So many of the men that knew how to restore these tractors have passed away over recent years so getting the next generation interested in antique tractors is important for our history.
"You kind of like whatever you grew up with as a kid; whether it's toys or certain animals or antique tractors," Hashman said. "Remembering the good times that go along with those things make it sentimental. There might have been a lot of hard work involved but it's remembered pretty fondly. Everybody wants their first car that they had in high school and farmers want the first tractor that they had."
"We try to have one or two tractor drives a year," Thorson said. "This year we had a tractor poker run and made a 21 mile loop around to Walgren Lake. When you are going 10 to 12 miles per hour you sure do see a lot more than you do when you are cruising down the highway at 65. You might go down the same road every day for years then when you go down with a tractor it gives you time to look at things and you see a lot of stuff that you've never noticed before."
Don't worry though you do not have to have a tractor to join the club. All you have to do is pay the annual $50 dues. The $50 due covers the member and spouse. They have a monthly meeting the last Friday of the month at 7:30 p.m. at the Hay Springs American Legion with an annual meeting in January.
For more information, you can contact any of the club members or Matt Thorson @ 308-760-6220.