Robbie Buchheit, owner of Buchheit Precision, was given the 2021 Entrepreneur of the Year award during the annual meeting held by the Box Butte Development Corporation.
BBDC Director Chelsie Herian stated that the Entrepreneur of the Year award is given to an individual or partnership that has shown strength and progress toward the mission of Box Butte Development Corporation. An entrepreneur has relocated, developed or expanded a business for the betterment of Box Butte County.
"Last year, we honored Brian Jelinek of Jelinek Custom Cleaning and we wish him continued success with his business," said Herian.
"This year's recipient is another fine example of an entrepreneur," she added. "After working full time for 22 years with Parker-Hannifin and 'moonlighting' on the side, he soon brought his dream of running his own business a reality. Jumping in with both feet, and opening Junes 2019, he offers a full service CNC machine shop. Also specializing in PLC automation and industrial control designs as well as customizable process control systems. Diversified, modernized, and experienced is what makes his business successful. His roots as a machinist run deep, four generations deep. His dad was a journeyman tool and die maker, his grandfather and great-grandfather were both machinists in the auto industry back in Detroit."
"He hasn't let his business size discourage him from chasing those major Fortune companies as clients," said Herian. "He continues to serve many of our local businesses, like Parker, Farmers Co-op, BNSF, but out of state customers too. Buchheit Precision may look small from the outside but if you missed our monthly coffee at his place in May, you missed out on how mighty Robbie and his crew really are. Box Butte and Hemingford are very blessed to have him."
Herian presented the Directors Report:
"Eleven years. Wow, has it been that long? That is eleven years of assisting entrepreneurs and business owners. Eleven years of listening to ideas and finding ways to execute them. I've cried with some, an celebrated with others. I show up for you and them every day. There are more times than not that my mind is always working, to find ways to make life better and the communities I serve bigger. I do this for my family and yours. It doesn't happen overnight. It doesn't happen at a drop of a hat. It takes time. Ideas need developed. The bulk of what I do is always behind the scenes. I'm always trying to connect people the best way I can to real estate, a home, an idea, money, and people."
"It takes more than just me to make it happen. It takes all of us working together towards a common goal. Your membership and our partnership are what allow that to happen. We all need to change the mindset of being a 'NO' 'That Won't Work' 'That will never Happen' society. We've got to quit discouraging ideas. We need to help make them a better idea. Find ways to make them happen. Part of that is probably educating the public on the process or that sometimes we just really need a champion that can dedicate the time and effort to that one specific project/idea. I don't think they understand that that is what is happening in these other communities. If the people want it, they step up to make it happen. All of that weight can't be left to ride on my shoulders, the city, the village, or the county. It's you, it's them, it's us. It's a partnership."
"I love what I do. Alliance, Hemingford, and Box Butte County as a whole are great places to call home. They are a great place to raise a family, receive quality healthcare, attend excellent schools, use state of the art technology, and are safe. These communities care for you and about you. I know there are people out there looking for just that. Help spread the word. We all need to be better about sharing the positives. The things we like or love about our town, businesses, schools, hospital, you name it. Let's work better together at recruiting to our towns."
Some highlights from the year include:
Assisted with a transition of Bands on the Bricks and Band on the Butte
Awarded one downtown façade grant in Alliance, 308 Box Butte/Redman's awning
Helped the Hemingford CRA with awarding 16 Storefront Improvement Grants
Selling a parcel at our Box Butte Industrial Site
Submitted a grant to bring 2 new homes to the Alliance Homestead Addition
Welcoming new recruits in hopes they accept that job offer and move to town
Goals going into this next fiscal year include:
Address the marketing and workforce challenges facing our area businesses
Applied and waiting to hear if we get to host 2 more summer interns from the UNL Rural Fellows program
Develop more housing – countywide
Foster growth in Entrepreneurship, Business Expansions, and Diversification
Grow our membership within our organization
Pursue a "Placemaking" partnership with UNL College of Architect & Design
"Sales tax receipts are up slightly from last year," said Herian. "Unemployment continues to jump all over the board. You'll see a lot of this in our Annual Report that will go out electronically after today's meeting."
"I want share how grateful I am for your continued support. I hope to grow that partnership into the coming year. To my board of directors, thank you for listening and helping guide the organization as a whole. You guys are pretty great."
"And lastly, to my husband and family, without their support and constant belief in me, I couldn't do what I do. I do it for them. I want my kids to see through hard work and determination, great things can happen, they don't just happen. They will always be my drive to make things better and to be better. Thanks for being my rock babe."
Recap of 2020-2021 Accomplishments:
Assisted Hemingford Community Redevelopment Authority (CRA) with the Storefront Improvement Grant - 16 total Grants @ almost $1000 each
The Perfect Blend w/ BBDC Coffee's have continued
Spoke to area youth about leadership and entrepreneurship
One Downtown Facade Grant: 308 Box Butte (Alliance)
Completed NeDED Leadership Certified Community Recertification for the Village of Hemingford October 2021
Hosted NeDED Field Staff (Talent & Attraction) for Community Tour
Provided Community Tours to business prospects and Physician Recruits for Box Butte General
Partnered with High Plains Community Development on a Housing Grant application to bring 2 new homes to Homestead Addition
2021-2022 Goals going forward:
Foster Growth in Entrepreneurship, Business Expansion and Diversification
Assist partners with Youth Entrepreneurship opportunities
Considering a community wide "Big Give Event" for local Non-Profits
Considering a partnership with Eagle Radio to sponsor a "Big Idea" event
Connecting those interested in establishing an Investment Club for commercial and residential developments
Applying to host 2 summer interns from the Rural Fellows Program (UNL)
Pursuing a "Placemaking" partnership with UNL College of Architect & Design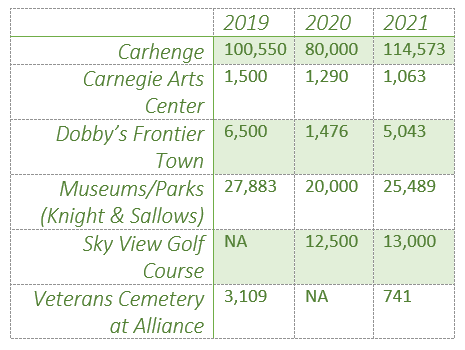 2020-2021 BUSINESS DEVELOPMENTS:
Alliance NDOL Office (Closure)
Alliance Physical Therapy merged with Rock Valley Physical Therapy
Family Dollar - Dollar Tree
West Side Events Center - Patio Addition
Bank of the West (Closure)
Local Gift Boutique & Tea Lounge
Table Top Meats (Retail Remodel & Harvest Expansion)
Also given were awards for Small Business of the Year to the Alliance Recreation Center and Large Business of the Year to the Alliance Animal Clinic.
"Small Business of the Year recognizes the importance of constant, committed work needed for a positive direction in increasing the vitality of the area through retention, relocation, beginning or expanding a business, and the creation of jobs," said Herian. "Last year we recognized Carter's Home Hardware & Appliance for their relocation and expansion of goods and service to Alliance and the surround area. We wish Greg and Lisa continued success and thank them for believing in Alliance."
"This year BBDC would like to recognize the importance of constant, committed work needed for a positive direction in increasing the vitality of the area through the promotion of healthy living, recreation, and family."
"The board of directors would now like to recognize the Alliance Recreation Center for their constant committed success in building healthy bodies, minds, and spirits for all," said Herian. "The Afterschool Program and Summer Camps are two great amenities being provided for our working families. Having a safe place for our school-age kiddos to go is helpful in keeping our employees showing up for work consistently. Through those programs, the ARC has also been able to foster partnerships with KAB, UNL Extension/4H, Carnegie Arts Center, and many more, gaining more learning for our kids outside of the classroom. But more importantly, they get time to PLAY! Yes, physical activity is crucial to their learning success."
"Most recently, the new Playground – ARC PARK - demonstrated a strong partnership between some major players like BNSF, Black Hills Energy, the City of Alliance, our local citizens, plus friends and family near and far, they were able to make a wish, a reality. The 2021 campaign also proved successful along with our directors' successful grant writing ability, the recent addition of the playground and outdoor classroom, will provide fun for ARC kids and those who live on the East Side of Town."
"Not only is the ARC your traditional fitness center, offering a variety of programs and leagues for both youth and adults, but it is keeping our community active, and therefore healthy. I can't wait to see what is yet to come. I know the ARC wants to continue to grow and serve the community better, but that wouldn't be possible if it weren't for these two fine ladies here today."
Accepting the award for ARC as the 2021 Small Business of the Year were Executive Director, Mara Andersen and Operations Director, Reve Fries.
"Large Business of the Year recognizes the importance of constant, committed work needed for a positive direction in increasing the vitality of the area through retention, relocation, beginning or expanding a business, and the creation of jobs," said Herian. "Last year, BBDC recognized Greater Nebraska Medical Surgical Services, Hemingford Clinic. What a wonderful addition to Hemingford it has been."
"This year, the board of directors would like to recognize a business from the Ag sector. Established in 1953 a garage, soon moved to the stucco building on Flack Ave, in 1955. That location had withstood many makeovers and additions but eventually the practice outgrew that space and the need to relocate soon became a reality. By the way, its not there anymore."
"BBDC was excited to assist with the $2M relocation and expansion project. Securing funding from the PREMA Revolving Loan Fund and other sources, the Alliance Animal Clinic was able to purchase, remodel, and build at their new present location at 5712 Perkins Road, aka Hwy 2. Serving pet owners, farmers, and ranchers from Alliance, Hemingford, Harrison, Crawford, Chadron, Hay Springs, Rushville, Gordon, Hyannis, Lewellen, Sidney and Scottsbluff. They added the satellite clinic in Bridgeport in 2018."
"Today, they employ 6 doctors, 5 licensed vet techs, 10 assistants, 3 receptionists, 2 high school interns, and 1 business manager. That's 27 dedicated individuals caring for our pets, companions, and the wellbeing of our farm and ranch critters, which in some instance are our livelihood. Thank you, Alliance Animal Clinic, for choosing to invest and serve Alliance, Box Butte County and the surround area."
Accepting the award for the Large Business of the Year was Dr. Calvin Tolstedt of Alliance Animal Clinic.
2021-2022 BBDC BOARD OF DIRECTORS:
Barb Straub, Village of Hemingford
Blanche Randolph, Dave's Pharmacy
Dustin Chester, Farmers State Bank
Jake Andersen, Parker-Hannifin
Jim Bargen, Box Butte General
Mike McGinnis, County Commissioners
Seth Sorensen, City of Alliance
Trabor Bauer, Ag Producer
Newly Elected or Re-Elected* Directors:
Bart Moseman, Farmers Co-op*
Cindy Baker, Western Heritage Credit Union
Maverick Churchhill, Sandhills State Bank
Herian thanked Wilcox for her three years of dedication and service.