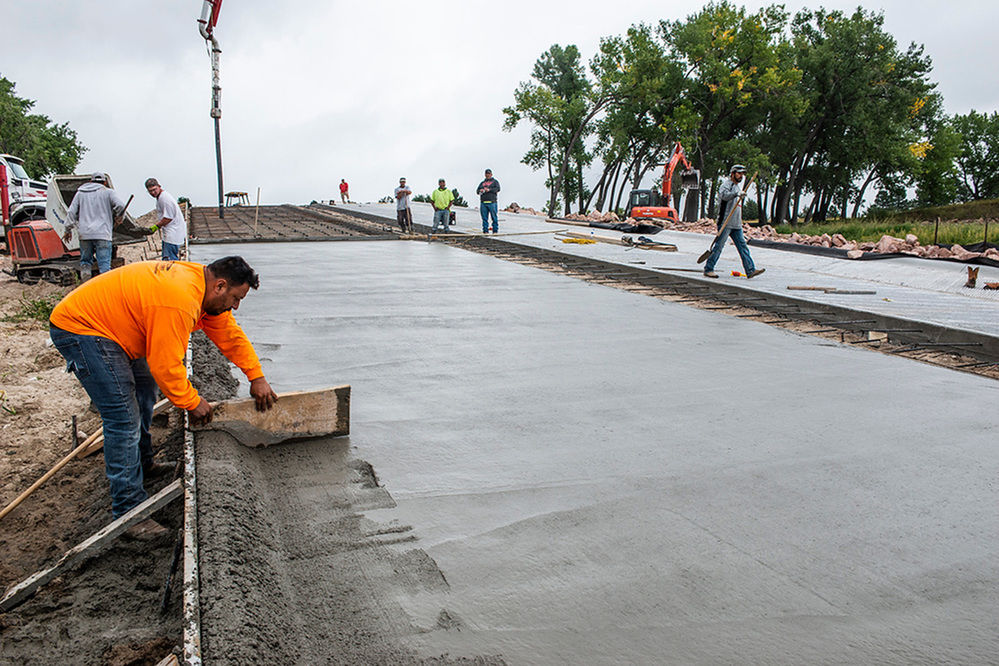 Tourism week is being celebrated by Box Butte County Development Corporation. As the gateway to the Sandhills, Box Butte County has a lot to offer with its unique blend of history, agriculture and friendly communities.
From Carhenge and Dobby's Frontier Town to the Box Butte County Fair and the Box Butte Reservoir there are plenty of attractions to bring visitors to our neck of the woods.
The Box Butte Reservoir brings visitors from all around the Panhandle and neighboring states.
"Of course we have the out-of-state campers and fisherman from Colorado and the surrounding states but visitors come from all over," Box Butte County Reservoir Superintendent Robert Hughes said.
Whether they spend the night as they are passing through, or they make a weekend out of it, visitors to the dam seems to just fall in love with it.
"People enjoy the good fishing and just the overall peace and quiet that you get when you camp here," Hughes said.
The area is a good spot for fishing, camping and picnicking and also features some of the best birdwatching opportunities in the Panhandle. Among species that have been spotted there are Sandhills Cranes, Say's Phoebes, Ferruginous Hawks, Eastern Bluebird, Eastern Wood-pewee, Indigo Bunting, Wood Thrush and the occasional Bald Eagle.
Fish that can be caught include bluegill, northern pike, walleye, largemouth bass, yellow perch and channel catfish, among others. The onsite fish cleaning station makes it easy for fisherman to clean their catch before heading back to the camper or home for the day.
The Box Butte Dam offers campers 14 camping sites with electrical hookups and over 40 campsites without electrical hookups. Camping amenities include drinking water and primitive restrooms. The Box Butte Dam also offers four picnic shelters, over 40 picnic tables and 29 grills. Cottonwood and willow trees provide shade for campers.
New for the 2021 camping season is that guests to the Box Butte Dam will be allowed to make camping reservations on half of the electrical campsites as well as half of the primitive campsites.
Reservations can be made on the Nebraska Game and Parks website at nebraskastateparks.reserveamerica.com or by calling the call center at 402- 471-1414 Monday through Friday, 9 a.m. to 6 p.m. central time. The registration fee is nonrefundable.
"It'll take people some getting used to, but I think once they get used to it, they are going to like it," Hughes said. "The majority of our local campers might have a hard time at first, but they'll figure it out. It will be nice, especially for the major holidays, because you can book a site up to 180 days in advance. So campers can go on the website now and reserve a spot for the 4th of July for this summer and it'll be saved. Campers won't have to pull their campers up to reserve those spots."
All other camping is first-come, first-served. Campers register their nightly camping fees in a raised, locked box called an Iron Ranger that is located at both entrances. Self-service envelopes are provided at each Iron Ranger station. On-site camping informational signs are provided to help guide campers with the self-registration process.
The Box Butte Dam was constructed from 1941 through 1946 by the United States Bureau of Reclamation. It's located just outside the northern border of Box Butte County just nine miles north of Hemingford but it is actually located in Dawes County.
The Dam itself has a structural height of 87 feet and a length of 5,508 feet long. It creates the Box Butte Reservoir that has a water surface of 1,600 acres and a capacity of 31,060 acre-feet. The reservoir was constructed for flood control of the Niobrara River as part of the Bureau's Mirage Flats Project for irrigation water storage.