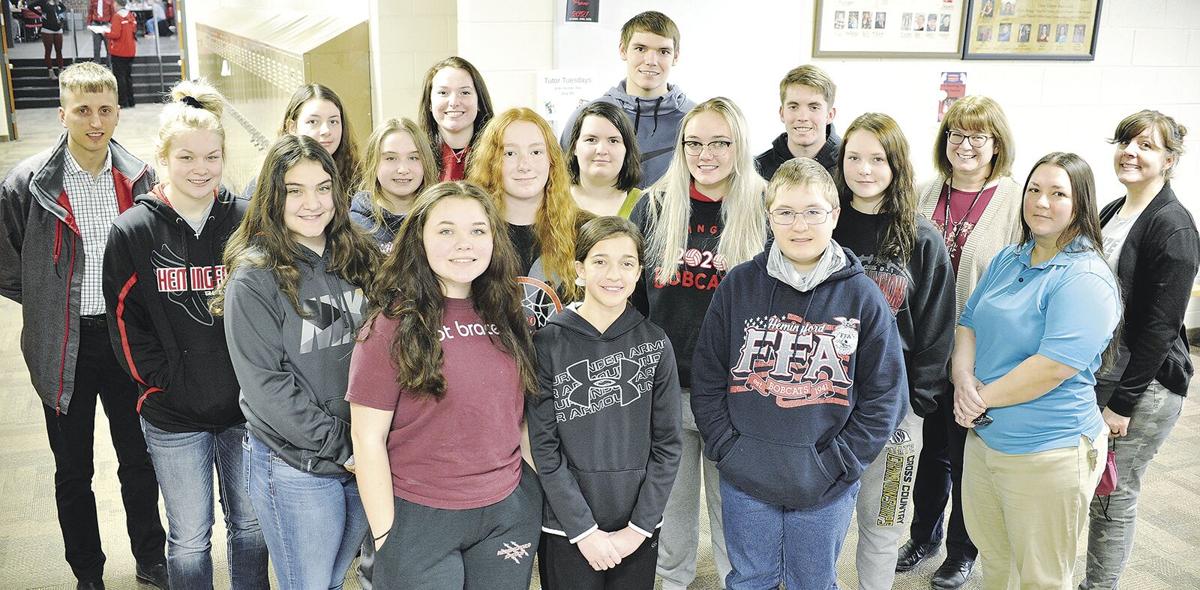 Suicide is one of the leading causes of death among teenagers according to the Center for Disease Control. The problem touches communities and schools large and small. It is problem a Hemingford Public Schools decided to address with a new group, the Hope Squad.
Hemingford's previous school counselor, Ramona Hucke, learned about the Hope Squad last year from Shardel Nelson, whose daughter, Kaelia, lost her life to suicide a number of years ago. This year, new school counselor Dawn Pinnt, with the help of Hucke, and a number of teachers, have made the Hope Squad a reality at Hemingford High school.
The squad is made up of two students from each grade level starting in 7th grade through 12th grade, Pinnt said. The 7th grade and 10th grades have three students because those classes are much larger.
"We wanted to spread our ages so hopefully people will feel more comfortable talking to one of us," Hope Squad member and Hemingford senior Kenneth Wyland said.
The students are being trained on how to talk to fellow students who are discouraged and thinking about suicide. They will also be trained on what to look for and how they should respond.
"It (the Hope Squad) is all about suicide prevention," Hope Squad member and Hemingford senior John Ansley said.
Each student was chosen by their classmates to be on the squad.
"Our classmates voted for who (in their class) they would go to for help," Hope Squad member and Hemingford junior Destiny Hanson said.
The students in each class were asked to write down three names of classmates they felt were trustworthy, kind and who they would go to, Pinnt said. The students whose names were written down the most were asked to join the Hope Squad.
"The fact people see you as trustworthy makes you feel good about yourself," Hanson said. "It also pushes you to help others."
Since the Hope Squad got started this school year Ansley said, but he has had it happen in the past. Hemingford is not immune. Kaelia Nelson was a graduate of Hemingford High School.
Though Ansley was younger than Kaelia, his sister ran in a relay with her. He knew her, as did Wyland.
"We're a small community," Wyland said. Kaelia's death "hit us all very hard."
Why would a young person consider suicide?
"A lot of people get overwhelmed and stressed out," Hanson said.
Social media also plays a big role, Ansley said. "You see all the famous people and you can never be that way."
"It builds unrealistic expectations," Wyland added.
"There is also the pressure to be perfect," Hope Squad member and Hemingford freshman Rylie Wright said. "It continues to build until you can't take it anymore."
"There is also cyber bulling," Ansley said.
The list of reasons is long and the squad plans to be there to encourage, talk and support their fellow classmates during the tough times of junior high and high school.
As the Hope Squad continues to learn what to look for and how to respond they are also trying to help create a very positive environment at Hemingford public schools.
To help active a positive environment, the Hope Squad has worked with FCCLA to hold Hope Day, a day they brought in cookies for their fellow students. They put up posters around the school with positive messages and added sticky notes with positive statements.
"We will do more similar activities like Hope Day to create a more positive atmosphere," Hanson said.
They are also considering doing a music video singing, "You Are Not Alone."
"The problem of suicide is not something that goes away," Hanson said. Therefore, the Hope Squad can't be something that goes away.
"Those elected (as Hope Squad members) see that and will press to continue (the Hope Squad)," Wyland said.