Hemingford High Senior, Arielle Lawrence earned the title of the 2023 C-2 6 District Extemp Champion during the district competition. She will be competing today, March 16. For livestreaming options head to the NSAA website or check the Hemingford Public School's Facebook page for updates.
She'll be going up against five other C2 districts with three speakers from each district for a total of 18 different competitors.
"She tried a new method this year and it evidently worked really well for her," said HHS Speech Coach Beth Dahl. "She decided to give extemp a try last year just to earn our team some points and she fell in love with it."
Extemp (Extemporaneous) means spoken or done without preparation. Speech members either love or hate the extemp category but more often than not its hate. Extemp speakers are given a question relating to current public events and are given an hour to research the speech to deliver with very little notes making sure to site their sources.
"My first speech meet I got 4th in extemp which was incredible so I kept doing it because it gets my mind wondering," said Lawrence. "I'm a procrastinator but I work well under pressure."
"Going into districts I was trying a new method so I was nervous. I got 1st during the first round and I cried because that had never happened before for extemp. Then I got 3rd the second round and finalled but it was a rough go."
Lawrence has competed at the district meet all four years of her high school career. The last three years she placed 4th which is one place from qualifying for the state competition.
As the places were read, Lawrence didn't hear Hemingford or her name for the 4th, 3rd, or 2nd spots and her face dropped. She knew she had placed 1st and was completely shocked.
"Just seeing that look of pure astonishment and pride was just amazing," said Dahl.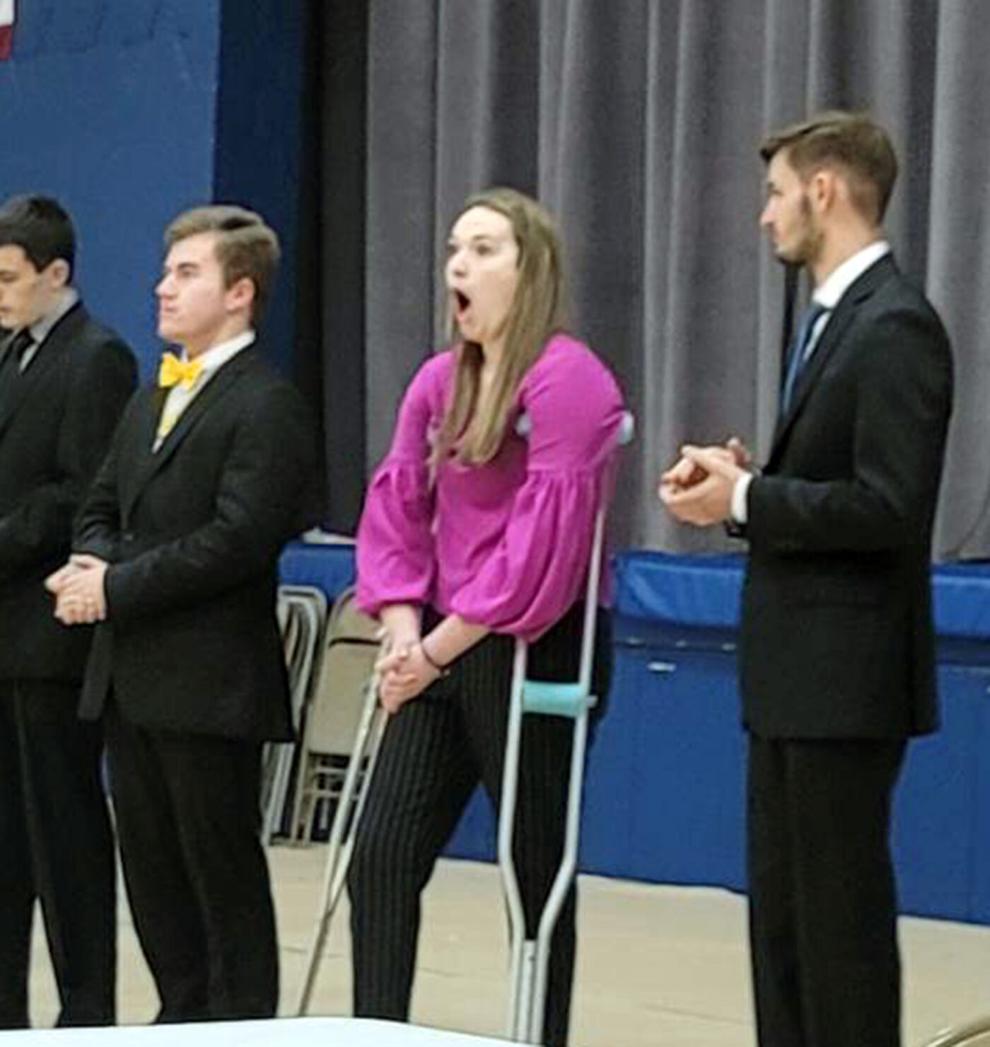 "My whole team just surrounded me," said Lawrence. "That's going to be the hardest part of competing at state is not having my whole team there because they are a huge support."
Also during the district competition: Taren Hunter placed 4th in Entertainment, Arielle Lawrence placed 6th in persuasive, Grace Lilley-Gitch placed 5th in Serious, and the OID group (Taren Hunter, Carlye Kresl, Madi Meek, Josh Aguallo, and Grace Lilley-Gitch) placed 5th. The team placed 4th overall.
"My final round was a closed ended question which is nice but it was 'Who is Gautam Adani and why is he so controversial?' and I had no idea so I looked it up and researched it," said Lawrence. "Extemp gets really boring after a few rounds so I like to add humor into my speeches. So my first round I compared a five year olds tantrum to politicians arguing. One of the judges wrote … J fair, so she caught on to my humor. It's the luck of the draw with extemp."
This school year is Dahl's first year as head speech coach.
"She has done amazing things for our speech team," said Lawrence. "Without her I don't think any of us would have done that well. We all feed off of each other as a team and she helps with that tremendously. For every meet we all finalled which is very near to my heart."
Lawrence plans to participate in speech at the college level next year at either Hastings or Kearney.
Good luck Arielle! Bobcat Nation is proud of you!