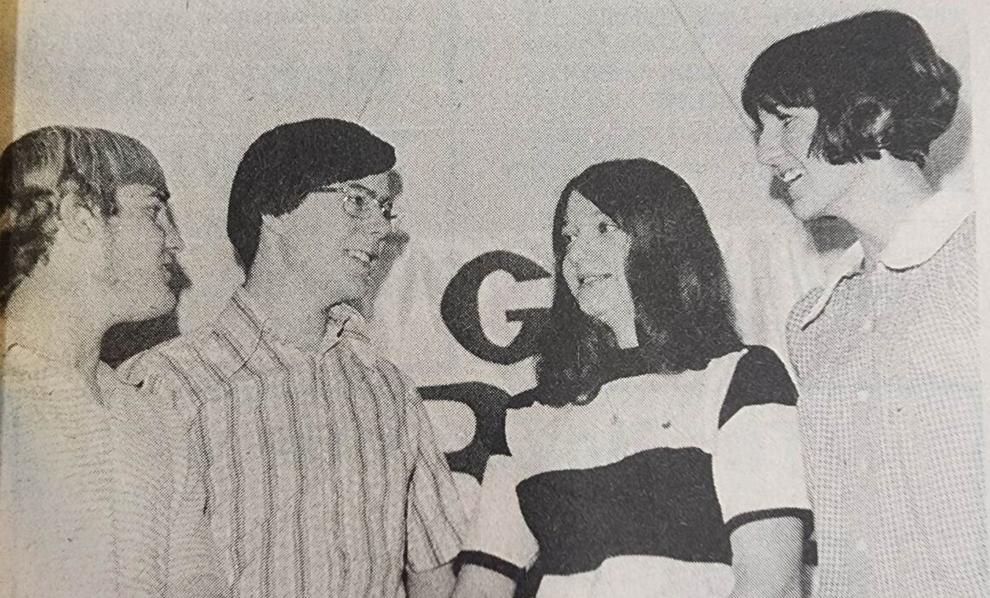 MODERNIZED — Offices are now home for Hemingford Clerk (Jane Planansky), Utilities Manager (Bill Cowan) and Administrator in the completed renovation job at Hemingford Municipal Utilities Building. Work is now underway on the combined town board and courtroom area, and practically completed on the rear-housed police station. When all bills are in, Administrator Charles Fentress said he expects the total cost to reach somewhere between $3,500 and $4,000. It is the first improvement on the property since it was built, originally housing the old Western Public Power, forerunner of today's Consumers Public Power changed to Nebraska Public Power which was supplanted by a town-run utilities department.
THREE APPOINTED TO AID 4-H PROGRAM — The Box Butte County Extension Service announced over the weekend that Kathryn Hood of rural Alliance has assumed duties on a part time basis as a 4-H Aide to the Extension Program.
In a related action, the 4-H Council has appointed Bob Chinnock as Chairman of the 4-H Council for the remainder of the year. Mrs. Bill Elder of Hemingford has been appointed to fill the position of Vice-President, and she, too, will serve the remainder of the year.
120 AT 4-H AWARDS BANQUET — Some 120 attended the 1972 4-H Recognition Banquet Saturday at the Methodist Church in Alliance. Mistress of ceremonies was Donna Applegarth and other 4-H Junior Leaders presenting awards were Mary Chinnock, Patty Hood, and Debbie Lee representing Alliance and Hemingford Junior Leader clubs.
Special Outstanding Businessmen award went to auctioneers Harold Steggs and Howard Christensen, who've worked as a team for years donating their services at the County Fair livestock auction. Silver Clover Award was presented to Ken Littlejohn.
Outstanding 4-H leader of the year named Mrs. Frank (Linnien) Messersmith. A special leader award plaque went to Mrs. R. D. (Doris) Smith.
Longest service award with a 15-year pin went to Mrs. Ralph Hennings of Hemingford. Five-year pins were awarded to Ray Crawford, Mrs. Barbara Henderson, Mrs. Ron Irish and Mrs. Laurice McLaughlin, all of Alliance.
MUSEUM FUND — Doug Shaver, chairman of the Hemingford Museum Board, a body appointed by the Village Board of Trustees, announced today the start of a fund for a new museum in Hemingford.
"There have been two major contributions, one of $2,500 from pioneer resident Miss Regina Burlew, and another of $1,500 from the Box Butte County Historical Society," Shaver announced.
The board has had several meetings in almost a year of operation and are currently investigating possible sites along Highway 2 through Hemingford. The board has also been in contact with construction companies and are considering a building of steel construction. Estimated cost at this early date, of the building alone will be $17,000 including site. Furnishings would cost above this.