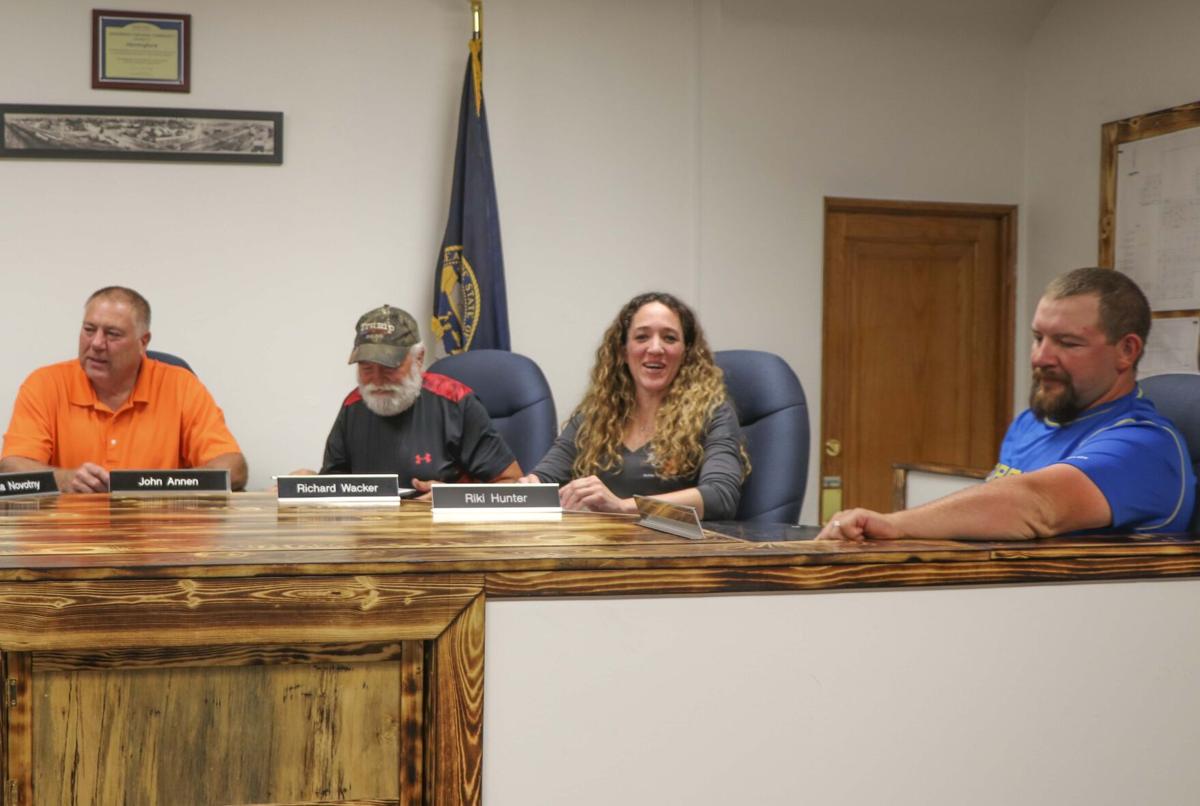 Reorganization of the Village Board of Trustees was conducted during the December meeting on Tuesday, December 28. Trustee Lynda Novotny attended the meeting via ZOOM so she was unable to vote, however the other four trustees voted unanimously to keep the board the same. This means that John Annen remains Village Board Chairman and Richard Wacker remains Vice Chairman.
The December meeting marked exactly one year since the board approved the installation of the equipment to conduct the meetings via ZOOM. Village of Hemingford Attorney Libby Stobel was appointed for another year and also attended the meeting electronically.
Barb Straub was reappointed as the Village Administrator/Clerk, Dusty Bryner was reappointed as the Village Marshall, and Jeff Wolfe of MC Schaff was repointed as the Street Superintendent for the Village. Hemingford Library Board members Sue Hemmings, Joni Frahm, Linda Petersen, Robyn Armenta, and Deb Finley were reappointed. Farmers State Bank was appointed as the Village Depository and the newest Village Trustee, Riki Hunter, was appointed to the boards that former trustee, Deb Planansky sat on.
Claims against the Village were approved in the amount of $44,271.95, claims against the Utilities were approved in the amount of $88,999.48, and claims against the Hemingford Community Care Center were approved in the amount of $163,340.16.
During the meeting Straub informed the board that the summer electric rate was unchanged for the top tier of the commercial business.
"To move forward with the audit the auditors need to know if we are going to move forward and retroactively bill these or if we are going to say 'mistakes happen and don't let it happen again'," said Straub. "This is something that as we are doing these rate changes I did not recheck and make sure that we had gotten all of them changed. All of them were changed except for the one tier. This is something that I should have been on top of."
Annen asked Straub if the businesses were aware that they were undercharged for June, July, August and September.
"They are not aware as I wanted to have an actual dollar number and knew what our intentions were," Straub said.
"There are several things that we can do," said Annen. "We can go after the full amount, prorate it out for a certain amount of months, we could go after a portion of it or we could forgive it as it was our mistake."
"I'm not sure that we should forgive it all but maybe we could forgive some of it," said Novotny. "We're a business too and we need to keep our heads above water."
"We could present it to them and see what kind of feedback we get from them," said Wacker.
"The number one business that will be affected would be Farmers Coop," Straub added.
The board voted to retroactively bill the effected businesses with the full amount of the rate change.
During Straub's administrators report she notified the board of a $4,000 donation from a private donor for a new door at the Hemingford Library. The Library also received a $100 grant from the Mission Store that was used to purchase new headphones for the computers.
She stated that the Believe celebration went "incredibly well".
"We were able to serve over 200 bowls of soup and raise $1,025 to be used for the purchase of new ornaments," said Straub. "When they go on sale, we should be able to purchase two new ones."
The Hemingford Utility Office held a Christmas Giveaway for $100 off of their January bill. A total of 122 customers signed up for a chance to win one of four prizes. The lucky winners were Lyle Worst, Chelsey Rodriquez, Pat Buskirk and Tobi Buchheit. 
Utilities Superintendent Kyle Huss wrote a report for the board as he is taking time off during the holidays to spend time with his family. He reported that during the monthly water samples that were taken in for November came back positive for coliform.
"This means that we were required to take repeat samples," stated Huss. "One sample was to be taken at the original site, one downstream, one up stream, and one at the well that ran the day the original sample was taken. Out of all four of the repeat samples one came back positive for coliform again. The sample that came back positive the second time was the upstream site. This threw us into a level 1 assessment with the state. This is the first level 1 assessment we have had since I have been employed here. It required us to fill out some paper work and to assess our water system as to where the coliform could have come from. We determined that the original site had plumbing recently done to it by the homeowner and the new water lines that were installed may have some dust or other contaminate in it that did not have time to properly flush out of the pipes before we took the sample."
"The upstream site that came back positive had a new faucet recently installed and the internal design of it made it difficult to fully disinfect. The state was happy with our assessment of possible problems. It is important to note that a level 1 assessment is NOT a violation and we do NOT have to chlorinate. It is also important to note that the presence of coliform does not mean that the water is unsafe, coliform is a group of bacteria found in plant material, water, and soil and are not harmful, they are used as an indicator to predict the possibility of other issues. The village's water is still SAFE for consumption. It is worth mentioning that our DHHS representative, Bill Taylor, said that since he took over the position earlier this year, he has been busy dealing with an unusually high amount of level 1 and level 2 assessments in our field area."
Hemingford Community Care Center Administrator Lori Dannar submitted her report and informed the board that they received $52,000 from the Provider Relief Fund to be used for anything COVID related.
"We can use those funds for incentives for our current staff," said Dannar. "We had hoped that with the mask mandate threat gone that we could get some staff in but that hasn't happened. We continue to need one night LPN, one night CNA, two day CNAs, two day Med Aides, full time housekeeping and laundry.  All facilities are being hit hard with no workers."
"We currently have 21 nursing home residents and 9 assisted living residents.  We are being cautious on any new admits due to staffing," said Dannar.
"Please continue to pray for our facility, our community and our world.  I believe the next two months are going to be very difficult on many.  Thank you for your continued support. I'm hoping 2022 turns into gold somewhere along the line."
The next Village of Hemingford Board of Trustees meeting will be on January 18, 2022 at 6 p.m.