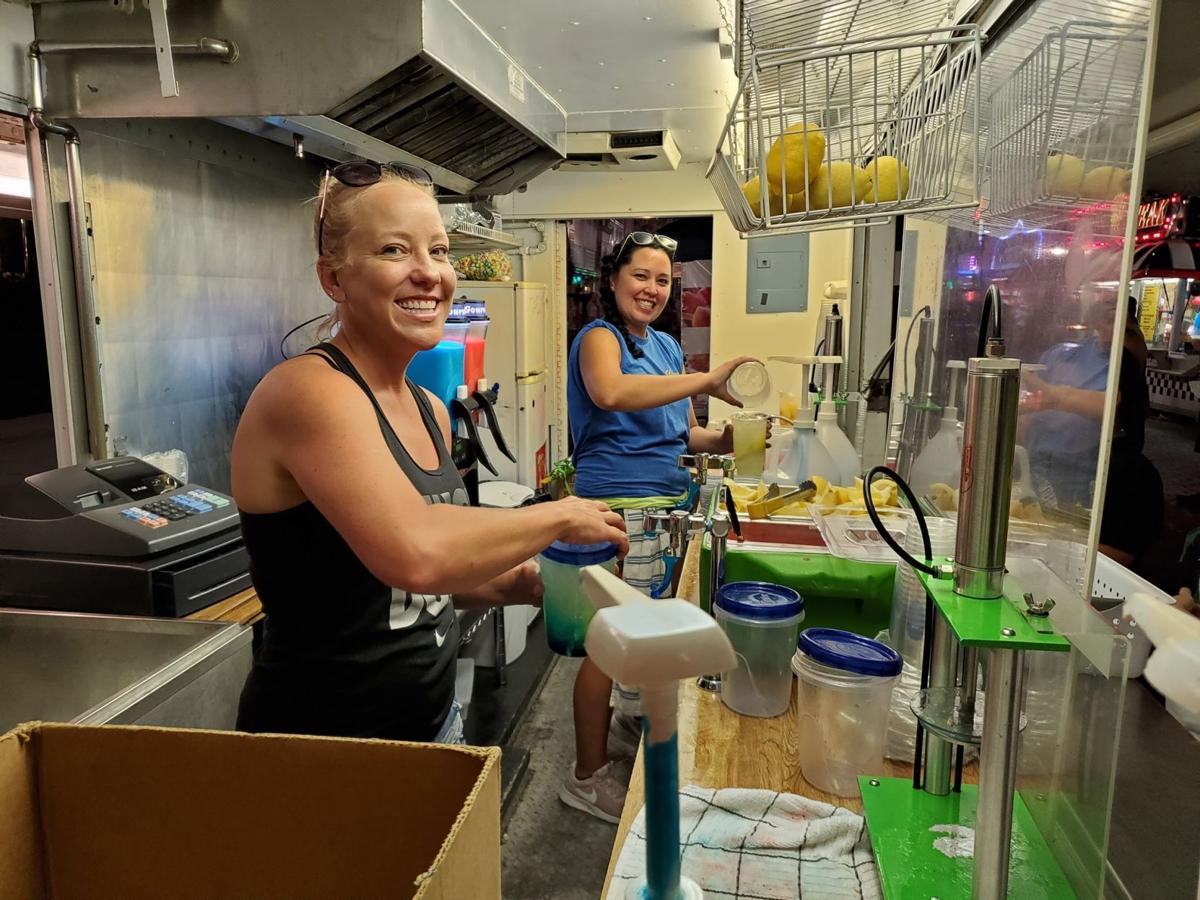 The 37th annual Willow Tree Festival in Gordon is coming up this weekend, September 11 and 12. There will be many arts and craft vendors, and musical acts throughout the weekend. With the wide variety of events going on there is definitely something for everyone.
The Willow Tree Festival gets its name from the landmark where Gordon's first settlers built their sod houses. For many years the willow tree had been a meeting place for riders crossing the plains through the Sandhills.
"Meet you at the Lone Willow," they would say.
Today that willow tree is a place to meet as you are invited to the Willow Tree Festival on the banks of Antelope Creek at Winship Park in Gordon.
The festival grounds encompasses two city parks and the community building with the streets blocked off to make the grounds save enough for the thousands that come to enjoy the two-day long family fun event.
Artists and crafters will be set up all around the perimeter of the park to offer their arts and crafts to festival goers. They will be located throughout Winship Park and also in the basement of the City Building on Oak Street. Plan to bring your Christmas shopping list here for unique, handmade gifts.
Fun festival foods are also available from many vendors along the food court on Oak Street and also in the children's activity area and the new addition of the Cowboy Museum.
Food Vendors include: Billy's Baja Burritos, Butler's Daylight Donuts, C.J.'s Kitchen, First Presbyterian Church, Gordon Lion's Club, Lizzy's Lemonade, The Potato Seller, Tri State Cowboys, Panhandle Kettle Corn, and Van Briggle's Ice Cream.
Two museums encompass the festival grounds including the newly remodeled Tri-State Old Time Cowboy Museum in Winship Park and the Scamahorn Church Museum in Wayland Park. Both museums are free of charge. The cowboy museum has cowboy gear and memorabilia on display. The Scamahorn Church Museum shows the history of the town in the original 1884 Methodist Church building.
The Gazebo Stage is the focal point of Winship Park and features professional singers and musicians. They will be performing twice each day to entertain the festival goers. Seating is provided in the shade or sun or you can bring your own lawn chairs.
Saturday:

10-10:45 a.m. & 4:15-5 p.m. – Daniel Martinez – He is a Flamenco guitar wizard, composer and teacher that hails from Iquitos, Peru.
10:55-11:40 a.m. & 1:40-2:25 p.m. – Eric Enbebresten – He is a dynamic performer with a unique ability to engage his audience and make them feel personally involved. With only an acoustic guitar and a clear tenor voice, he performs songs that are remembered and loved by listeners of all ages, as well as penetrating original numbers. 
11:50 a.m.-12:35 p.m. & 2:35-3:15 p.m. – Carl Acuff Jr. – He has spent more than two decades touring the country and will be at the festival performing his Wichita Lineman show – A Tribute to Glen Campbell.
12:45-1:30 p.m. & 3:25-4:05 p.m. – Dennis Warner – His musical career has brought him to all 50 states and beyond. Along the journey, he's released 11 CD's and authored Beads on One String that was named one of the best CD's of 2012 in fold music.
Sunday:

9-9:50 a.m. – Church Service
10-10:40 a.m. & 3:25-4 p.m. – Carl Acuff Jr. –The Wichita Lineman – A Tribute to Glen Campbell 
10:50-11:30 a.m. & 1:15-1:55 p.m. – Dennis Warner
11:40 a.m.-12:20 p.m. & 2-2:35 p.m. – Daniel Martinez
12:30-1:10 p.m. & 2:40-3:20 p.m. – Eric Engerbretson
The Children's Stage is located in Wayland Park, north of the bridge on 4th Street. A variety of acts are guaranteed to entertain the children and the young at heart for hours.
Children's Stage Performers:
Saturday:

10-10:45 a.m. & 1:40-2:20 p.m. – Michael Fitzsimmons – He showcases an exciting variety of drums from Cuba, West Africa, Central and South America; flutes from Brazil, China and Native America; pan pipes from Bolivia; and kalimbas from South Africa.
10:55-11:40 a.m. & 2:30-3:10 – Barbara Funke – aka Tulip and Friends from State Center, Iowa, is a children's and family entertainer with over 25 years as a professional. Tulip's shows will include storytelling, puppets, and ventriloquism as well as lots of magic. 
11:50 a.m.-12:35 p.m. & 3:20-4 p.m. – Colorful Magic by Bruce – Along with magic, he does balloon twisting magic and balloon workshops. Every show is not only fun, but magical, entertaining, engaging, and of course, Colorful. Bruce's desire is to make it an experience that becomes not only a magical experience, but makes a difference in your day and brings a smile and some laughs.
12:45-1:30 p.m. & 4:10-4:50 p.m. – Jared Fernau – Starting off as a magician when he was a boy, his expertise has now expanded to many forms of entertainment, including medium art, media and cinematic entertainment, game development, live entertainment, and recreation.
Sunday:

9-9:50 a.m. – Church Service at Gazebo
10-10:40 a.m. & 1:20-2 p.m. – Bruce's Colorful Magic
10:50-11:30 a.m. & 2:10-2:50 p.m. – Michael Fitzsimmons
11:40 a.m. -12:20 p.m. & 3-3:40 p.m. – Tulip and Friends
12:30-1:10 p.m. & 3:50-4:30 p.m. – Jared Fernau
The Community Stage is located in the community building at 311 Oak Street. There is an elevator in the building for those who can't do stairs. This is a stage to showcase local, area, and regional talent.
Community Stage Performers:
Saturday:

10-10:45 a.m. & 2:35-3:15 p.m. – Scott and Josh Fernau – Scott Fernau was born and raised in Chadron and has played music with many local musicians throughout the area. 
10:55-11:40 a.m. & 1:40-2:25 p.m. – The Sisters of the Outlaw Trail – Sisters, Marci and Teresa grew up along Highway 12, Nebraska's Outlaw Trail. They incorporate their rural experience and research into narrative cowboy poetry and music.
11:50 a.m. -12:35 p.m. & 4:15-5 p.m. – Carol Markstrom – From the west to the east to the far north of Alaska, audiences have been captivated by Carol Markstrom's vocals and the storytelling quality of her lyrics that transport to other places, times, and people.
12:45-1:30 p.m. – Sheridan County Players – Over the last twenty-two years, the Players have put on children's shows, musicals, comedies and dramas. They have had area actors from the ages of 2 to 82 in their shows. The Players have won state community theater competitions for plays, acting and sets and have entertained hundreds of crowds.
3:25-4:05 p.m. – Meng Dynasty – George Meng, a Rocky Mountain recording artist, leader of  Meng Dynasty, has been performing professionally since 1979. He has been a member of many different bands over the years, including bands that performed at Cheyenne Frontier Days and Buffalo Chip. 
Sunday:

9-9:50 a.m. – Church Service at Gazebo
10-10:40 a.m. & 12:30-1:10 p.m. – Carol Markstrom
10:50-11:30 a.m. & 2-2:35 p.m. – Scott and Josh Fernau
11:40 a.m.-12:20 p.m. & 2:40-3:20 p.m. – Sisters from the Outlaw Trail – Nebraska Outlaws
1:15-1:55 p.m. – Sheridan County Players
3:35-4 p.m. – Meng Dynasty