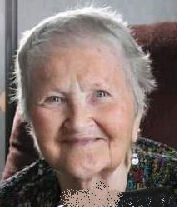 Betty Mae (Bauer) Bedient, 82, of Hemingford, passed away peacefully with family at her side on Friday, March 19, 2021, at the Hemingford Community Care Center.
She was born March 11, 1939 to Earl Orin Bauer and Lillian (Henderson) Bauer at St. Joseph's Hospital in Alliance, Nebraska. She was the oldest of three children.
She grew up on a ranch ten miles east of Alliance. The Bauer family ranch was always full of love and laughter and welcomed countless family gatherings over the years.
Betty attended school in a one room schoolhouse a few miles from their home. She rode to school in a little Willy's Jeep, walked or rode horseback. The school house didn't have indoor plumbing and they got water by pumping it from a red pump, and the bathroom was an outhouse.
She then graduated from Alliance High School in 1957. She attended Alliance Beauty College graduating in 1958. She worked as a beautician for a year and enjoyed cutting the kids, grandkids, nieces and nephews hair as long as her hands would allow.
Betty met Theo Bedient in Alliance through mutual friends "Cruising the Butte". They were married May 6, 1962 in Alliance at the United Methodist Church.
They lived in Rushville and then Bayard and settled in Alliance before retiring to the original Bedient family homestead north of Hemingford. To this union four children were born, Kimberly, Brenda, Roger and James.
Betty was a member of the United Methodist Church of Hemingford. She was Sunday school superintendent of the Methodist Church in Alliance and taught Sunday school there for many years. She was a member of the Learn and Laugh Extension Club, the Box Butter General Hospital Auxiliary and RSVP.
She worked at The Fabric House for many years as she loved to sew. She sewed many of the family's clothes growing up, along with some for her grandchildren, including wedding dresses for her daughter Kim and daughter-in-law Suzanne.
She then went on to work as a clothing saleswoman at Marion's Clothing store on Box Butte Ave. Her grandchildren always enjoyed helping her set up sidewalk sales each Heritage Days. Spending as much time with her at the store as time would allow.
Tole painting with her husband, children and grandchildren was one of her hobbies, painting many different patterns and carvings made by Theo. She enjoyed throughout the years making quilts and blankets for her grandchildren with her daughters and grandchildren. She loved scrapbooking and made pages for her grandchildren and gave them to them for special occasions each year. After having a stroke, she started making beaded necklaces as part of her therapy, and loved to give them to all of her family and friends near and far.
She and Theo loved camping with their children and grandchildren and could be found each summer at Fort Robinson, the Box Butte Dam, or Chadron State Park. They taught their grandchildren how to play cards and spent many an hour playing at the table in the camper, along with cooking marshmallows and hotdogs on the campfire, and exploring all the campgrounds had to offer.
Family was everything to her and she made sure to always keep in contact with even the most distant relatives. Traveling to see as many of them as she could on the trips she and Theo took throughout the years.
Betty is survived by her Husband of nearly 59 years, Theo of Hemingford, daughters Kim (Cliff) Payne, Brenda (the late Jerry) Nunes and special friend Tim Riggs, son Roger (Suzanne) Bedient, all of Alliance. Grandchildren, Erica (Christopher) Chipperfield , AJ (Ammie) Bedient, Zach (McKinley Backous) Payne all of Alliance, Melissa (Alex) Gomez of Fate,TX, Kaycee Bedient (Katie Mosley) of Lincoln, NE, Jayme (Zach) Clark, Andy Nunes and special friend Sabine Marks, Cherity Bedient, all of Alliance, Katelyn(Ross) Dunn of Twentynine Palms, CA, and Evin Bedient of Alliance. Great Grandchildren: Jennifer Chipperfield, Jaedon Payne, Hallie Chipperfield, Jayda Backous, Isabella Chipperfield, Steven Long (Bedient), Christopher Chipperfield, Addisyn Bedient, Gabriella Chipperfield, Brecken Bedient, April Gomez, Myles Gomez, Bennett and soon to be baby Clark and Hendrix Dunn. Sister Kathy (Phil) Ward of Lincoln, NE, brother Marvin (Shara) Bauer of Kearney, brother-in-law Gene (Gwen) Bedient St.-Sernin, Toulouse, sister-in-law's Ann Bedient Seward, NE, Carol Bedient, of Parker, CO and numerous nieces, nephews and cousins.
She was preceded in death by her parents Earl and Lillian Bauer, father and mother-in-law Lowell and Oneta Bedient, nephews, Roy and Dean Bedient, brother-in-law Alan Bedient, aunt and uncle Norma and "Wilbur" C.W. Prall, son James Earl Bedient, granddaughter Rylee Mae Bedient, son-in-law Jerry Nunes and numerous relatives and beloved furbabies, Tasha, CJ, Tiffy and EB.
Memorials may be made to Regional West Hospice, Box Butte Hospital Auxiliary, Hemingford Methodist Church or donor's choice.
Memorial services will be held at the United Methodist Church in Hemingford on Thursday, March 25th at 10:30 a.m. with Pastor Esther Achi officiating. Inurnment will be at the Alliance Cemetery at 2 p.m.
Online condolences may be left at www.batesgould.com with Bates-Gould Funeral Home in charge of arrangements.