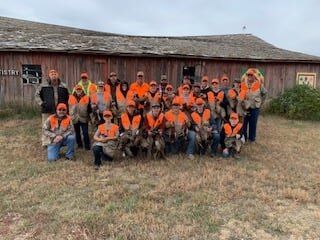 The Heritage Chapter of Pheasants Forever held their 2021 Youth Mentor Hunt late in October with 14 youth participating.
"We had 14 youth come out of 20 that said they were coming," said long time mentor and Heritage Chapter member Daniel Anderson. "That's about average."
Anderson thanked mentors: Gene Giles (sponsor and hunt host), Tim Johnson, Brian Johnson, Bill Jensen, Mia Reynolds, Kelly Mildebrant (PF Biologist), Kelsey Glodowski (Nebraska Game and Parks Conservation Officer), Dave Huss, Jeff White, Jason Brown, Lee Jerke, Brandon Jerke, Chad Buskirk and Mike Dietrich.
Lee Jerke, who joined the Pheasants Forever board nearly ten years ago and has served as president since 2014, reminded the mentees to tell their friends how much fun they had during the event and encourage them to enroll in hunters safety so they could participate next year.
"A very special thank you to Jason Tritle with Tritle Plumbing for donating a porta potty for the hunt," said Giles. "It is appreciated again and again as the hunt goes from 7 a.m. to 2 p.m."
"We cannot do these hunts without the volunteers," he said. "So thank you all."
Youth that participated in this year's hunt were: Kaiden Krebs, Keith Buskirk, Tyler Huffman, Jackson Bailey, Kade Olson, Danny Taylor, Dylan Frye, Kenton Walker, Kyran Walker, Cody Penaluna, McKenna Quick, Kail Fickel, Parker Weber and Keaton Mann.
"We had breakfast burritos provided by Taco John's," said Anderson. "Thank you Don Berg and crew for getting up early to make us breakfast. After breakfast the Youth, some who had never hunted before, were broke up into groups to go do 3D Archery, shoot clay pigeons, shoot pellet rifles, and sling shots. After warming up on clays the Youth were taken to the field, one at a time, for their pheasant hunts."
"Lunch, snacks and drinks were provided by the Heritage Chapter," Anderson said. "Along with hats, Bob Allen hunting vests, shooting glasses and ear protection that the Youth all got to keep at no cost to them. Shotgun shells were also provided by the Chapter so the kids or parents didn't have to come up with anything but their time and patience."
"All the participants managed to get at least one bird, some got two," he added. "When everyone had their turn hunting a group photo was taken before Mentors worked with the Youth on cleaning their birds. After the birds were cleaned, bagged and names marked on the bags they were put on ice. And as far as I know they all had a good time. That's what we like to hear."
Ross Alcorn of Alcorn Hunters Haven donated a Lab puppy to be drawn for at the Hunt.
"Ross has donated a pup to be drawn for, for several years now," said Anderson. "The kids had to have permission from their parents to be in the drawing for the pup. The winner of the Lab pup this year was Jackson Bailey from Alliance."