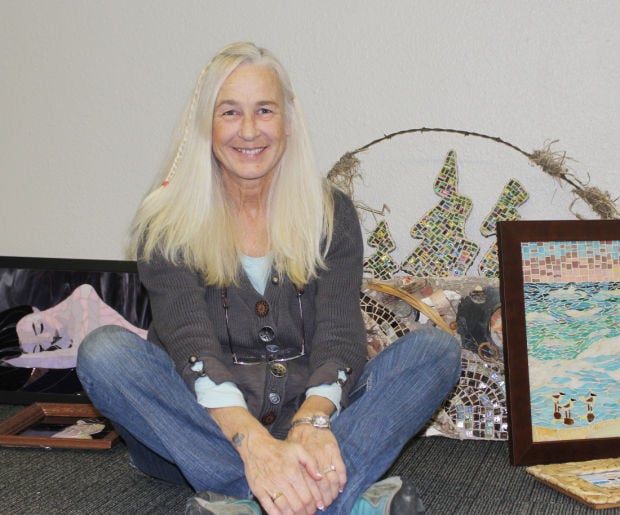 Grace Blowers' hands — strong, with long fingers tipped with a French manicure — don't look like the hands of someone who works with tiles.
Yet Blowers used to install large tile floors.
"I blew my back out, and that's when someone suggested I do little tiles," she said. "I had never thought of the art process, but absolutely loved it. I knew I had found my medium and have been hooked ever since."
Blowers has been working for the past six months to create about 130 original mosaic art pieces for the January exhibit at the West Nebraska Arts Center. She had about 30 pieces all ready to go, but wanted a solid representation of her work. Blowers worked almost non-stop, seven days a week for 10 hours a day, to get the exhibit ready.
"It is such a great opportunity, I didn't want to pass it up," she said. "I took no breaks and didn't even get my paddle in the water this summer."
The exhibit features some of the new techniques and concepts she's been working on. She added that there is variety in her work.
"There is a vast array of pieces with varying affordability," Blowers said.
Variety and design are not something Blowers always plans. A typical morning consists of her going to the studio, pulling down a tile and picking out a substrate to work on. She lets the piece move her and lead her.
"I draw inspiration from nature, people, my love of life and my imagination," Blowers said.
Many of the pieces Blowers has in the exhibit are glass or stone tiles, but she enjoys working with all kinds of material. One of her new works, titled "Colorado Flood," is done with debris she gathered after the floods in September.
"I went out after the floods and gathered up pieces of debris. I used everything from dry wall, sewer pipe, china and toys to depict the homes and damage to lives," she said.  
Blowers' mosaics are like puzzles that she masters with a lot of practice and work. She spends many hours figuring what goes where, and then there is a lot of chipping and cutting to get the pieces to fit perfectly.
She said some people may look at her work and think it's easy to fit the pieces together, but it's a long process.
"I'm a perfectionist. I cut and chip until the pieces look meticulously plopped into place," she said. "I manipulate each piece into its place."
One of the more difficult tiles to work with is smalti, she said, but it is well worth it. Blowers has to use a hammer and hardie, a chisel-like tool, to split the glass. Like a diamond, it has to be cut just right to fit.
She used the glass to create her piece "Unveiled Soul," in which the entire piece is made up with the glass.
"I like the colors. They are so true, shine and the way it gives texture to a piece," Blowers said. "Each piece is placed together back to back so there is no grouting. You really have to nail each piece with precision."
The exhibit "Blowout" will be at the West Nebraska Arts Center from today to Feb. 2.
A reception will be today from 5 to 7 p.m. at the center, and the exhibit is sponsored by John and Pamela Kabalin.