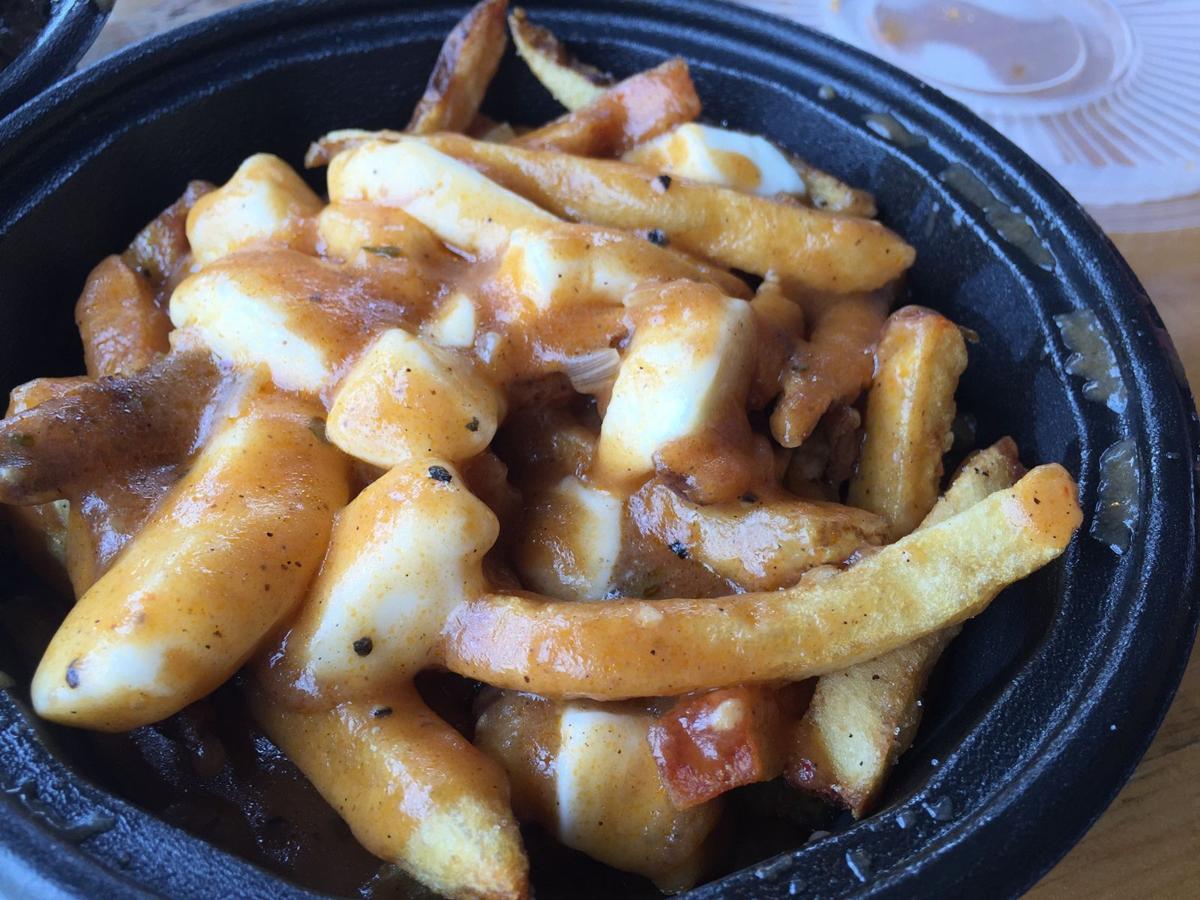 To refer to a general "Canadian cuisine" might be a fool's errand, but specialties such as poutine, Coffee Crisp chocolate bars and pea meal bacon have become part of the Buffalo food experience thanks to businesses' efforts.
At the same time, several Canadian natives living in Buffalo lament the lack of memorable items from their youth – most notably butter tarts, but also ketchup chips, HP sauce and dim sum.
Embracing multiculturalism
A cultural respect for ethnic foods is evident throughout Canada, with Toronto's diverse population serving as the perfect example.
Toronto-based food writer Ivy Knight, who's been published in the New York Times and Condé Nast, believes the country's approach to food is shaped by its free national health care, emphasizing unity over individualism.
"Because that huge weight is not on our shoulders we are able to be more open to humanity and thus, immigration, which has shaped our food scene more than anything else," Knight said in an email. "We can enjoy mom's apple pie, but it doesn't define us. We have the whole world on our table."
Facebook crowd-sourcing echoed this notion: "Foods beloved in Canada that didn't originate from there" was a common refrain among answers about what Canadian specialties were missed in Buffalo.
"Most of the other Canadian food I miss was from a different part of the world to begin with," said Ryan McNamee, who lived in Calgary and Toronto for nine years before settling in Buffalo. "(Foods like) Trinidadian doubles, beef patties, good shawarma."
Just one Buffalo business is dedicated to poutine: Poutine & Cream, at 1488 Hertel Ave., sets the local standard for the dish of french fries, gravy and cheese curds cobbled together in a hot, comforting jumble. Co-owner Jake Fraser, who grew up in Fort Erie and later sold fries at Sherkston Shores before moving to Buffalo to open Allen Street Poutine in 2015, adding Poutine & Cream as a second location in 2017.
Fraser said he will not renew the lease at 242 Allen St.; the Covid-19 pandemic decimated the Allentown nightlife on which Allen Street Poutine thrived. That's not a reflection of poutine's popularity: The North Buffalo spot surges forward with Fraser's commitment to quality ingredients – which will never be compromised with frozen fries, canned gravy or shredded mozzarella cheese.
One of Fraser's best-selling poutine varieties is the Montreal smoked meat, which he says is often mistaken for pastrami. Poutine & Cream cures angus brisket for three days before smoking it for at least 10 hours. Fraser said it's a time-consuming labor of love, as the brisket is expensive and, because it's 30% fat, difficult to work with.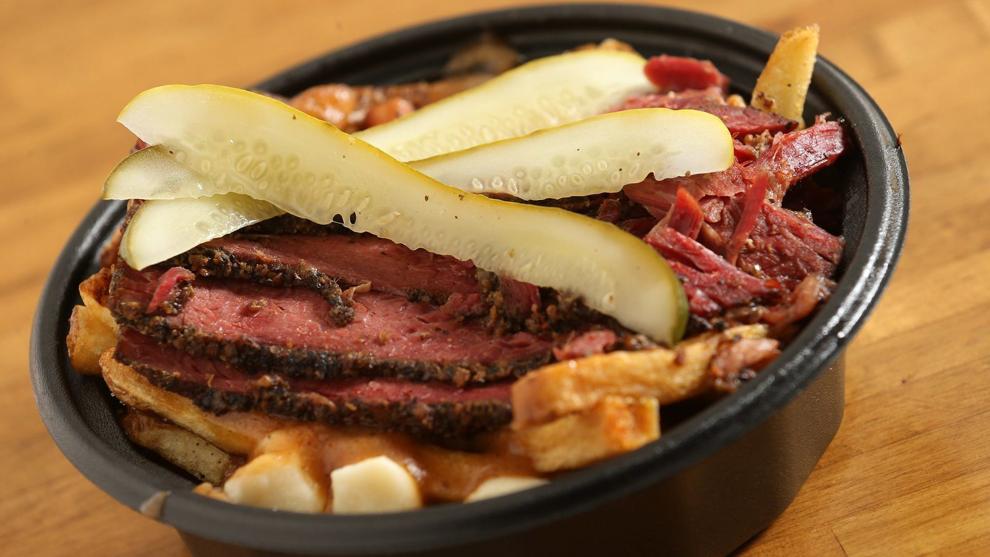 Video: Black Sheep serves up Swiss Chalet classics:
Canadian chocolate bars and candy
There's an underground market for Canadian chocolate bars in Buffalo, which has intensified since the border closure made supply scarce.
Among those who source the candy bars: Vidler's 5 & 10 (676-694 Main St., East Aurora), Premier Gourmet (3904 Maple Road, Amherst) and Marilla Country Store (1673 Two Rod Road, Marilla) do so legally and have them in stock; same with Joe's Service Center – connected to the Sunoco gas station at Elmwood Avenue and Amherst Street – which has long been known for carrying the products but has recently encountered supply issues.
Among the Canadian sweets sold at Vidler's are Coffee Crisp, Aero and Mars bars, Mackintosh Toffee bars and Crystal Beach suckers. "All are popular, but I would say Coffee Crisp is the No. 1 seller and Crystal Beach suckers probably close behind," co-owner Don Vidler said.
The demand for Coffee Crisp – a layered bar weaving in coffee-flavored soft candy – is felt at Premier Gourmet, too. "They're the fastest-selling item out of Canada that we've got," said Glen Synoground, a Premier Gourmet manager.
While others have struggled to maintain their Canadian chocolate bar supply, Synoground praises his supplier, who has dual citizenship. Bigger bulk orders can at times leave Premier hamstrung, so it's worth a call in advance to confirm availability.
The Marilla Country Store takes pride in carrying hard-to-find items – the Aero Bars and Coffee Crisp – which hold special memories for co-owner Sandy Grunzweig, who visited cousins in Kitchener, Ont., growing up.
"These were a special treat," she recollected. "We carry them because it's fun to watch other people discover them and reminisce about them."
Most Americans might have some idea of pea meal bacon (sometimes called Canadian bacon), but unlike the beloved, fatty strips in the states, Canada's is trimmed off the back of a pig, not the belly, and was traditionally coated in crushed yellow peas to extend its life.
Now, in products like the breakfast sandwich (on a buttered English muffin with a fried egg and choice of cheese, $5.50) at Dash's Markets at 1770 Hertel Ave.; 8845 Main St., Clarence; and 499 W. Klein Road, East Amherst, the Canadian bacon is coated in cornmeal and tastes more like ham than American bacon.
It's also available for $6.99 per pound – cut into rectangular slabs or as an entire block – in the butcher's section of all four Dash's Market locations. Sophia's Restaurant, at 749 Military Road in Black Rock, also boasts Canadian bacon.
Butter tarts, a dessert pastry found throughout Canada, are perhaps the most elusive of the Canadian specialties.
Huerta Puerco is a seasonal food cart that has served authentic butter tarts at the Colden Farmers Market over the summer. Owner Leslie Hornung will set up at the market's last day, Saturday, from 8:30 a.m. to 12:30 p.m. at 8745 Supervisor Ave., Colden.
Hornung's husband and helper at the market, Michael Korchynski, has Canadian roots and urged authentic butter tarts – made without nuts – grace the menu. Hornung described her product as "sweet, gooey and brown sugary (in a) flaky pastry."
Poutine & Cream's Fraser has fond memories of butter tarts, too, from Christmas dinners to their presence in convenience stores in Fort Erie. "They taste like pecan pie without the pecans," he said.
DiCamillo Bakery, which has five total locations in Niagara Falls, Williamsville and Lewiston, also crafts a limited number of butter tarts each week, but they're modeled after a Welsh version introduced by a former DiCamillo baker, from Scotland, in the 1950s, said Matthew DiCamillo, the bakeries' vice president.
"Our family thinks of the butter tart as kind of a relative to the American pecan pie," DiCamillo said. "Ours are filled with walnuts and raisins."
More specific Canadian cravings – such as dim sum in Vancouver, a desire of Buffalo software developer Dale Lum, who lived in Vancouver for 28 years, and HP sauce – or ham sauce – for McNamee, who has yet to track down an adequate American option.
If you know where to look, some Canadian cravings can be satiated, but the larger quest for quality Canadian fare continues.