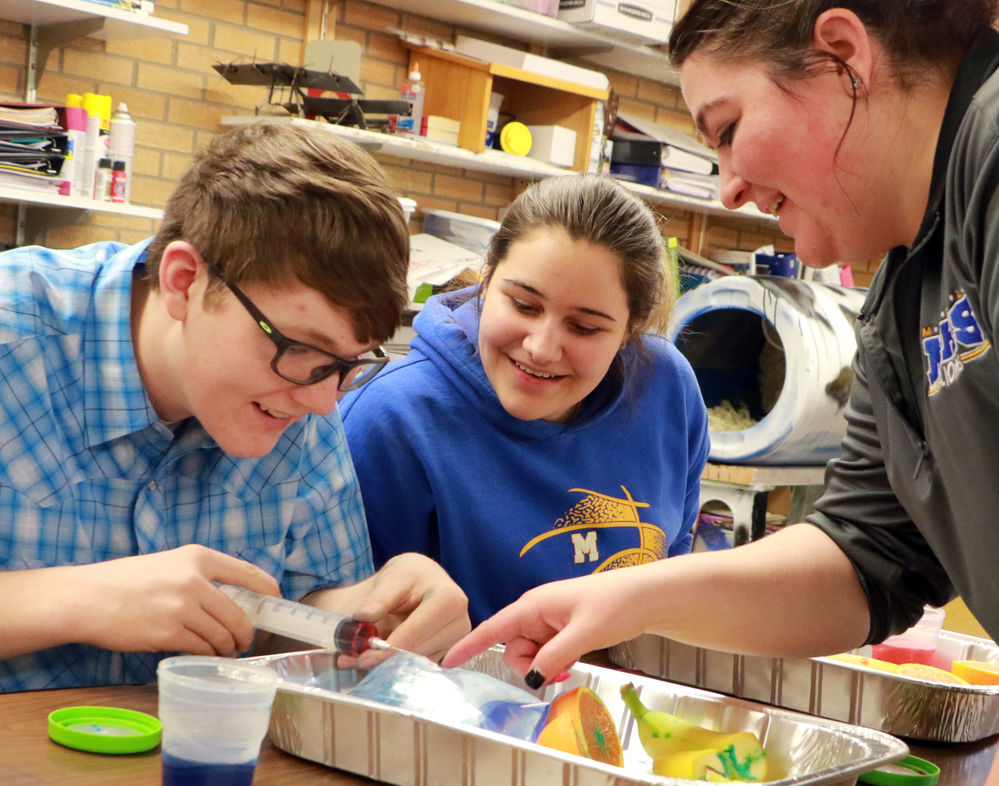 Growing up in Kimball, Krystal Wilke was involved in the agriculture industry as she helped her parents farm and ranch their property. She now uses those life experiences as lessons in her classroom.
Attending Kimball Public Schools from kindergarten through 12th grade, she had the opportunity to get involved in various agriculture extracurricular activities from 4-H to FFA. With some guidance from her teacher, her interest in teaching would evolve to teaching agriculture.
"I always wanted to be a teacher ever since I was a little kid," she said. "I always thought I'd be an English teacher."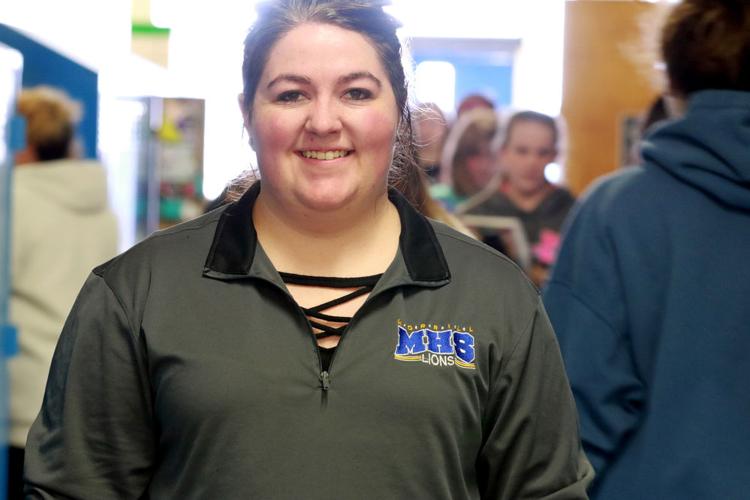 As Wilke went through school, she was involved in the 4-H program where she mentored younger students. As she continued to mentor underclassman during high school in the FFA program, her agriculture teacher, Alan Held, also provided her with an opportunity to teach. From those experiences, she shifted her focus into agriculture teaching.
"I was a teacher's aide when I was a senior and my ag teacher kind of turned me loose and let me teach a little bit," she said. "That's really where I got in tune with it and knew that's what I wanted to do for sure."
As a shy student, teaching pushed Wilke outside her comfort zone as she helped teach freshman welding. During her interaction with the freshman students, she was able to work in small groups or one-on-one with students, which helped her work through her shyness.
While she does not recall Held saying anything specifically about her teaching, as the president of the FFA chapter, she knew most of the students and had a passion for agriculture.
"He was my ag teacher and also my neighbor, so I know him very well," she said. "He was a huge inspiration for me."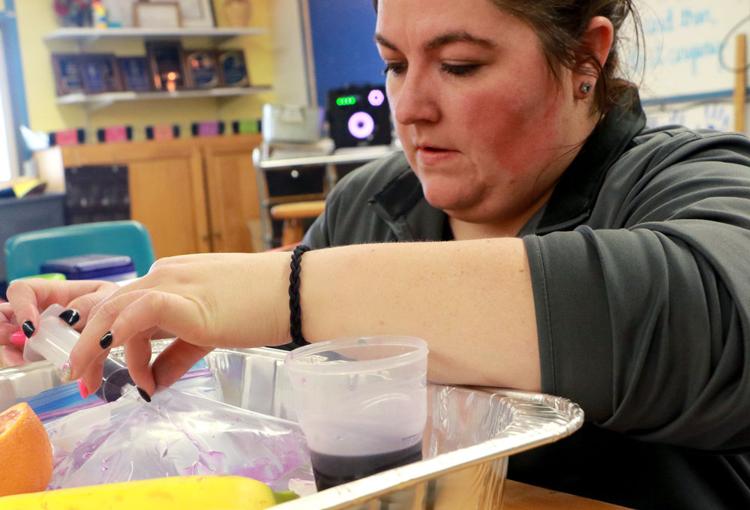 She added, "He believed in me and saw more in me as a kid and shoved me in directions he knew I'd be good at, even if I didn't. He was always believing in us and pushing us outside our limits, which at the time, we hated, but know, I'm thankful that he did."
Following high school graduation, she knew agriculture education would be her major. After a couple years at Laramie County Community College (LCCC), she transferred to the University of Wyoming to finish her degree.
Then, it was time to put her education into practice. As she walked into her classroom for the first time in Morrill, the nerves set in.
"It was definitely terrifying," she said. "I got good experience during my student teaching, but I took a year off to finish another degree, so I felt a little rusty when I started."
As a first-year teacher, she said it was a challenge to get out of the college mode of going by the textbook. Now, she focuses on life skills and what's happening in the agriculture industry. Within her curriculum, she also teaches students about career and job skills like job interviewing.
Throughout the curriculum, she interjects personal experiences growing up in the agriculture business and welding industry.
"My parents still farm and ranch and we have a feedlot and a welding business and both of my parents are entrepreneurs, so I try to take those experiences and put those into the classroom more rather than the textbook, so they see how the real world works."
While Wilke values the importance of learning in her classroom, she understands the importance of "brain breaks." After presenting a difficult lesson to the class, she has a "brain break" where her students tell stories before getting back on task. By creating a welcoming environment in her classroom, Wilke hopes her students are more engaged in the course material.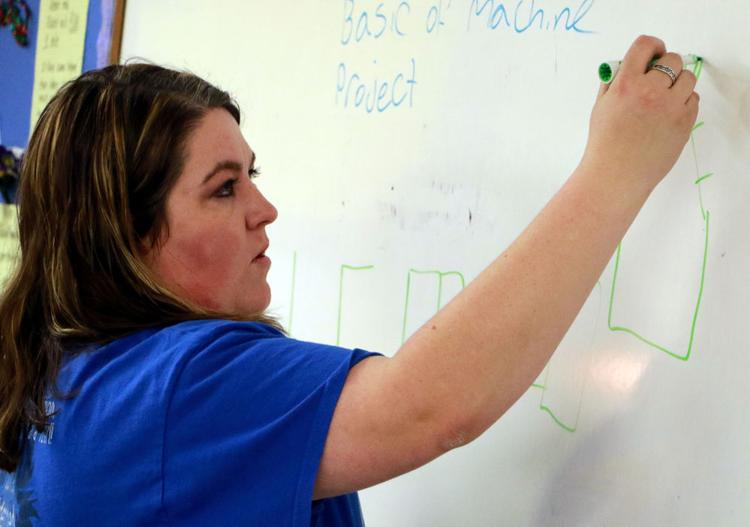 To provide students with hands-on learning experiences, Wilke incorporates an injection experiment into the lesson on types of animal injections. Using an orange, banana, and water in a plastic bag, students insert 1.5-inch or 2-inch needles filled with food coloring and water at various angles to see how it spreads through the fruit.
She re-purposed the idea from a 4-H project she did as a student.
"I can remember doing that as an 8-year-old in 4-H for quality assurance," she said. "It's fun for me to show my students how to do it, but half the time I can't do it either because it's hard."
The activity simulates how the medicine travels through the muscle and under the skin.
"If you do it wrong, it fills the bag with the colors," Wilke said. "It's pretty instant, so you can tell if you did it right."
They completed an intra-muscular shot and a sub-Q shot.
Isaiah Waite, a tenth grader at Morrill High School, has completed the injection experiment in a previous class with Wilke, but administering the shots are still a challenge.
"It's really cool to experiment to see how they do different shots on animals," Waite, said. "In Mrs. Wilke's class, I learned how to and not to give shots to animals."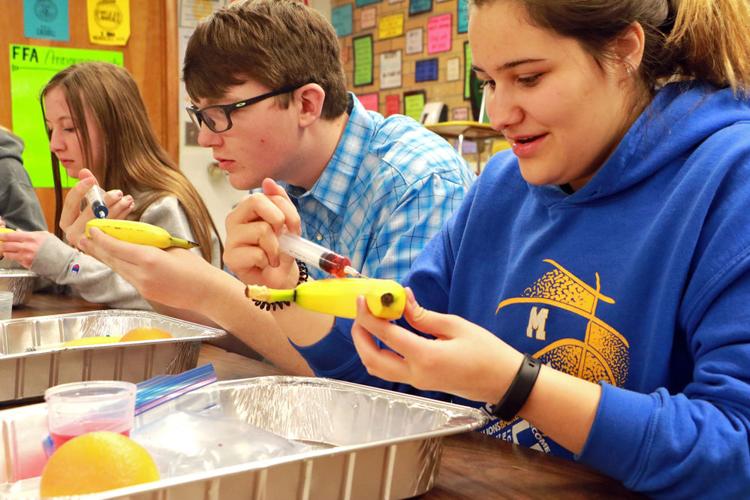 Waite has taken courses with Wilke in welding and veterinary science, which have grown his interest in agriculture.
"I've learned a lot from her," he said. "My dad has cows and being in her classes helps me want to do agriculture more."
"It's fun to see the different shots we give and what they do to the muscle," Waite said. "The sub-Q shot is more difficult to give because you have to pinch the skin and give the shot."
Wilke is more than just an agriculture teacher to her students.
"She's a fun teacher, but she also teaches you important things like how to act in an interview," Waite said.
Junior Libbie Schaefer enjoys taking classes with Wilke, who has taught her about welding.
"I've learned a lot from her," Schaefer said. "I never knew how to weld and she's taught me a lot about that. She finds good ways to teach us things so we can relate to them."
Junior Steven Pryor also learned how about welding from Wilke, who Pryor said has made agriculture classes fun.
"She's taught me how to stay on track, she's taught me welding safety and how to weld," Pryor said. "She makes this class fun. When I came to ag classes in the past, I thought, 'Oh, man. I'm going to be bored.' She's made it fun coming in here and sometimes I come in here on my free period and learn stuff about ag science."
Impacting the future of ag
Much like Held mentored her, Wilke hopes her students know how much she believes in them.
"I always want the best for them, whether they go for ag or not, I just want them to be good people and remember some of the stuff they learned in here."
Working in education, she said the most surprising aspect was the time commitment outside the school day she would have to dedicate to her students, especially as the FFA adviser. Morrill's FFA chapter meets after sports practices from 6 p.m. to 8 p.m.
She is in her fourth year teaching at Morrill High School and is thankful for her teachers pushing her to pursue a career where she can impact the future of the agriculture industry.
"This is a pretty neat way to still be involved in the industry and get to impact the future of it," Wilke said. "That's what I like about it."
Be the first to know
Get local news delivered to your inbox!