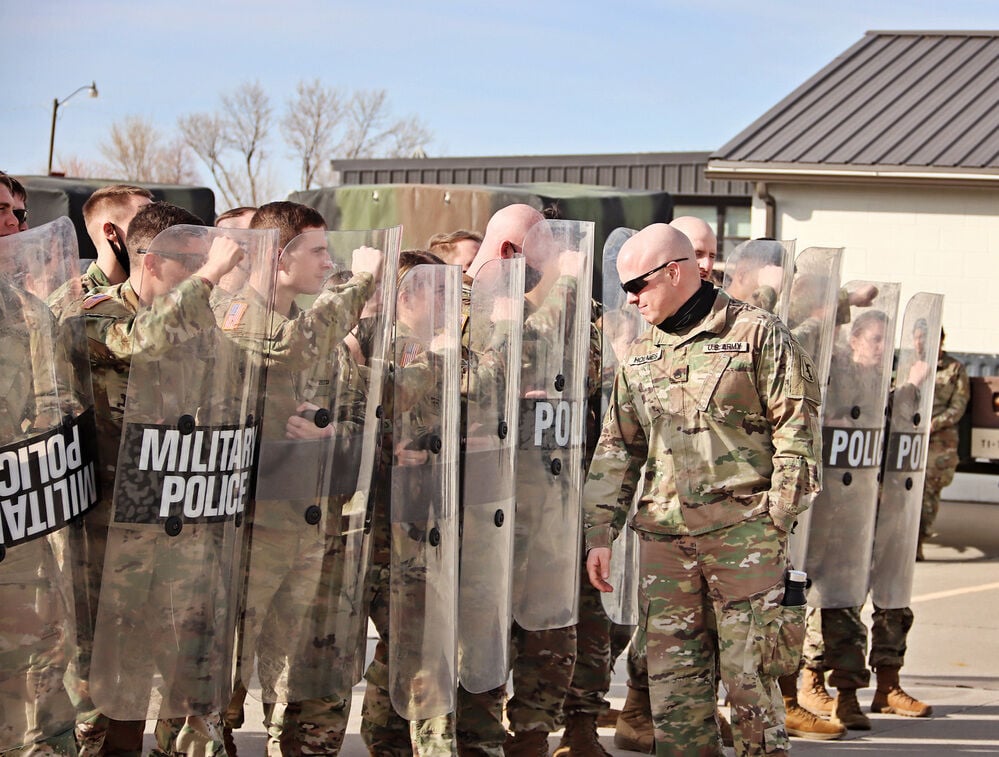 On a recent weekend in March, members of the Scottsbluff and Chadron platoons of the 1057th Military Police Company came together to train.
This month, about 60 soldiers between the two platoons were training on National Guard Reaction Force, or NGRF. The soldiers were training on non-lethal force and civil disturbance control techniques. In laymen's terms, the unit's soldiers trained on riot control.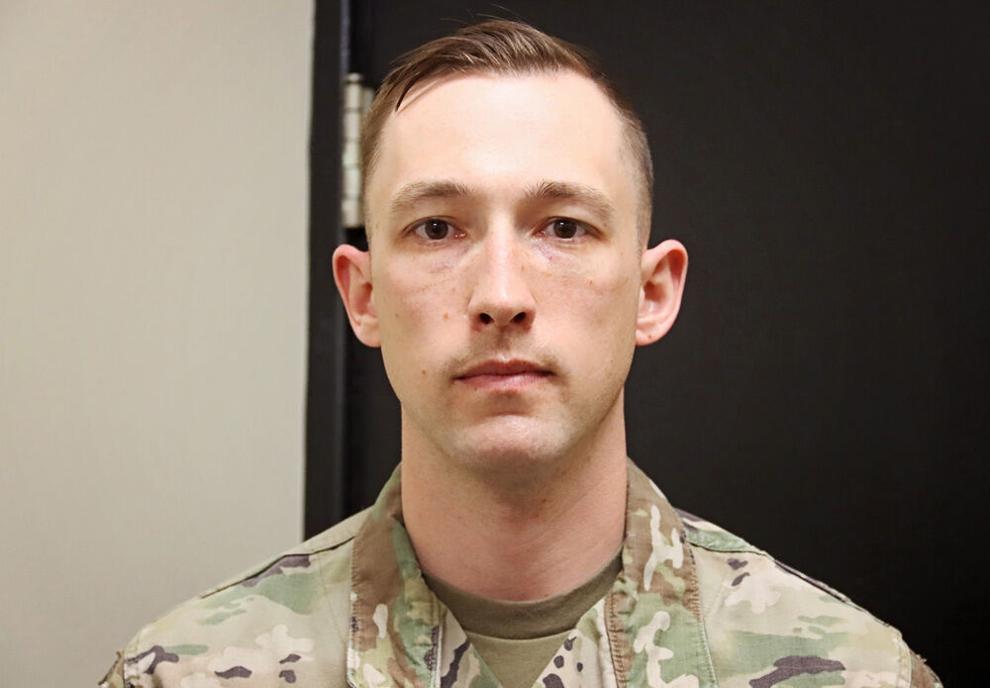 In the last year, Capt. Jared Baker, told the Star-Herald, the 1057th MP Unit has been called up twice for NGRF-type missions. MPs were called up in May/June 2020 after protests in Nebraska following the death of George Floyd, who died while being taken into custody by a Minneapolis police officer. In January, the unit's soldiers were called into service a second time, on hand during the inauguration of President Joe Biden following the riots at the U.S. Capitol.
The 1057th Company — which has platoons in Scottsbluff, Chadron and Kearney — trains annually on NGRF techniques. That is because working on non-lethal force, such as learning handcuffing techniques and other skills in the classroom like handling a baton, and riot control techniques, such as formation and using tools such as shields, are one of the responsibilities of the 1057th.
"The 1057th does different trainings each month on METL or mission essential tasks. It varies from month to month what we do. This month, we're training on this, NGRF. Last month, we trained on active shooter situations," Baker said.
The National Guard picks certain guard units to be the NGRF for the state. The 1057th, under the 402nd MP Battalion, is one of those units.
"In a normal year, training on NGRF is an annual training," he said. "However, due to activities in the last year and call-ups on NGRF-type missions, ... With how high profile NGRF has been in the last year, it is something that we focus on more than just the annual requirement."
First Lt. Kevin Peatrowsky admits that it's been an unusual year for the 1057th MP Company.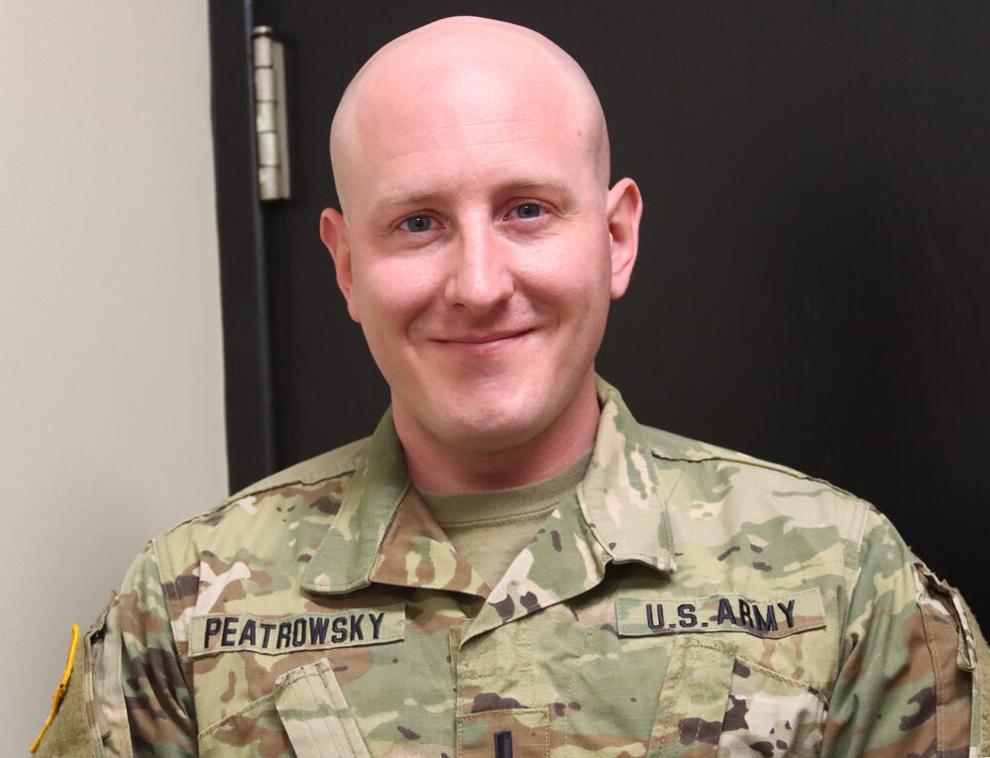 "The last 12 months have been, admittedly, unprecedented."
Regarding the response to Omaha and Lincoln, he said, "It was all-hands. Get to the armory and go. We had a certain number that we needed to meet, it was like 30 per location, so 90 soldiers."
At the time, Peatrowsky had been with the National Guard providing COVID-19 testing across the state, and said he had to find a ride to Lincoln. On that mission, Peatrowsky said, he served as a non-lethal weapons subject expert and worked with training officers of the Omaha Police Department and others in the National Guard, such as infantry, truck drivers and other soldiers to give them "in-time training." Basically, they were learning the skills that they needed to know to provide response as events unfolded in Lincoln.
For the Washington, D.C. response, soldiers volunteered for the mission, responding as they were able to manage with job and family commitments. Peatrowsky said 250 National Guard soldiers made the trip to the nation's capital, with six planes traveling to Washington, D.C. to transport them to serve alongside other state's National Guards.
"No one could have predicted the insurrection," Peatrowsky said. "No one could have predicted what happened to trigger (events) in Omaha. This is why we do this training, because those were events that no one could have predicted. Within 24 hours, bad things were happening. You have to be prepared to respond.
Both missions were an opportunity for the soldiers of the 1057th, Baker said. Fifty-two soldiers, including Baker and Peatrowsky, were among the soldiers serving in Washington, D.C. Peatrowsky said that the 1057th company had the second strongest response.
"It was something that's never been done before, at least not done within the last 200 years," Baker said, saying that the soldiers performed excellently. "...It was good opportunity as MPs to get out there, because we are looked at as subject matter experts and to actually get out into a real-world situation and be able to show our expertise and how training has paid off in the past, was a very valuable thing for the unit.
Over four years ago, the 1057th transitioned to an MP unit. "Since then, we've only been called up for NGRF missions twice and that was twice in the last year. With the Omaha-Lincoln call up and the Washington, D.C. mission.
Peatrowski, who oversees the Chadron platoon, is among those officers who joined the company after the transition. Peatrowsky, who served six years in the Marine Corps, said when he came into the National Guard he selected the 1057th Company because he was interested as serving as an MP.
He is one of many officers who travel from eastern Nebraska to serve in the military unit for training once a month in Chadron or Scottsbluff. There are also soldiers who travel not only from other areas of the state, but also South Dakota and Iowa.
The unit also has soldiers who previously served with the 1057th when it was a transportation company and were even among those who served deployments to Afghanistan and Iraq.
Sgt. 1st Class Colby McCoy, said soldiers in the unit were aware of the transition about 12-18 months before it was made. McCoy said they started running through some of the changes beforehand, and at the time, he was also serving in recruiting to the National Guard at the time. With the criminal justice program at Chadron State College and other benefits, "the force structure at that time would fit the number of soldiers that we had in the area. We thought it would be a good change and the state agreed."
The company had been having difficulty filling the transportation slots, he said, so "it was definitely a good change of pace."
McCoy and Sgt. 1st Class Richard Bates, who both served deployments with the 1057th Transportation Company, admit that there was a certain level of nervousness about the change, despite it being welcome.
"I was worried about teaching this old dog new tricks," Bates said. "But then I was excited, too, because we had done it (transportation company) for so long that it was nice to know we were going to learn new skills and do some new stuff."
The platoon's soldiers train on law enforcement techniques, providing police force and detainee operations and working in detainee facilities; Combat support operations; and then NGRF, based on their backgrounds with civil disturbance missions.
Bake said, "We're always training toward those tasks and to be proficient in those tasks. With any type of training, the more realistic the training you can get, the more value you are going to get out of it and the more the soldiers and service members enjoy the training."
"With the transition, it gave soldiers in the 1057th an opportunity to gain another skill set, outside of their transportation background," he said.
He noted that not all the soldiers serving in the 1057th are MPs.
"We have mechanics, we have cooks and admin personnel within the 1057th as well," he said. "We are, in a sense, a pretty self-sustaining element where there's not a lot of other units within the state that are able to sustain themselves."
Generally, he said, MP units are self-sustaining due to the duties they perform. However, the company doesn't just respond to riots, but does a variety of other functions. The company has served on missions including COVID-19 response, forest fires and flooding.
Asked about the MP unit serving as a feeder for law enforcement agencies or other related assignments, Baker said that soldiers in the 1057th serve as police officers, sheriff's deputies, corrections officers or even as probation officers. "It definitely gives you an advantage in that career field, if you're interested in pursuing that."
Just two of the soldiers who serve as law enforcement officers outside of their duties with the 1057th are Staff Sgt. Matthew Brown, of Bayard, who serves with the Nebraska State Patrol, and Staff Sgt. Enrique Rodriquez. of Alliance. Rodriquez serves with the Alliance Police Department.
Both men were already working in law enforcement when the unit transitioned, so found it to be an easy transfer. Rodriquez said the skills transfer over well into the skills they use on a daily basis.
McCoy said it is also an advantage for the other MPs to have law enforcement officers among its ranks.
"Normally, we're what's called combat support MPs and we do more along the tactical side," he said. "Now, we're kind of focusing on the law and order side so having these guys' expertise, where they do it day-in and day-out, is invaluable for our soldiers to help gain experience for any missions that are coming down."
Major Scott Ingalsbe, state public affairs officer, confirms that the MPs have officially been notified of possible deployment in the fall of 2021. Baker said the company's MPs are preparing for that overseas deployment.
In preparation for that deployment, the MP unit will focus on developing and aiming for proficiency in its law enforcement policing tasks and skills. They will also participate in training in Fort Leonard Wood, Missouri, during the summer.