The Rocky Hollow Buffalo Company is located on the historic Monkey Ranch 11 miles north of Kimball in the valley called, "Rocky Hollow."
The ranch was once owned by the Van Pelt family, who named it Rocky Hollow, ranch owner and operator Rick Forepaugh said.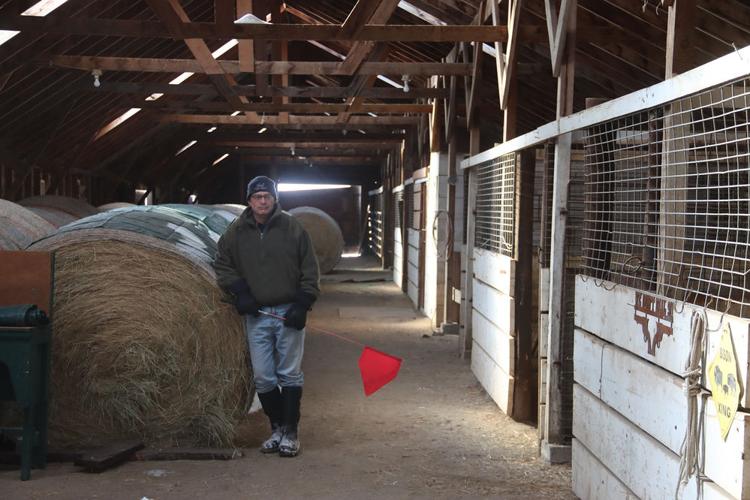 Then Forepaugh's parents, retired Army Colonel Vance Forepaugh Jr. and retired Air Force Colonel Jill Crotty, purchased the ranch and named it "The Monkey Ranch."
"Dad is my hero," Forepaugh said.
His father spent two tours in Vietnam alongside the great-great grandson of Crazy Horse and nephew of Sitting Bull, he said. This relationship fostered a reverence for buffalo and dream to begin a buffalo ranch — the Monkey Ranch.
Forepaugh's tie to the land and love of animals goes back even further than his parents to his grandparents.
"My grandfather, Vance Forepaugh Sr., was a world-class polo player who taught Dwight D. Eisenhower's kids to ride horses," Forepaugh said. "Ranching is in my blood."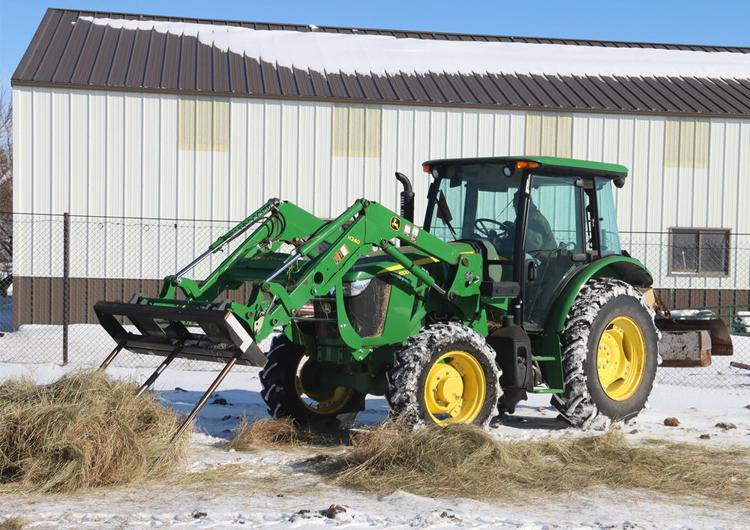 Forepaugh managed newspapers in Colorado and Texas in the past, but returned to his love of animals and ranching.
"I love being my own boss," he said.
"Historically, the ranch was owned and operated by homesteader, Dave Wilkinson, who worked land from Wyoming to Sidney through Rock Hollow," Forepaugh said.
Wilkinson raised and herded sheep in this long valley for many years.
"Our main barn was built by Wilkinson," Forepaugh added.
The historical barn now houses a truck-load of hay bales used to feed the buffalo herd.
"I use hay as a supplement only, because buffalo by nature are meant to roam and forage," Forepaugh said.
The roaming nature of buffalo means a lot of pasture and pasture rotation is needed in production.
Hay bales are heavy. Depending on the type of hay, a round hay bale can weigh up to 1,400 pounds, Forepaugh said.
A full grown bull buffalo can flip and toss a round hay bale with one flick of its head and horns from a standing position, he said. Some buffalo can even clear a six-foot fence from a standing position.
Buffalo are powerful animals, and fast.
"They can go from 0-30 mph in six steps, and keep this pace for 20 miles," Forepaugh said.
They are super-charged animals.
"Even a newborn calf can run full speed with the herd 30 minutes after birth."
"Buffalo are also dangerous animals; I would rather tangle with a black bear mama than a buffalo mama," Forepaugh said.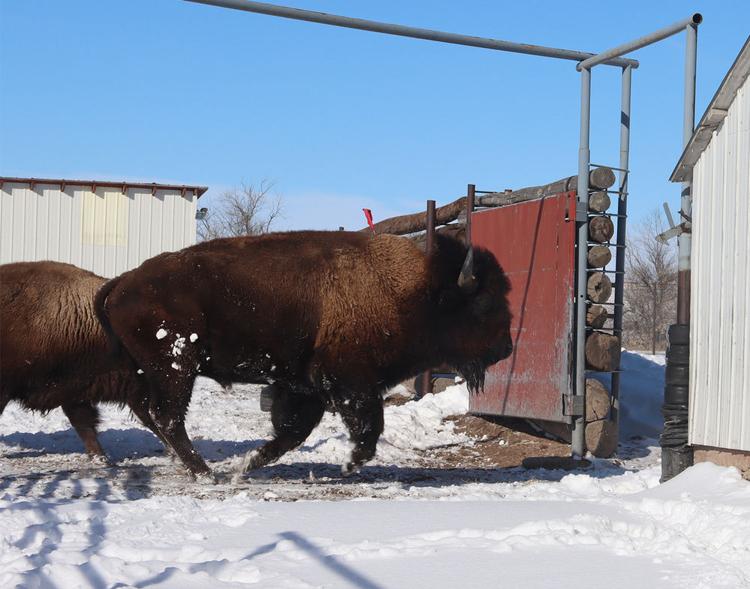 They should never be approached, including those in parks, he said.
"If startled or surprised, buffalo will charge a person."
Forepaugh is careful and cautious even around the buffalo he bottle-fed as calves.
Buffalo usually, but not always, evidence certain behaviors before charging.
"It will raise its tail fully erect in the air, snort, then stomp a front foot," Forepaugh said.
The foot stomp is usually the last of the three warning indicators. When the front foot stomps the ground, the animal is about to charge.
"I put my life at risk each time I enter the pen," Forepaugh said.
But he loves the adrenaline rush of the possibility of being killed, he said. It's not like entering a cattle pen, even with a mean bull.
Forepaugh will not allow others in the pen unless they have cattle experience, but even then there is high risk of being harmed or killed.
"If charged, climb up and over the fence, but even the fence isn't going to stop the buffalo if it wants through," Forepaugh said.
"Like many things in life, if you sense something is wrong when around buffalo, you better pay close attention," Forepaugh said. "Just as you can sense a shark coming at you when under water, so you can sense when a buffalo is coming, but it may be too late to act or react."
"Buffalo are so dangerous that we never interfere in birth unless the calf is dead, and then we usually lose the cow as well," Forepaugh said.
Thankfully, buffalo usually calve easily, even first-time heifers.
After birth, buffalo enter a herd family unit.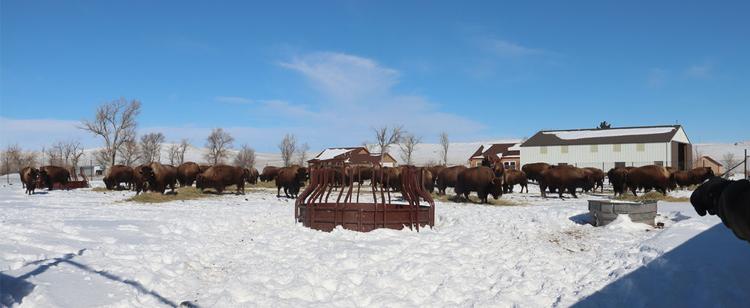 "One herd usually consists of two family units," Forepaugh said.
Both units may be mixed together, but they quickly separate into their respective units at certain times, like being herded or coming to feed. A buffalo will remain in its family unit until death.
"Buffalo are also matriarchal; cows rule," Forepaugh said.
Even though bulls are much larger than cows, female buffalo are the head of the family. In this and other ways, buffalo family patterns mirror elephant societal patterns, he added.
Buffalo gender can be identified at a distance by looking at the head.
"A bull's horns grow out and straight up; a cow's horns curve up and around the head," Forepaugh said. Bulls are also much larger.
Whether male or female, calf or adult, "Buffalo don't get cold until it hits -60 degrees," Forepaugh said.
They're most comfortable in the frigid cold. They are less active in the hot summer months.
The ranch is primarily cow-calf. Ranch-ready pens of 5 are sold periodically at the National Bison Association Gold Trophy Show and Sale in Denver, Colorado.
Forepaugh has won the Gold Trophy several times.
"We are known for our good calf heifers in the industry," Forepaugh said.
The industries average cow size is 900-1,100 pounds; our cows weigh up to 1600 pounds.
Other than the influential place his father has in his life, Forepaugh attributes his ranch growth and success to several things, like "raising 100% grass fed buffalo with no antibiotics or added hormones – just nature," Forepaugh said.
Forepaugh believes nature intended Bison to be grass fed with no medicines.
"We only use antibiotics in the most extreme cases, and then there must be no residue in the animal upon sale or slaughter, he added.
From birth to sale or slaughter, Forepaugh gives his buffalo the utmost care and attention. He even has a hard time loading them in trucks to be transported to sale or slaughter.
"I always say goodbye to each animal, and sometimes, with tears," he said.
Ranch tours are available, spring, summer and fall.
"June is the best time because all the calves are born," Forepaugh said.
Come, watch the buffalo, maybe hand-feed or pet one through a fence, even purchase quality USDA approved buffalo meat, he said. Tours cost $20 per person.  Find Rocky Hollow Buffalo Company on Facebook here.
Be the first to know
Get local news delivered to your inbox!