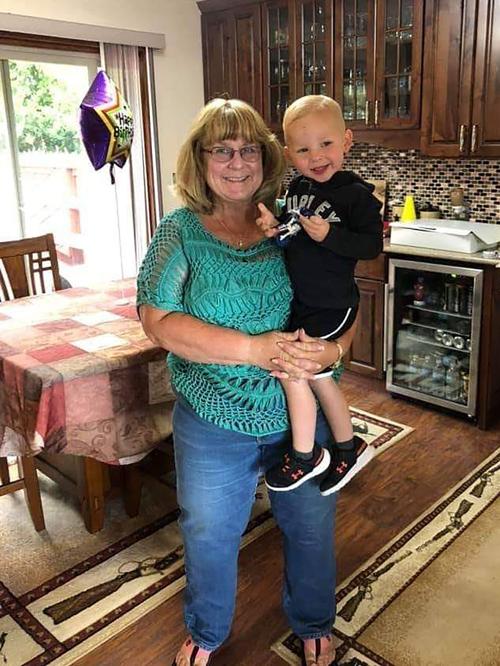 Growing up, Natalee Schmidt's father always said, "Life is like a coin, you can spend it any way you want to, but you can only spend it once. Making the right decision is the ticket to your dreams."
Sometimes, it's the coin that makes the decision. In her case, a game of heads or tails set her up for a future in western Nebraska, where she's spent the last 35 years as an educator.
Schmidt grew up in North Dakota, where her father was a college instructor.
"The college he taught at burned to the ground," said Schmidt.
He had a couple of options — a job in Nebraska or one in Minnesota.
"My mom and dad visited both areas and decided to flip a coin and Nebraska won," Schmidt said.
Her father took a job at Western Nebraska Community College, and "I have been in the area ever since," she said.
Her father played a role in her decision to become a teacher, often expressing the importance of education.
"I watched him as he finished his master's degree and worked on his doctorate degree," she said. "His push led me to the teaching field."
In addition to her father, some of her own teachers sparked her passion for education. In high school, Sally Sylvester's class was fun, she said. There was Gene Schwatzkopt, who she called "so positive and supportive."
"In college Guy Wylie was my favorite," Schmidt said. "He had a big impact in me preceding my career as a teacher."
Schmidt also considered a business degree, she said, but felt she'd like that two days in the classroom are never the same.
She attended WNCC for her associates before going to Kearney State College for her teaching degree, and later Lesley College in Cambridge, Massachusetts for her master's.
She spent two years teaching preschool in Head Start before becoming a kindergarten teacher at SPS. She was moved to first grade, then second and third. Most recently, she was moved back to first grade at Lincoln Heights Elementary.
"I have taught all subject areas every year," she said.
She's also coached seventh grade volleyball, freshman volleyball and served as the assistant high school softball coach for two years.
Teachers continued to have an influence on her after she had her own classroom.
"As a new teacher, Mari Pauley and Carol Markheim took me under their wings and were the best mentors a new teacher could have," Schmidt said.
Throughout her career, she's watched the field of education undergo significant changes. In the beginning, she said, most teachers lectured while kids were always in their seats.
"Kids were to raise their hands and speak when spoken to," she said. "We used encyclopedias for information, we had cursive writing, and kids were disciplined."
Now, society has changed, families look different and encyclopedias exist in a virtual world. Kids can Google anything, Schmidt said. They can tell time and calculate math problems on a phone.
"Even their signature can be done on computers," she said.
The technology shift has been huge. When she began teaching, she wrote on a chalkboard. Now, classrooms utilize Smart Boards and typewriters have been replaced with computers.
In the beginning, she also had an overhead projector, a card slide grader and a mimeograph machine, which was eventually made obsolete by the photocopier.
"The biggest improvement has been the internet," she said. "We use YouTube to teach many things."
Because of the coronavirus pandemic, teachers have been forced to rely on technology more than ever. In the beginning, Schmidt said it was scary — and not what she had signed up for 35 years ago.
"But as the weeks went on, and with a great team of teachers, I worked with administrators who actually listened to us and what we thought kids needed," Schmidt said. "We made it enjoyable for us as well as the children."
Teaching is a career that can be incredibly rewarding, because of the opportunity to enrich the lives of the next generation. It goes beyond the content of a course book, she said.
Teachers also relish in helping students by "building self-confidence, integrity, being silly and watching children succeed," she said. "Each day is different and seeing their smiles, and working with young minds is such a joy."
There are also the stories she's left with when students leave, like that of the traveling penguin who would visit different countries. Schmidt said the penguin wasn't a fan of sauerkraut and didn't like Germany, so he moved on to the next country.
She is approached by former students who thank her for the role she played in their education, and it makes her day. Last year, while shopping, a former student expressed how much she wished she could be back in Schmidt's classroom again.
She's also had the chance to teach the children of students, including one whose father was a bit of a trouble maker sometimes. He constantly tried to get Schmidt off task during reading groups, she said.
"He looked at me one day and asked, 'do teachers fart?'" Schmidt said. "I looked at him and said 'no, we fluff!'"
Years later, he approached her in Walmart and told her he remembered that teachers fluff.
"I later had his daughter in my class, and he smiled every time he came into my room," she said.
It doesn't come without its difficult moments. She wasn't taught about the emotional baggage that children can come with when she went to college.
"Teachers care deeply for their students and when they hurt, we hurt," she said.
Students are expected to come to class and act a certain way while they are there, but they are sometimes dealing with a lot outside of the classroom.
"For some children, school is their safe place. This has been the most challenging thing for me."
It's important to build strong relationships with children and their families, along with colleagues, she said.
For those entering the classroom this fall, Schmidt recommends building strong relationships with students, families and those working in the district. Take things one day at a time, and take time for yourself, she said.
The decision to leave teaching hasn't been an easy one for Schmidt to make. She loves her job and is proud of her chosen profession.
"Every life eventually takes a turn away from working and now is the time for me to enjoy what I have worked so hard for," she said.
She's going to spend time with her husband and their seven grandchildren. She's going to play golf, read and relax with her animals. She'll likely spend time some reflecting on all of the students who've crossed paths with hers, too.
"My hope is that they become successful members of society and that I have played a small part in each of their lives," she said. "My students have definitely left a mark on me and my career is complete because of my time with each and every one of them."
Be the first to know
Get local news delivered to your inbox!