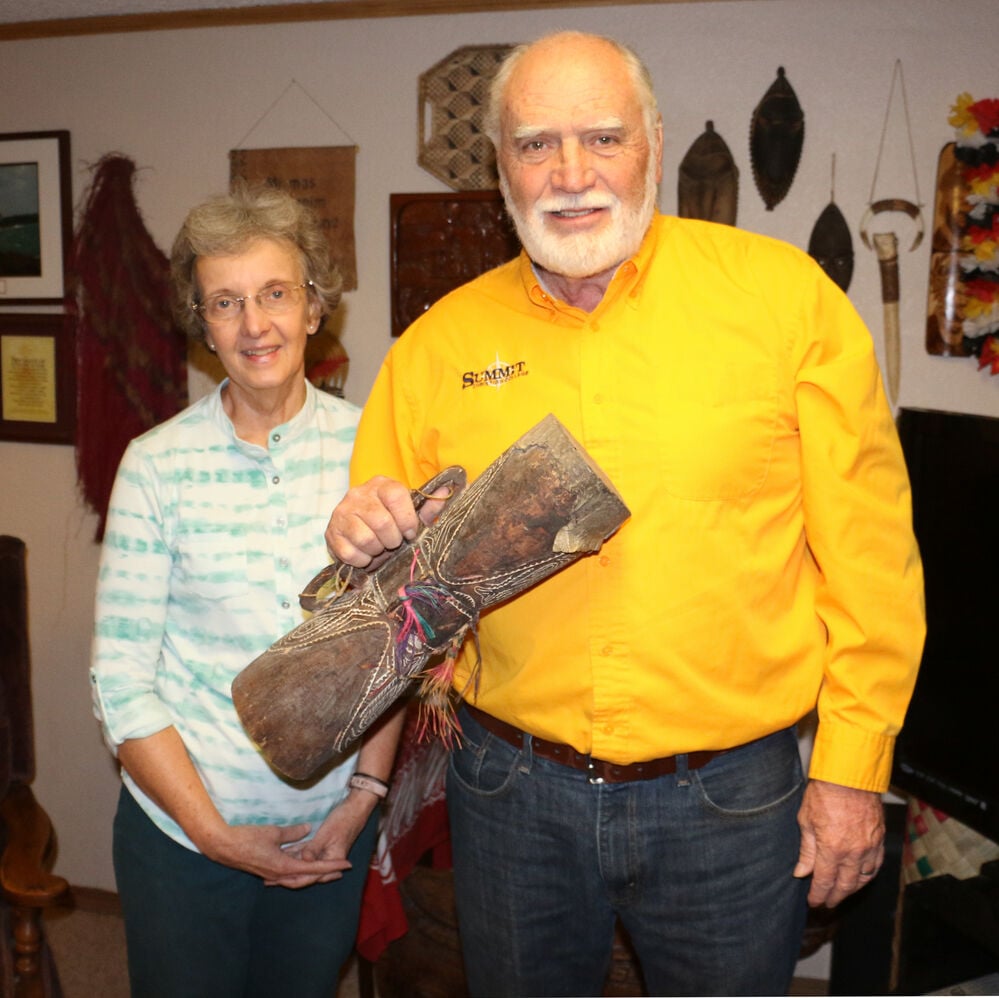 A desire to spread God's word combined with a passion for a group of native people found Dave and Chris Robinson spending 17 years in Papua New Guinea helping translate the New Testament for the Mbore people.
The connection that led them to the Mbore actually started back in 1977 when Dave came to Scottsbluff to teach at Platte Valley Bible College (Summit Christian College today). One of Dave's students was Dave Parrish, who today serves as Summit's president. When Parrish graduated from the college, he and his wife, Alice, went through linguistics school, then on to Papua New Guinea to work on the translation, but first, the language had to be developed.
"Dave (Robinson) could not have done what he did if it wasn't for Dave Parrish," Chris Robinson said. "This was an oral language. There was nothing ever written down. Ever. Not even an alphabet. So he went and talked to the people with a tape recorder and would figure out the alphabet, so he did that kind of stuff that Dave (Robinson) couldn't do. In those 17 years, Dave and Alice established a relationship with Steven (one of the Mbore people working on the translation).
"We could not have done anything without them, even though it took both of us 17 years to do our part," Chris said. "I'm just amazed at how it all came together to get finished in the end."
The Robinsons first went to Papua New Guinea in 1993 after Dave accepted a position on the board for Pioneer Bible Translators. At the time, the Robinsons' three children were all in high school, so they waited to return to the country full-time until after their youngest graduated.
In 1999, Dave and Chris headed to Madang Province about the same time Dave Parrish experienced some health issues and returned to the U.S., leaving his team without an adviser. That's where Dave Robinson took over.
Working exclusively with the Mbore translation team, Pioneer Bible Translators was able to complete the books of Luke, Acts and Galatians in 2006. Those three books comprise about one-third of the New Testament.
Dave and Chris decided to return to the United States in 2007, and Dave resumed teaching at Summit while Chris accepted a position in admissions at Regional West Medical Center. Dave would return to Papua New Guinea over the next several years during summer months when the college was not in session to continue working with the team to complete the New Testament.
"That's a good time over in Papua New Guinea because it's the dry season," Dave said. "In the rainy season, it's hard for people to get in and out of the villages. They build their houses on stilts, and the water still comes up to where they have to come out of their house into a canoe or whatever to get around. It doesn't always flood that much, but the roads can be pretty impassable."
With Dave's help during those summer months, the team was able to complete the New Testament in 2017.
The translation process is time consuming in part because of the languages itself. Papua New Guinea has around 860 languages, and there are 250 or so just in Madang Province, however, most of the country speaks at least some Melanesian Pidgin. Pidgin, however has its drawbacks because the language only has about 1,000 words. The Pidgin Bible would be translated to Mbore, then to English so that Dave could check it.
"I just try to look to make sure that everything that is supposed to be in there is in there, and nothing that isn't supposed to be in there," he said.
Bringing a new translation to the Papua New Guinean people presented its challenges.
"Because Christianity had been there since 1900 or the late 1800s, the churches were established, so there were Christians and believers, although in some cases, I think it was a thin veneer of Christianity over the top of their underlying animism," Dave said. "They still believed in spirits in the trees and the river and stuff like that."
The Pidgin Bible was translated in 1976, so the people had been using it long enough that it became almost like the King James for English speaking people.
"People would say, 'Well, that's not what my Pidgin Bible says,'" Dave said. "But that's all they had, and that's what they had learned and memorized. So, it took them a while to understand that their Bible in the Mbore language was more accurate. ... But not everybody was convinced of that, so it will take time, I suppose, just like us getting over the King James and moving beyond to the New American Standard or the NIV or something else."
Dave recognizes and appreciates how thankful the people are for the work he and others put into the Bible translation.
"In a way, (I have) the satisfaction of doing something that I think could have timeless significance," Dave said. "They have the New Testament in their own language, which they can read. I know the language will change, and people may get to where everybody speaks English or something like that, but still I feel like that was, well, that may be the biggest thing on my bucket list if you want to call it that, something where I'll look back and say, 'I did something right when I did that.'
"I feel that way about my teaching at the Bible college. Sometimes, the results of that are a little less tangible, but I still can look around and see all the guys that are preaching, and the girls in the world and think that I had some kind of influence in their life. But, maybe finishing the New Testament for a language group where they've never had it before, that feels like a big deal."