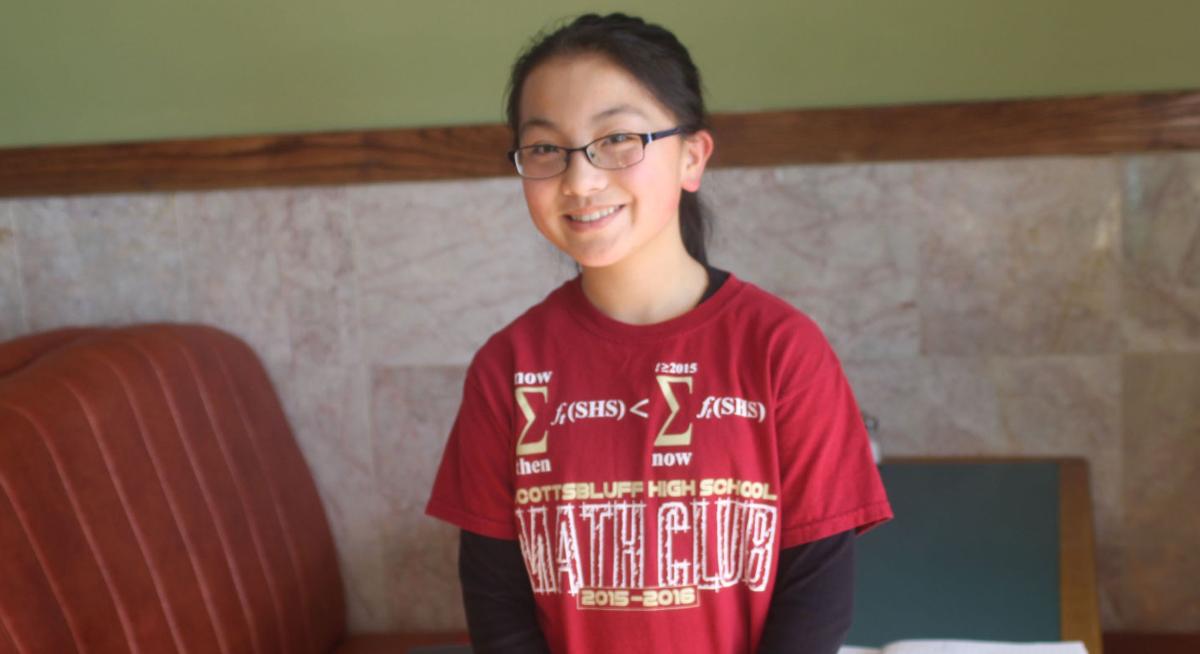 "She can't stand not doing anything," said Wendy Chen, Jamie Chen's mother.
Jamie, only 11, takes advanced math classes, including Calculus, at Scottsbluff High School as well as online classes through Stanford University.
That's just the tip of the iceberg.
The Bluffs Middle School student's list of awards and accomplishments is longer than most students twice her age.
She scored in the top two percent of students for the PROBE I Exam at the University of Nebraska-Lincoln Math Day, helped the math club at Scottsbluff High School achieve first place in their division for the math bowl, and she recorded the best score in the school for the AMC 8 test. Chen also earned an honor roll certificate for being in the top 5 percent nationally. Jamie was also able to take the PROBE II Exam which she received a placement in the top 40 of 1,657 students.
She was recently invited to attend the Johns Hopkins University Center for Talented Youth Study of Exceptional Talent, a network of programs for students who are under the age of 13 and achieved a score of 700 or higher on the SAT reading or math section. Nationwide, 507 other students under the age of 13 qualified for CTY's Study of Exceptional Talent this year.
The Study of Exceptional talent, SET, is for younger students who excel in certain fields and allow her to enroll in online classes or summer programs. Jamie said that it is for students who are interested in advanced topics and through SET they can take classes that aren't available elsewhere.
Aside from her AP Calculus AB class at Scottsbluff High School, she also takes AP World History, Physics, and Mathematical Theory and Problem Solving.
Her online Stanford classes consist of Latin, literary analysis, human nature and society, and history before 1800.
"It is very discussion-based and the curriculum is based around the students," said Jamie. "We don't have that typical lesson plan, we don't have to take notes so it's organized around debates."
She enjoys the diverse environment of the online classes since she has classmates that are from around the globe, including Korea, China, France and England. She is able to Skype with these students and talk with them outside of class.
Her family consists of her mother Wendy as well as her brother Kevin and father Andy.
Wendy and Andy are the children of first-generation immigrants from China. Wendy grew up in Ohio while Andy grew up in New York. Andy has been in the community for 20 years and Wendy spent eight years in Alliance before moving to Scottsbluff. Andy's parents moved here to work in the restaurant King Buffet, now Main Moon Buffet, in the 1990s, and because they always wanted their family to be in a smaller community. Wendy said the family has formed some great friendships over the years.
Wendy said that Jamie does two to three hours of homework a night depending on her workload. Jamie has an hour or two to relax as well as most of the weekend. During her periods of relaxation she reads and practices the French Horn. Jamie also plays the piano and violin as well as taught herself how to play the flute.
Since Scottsbluff has a block schedule Wendy said that Jamie's online classes work great for her schedule. Her online classes are on Monday and Wednesday, and then the high school classes are on Tuesday and Thursday. Jamie doesn't have class on Friday, which allows her to spend more time doing extracurricular activities and her homework. Overall, Wendy said that Jamie has a full schedule but is able to excel at whatever she does. Wendy said that most normal children might not be able to handle it, but Jamie is organized and manages her time well.
For extracurricular activities, Jamie is a member of the chess club, model United Nations club, astronomy club, Philosophy-Ethics Bowl, Girl Can Code (Programming) Club, photography club and math competition from Stanford Online High School.
At Bluffs Middle School she participates in Brass Ensemble, MathCounts, Spelling Bee, and just recently the golf club. She is the team captain of the Math Bowl.
She started her own club, the Scottsbluff Giving Club last year, which meets at the Scottsbluff Lied Public Library on Saturday and has two different focuses, giving back to the community and then teaching Chinese language and culture. Recently, she has added another aspect to the club, free math tutoring. Her next goal is to encourage problem solving in younger elementary students through a critical thinking club.
"I want to spread that encouragement to younger students who think that math can be, contrary to popular opinion, really fun," said Jamie.
Wendy said that she is very proud of Jamie's achievements and that Jamie has always been curious.
"She has been fascinated about everything in the world. She has always tried to figure out why things work and how they work," said Wendy.
Wendy said Jamie's passion for knowledge and mathematics is something that she gained on her own.
"She is self-motivated because learning anything is what makes her happy," said Wendy.
Jamie said she had a passion for mathematics since kindergarten.
"It was almost an innate calling, but over the years this passion has developed. It's often the reason I say I live in a world of numbers and I see it everywhere so it's added to everything that I've done," said Jamie.
At Scottsbluff High School, Shelby Aaberg is her mathematics instructor and is one of the advisers for the math club. Aaberg said Jamie's work ethic and mindset stand out among both the places he has taught.
"Her concern is always with learning material. She has an insatiable thirst for knowledge and always looks for ways to learn more about the world," said Aaberg.
Aaberg said he enjoys having Jamie in the classes and this has also extended to the high school students who have welcomed and accepted Jamie as their peer.