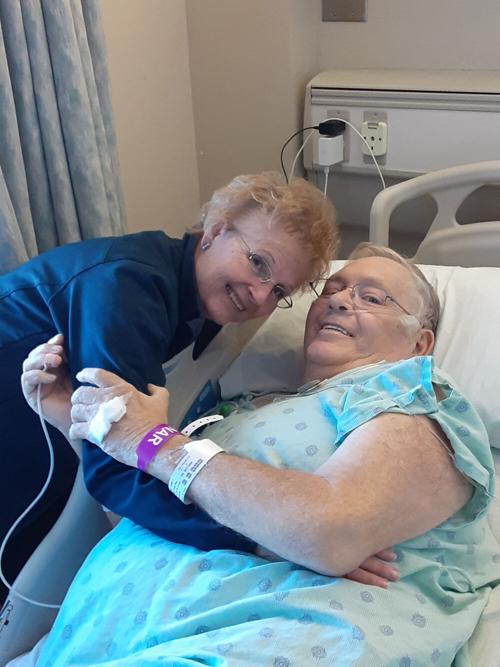 Exactly one year ago, the Panhandle was in the middle of a COVID-19 surge, and many families decided to forgo the extravagant Thanksgiving get-togethers, and do what they could with whoever was in the home.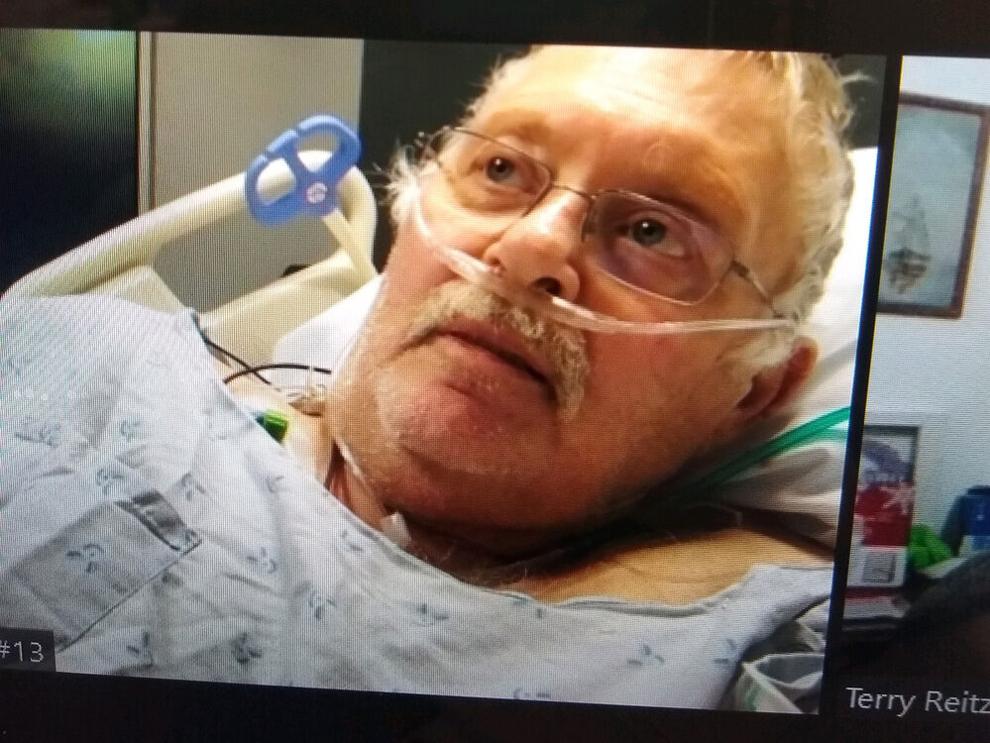 Now, while many families are thankful to be reunited in person for the holiday, Terry and Vi Reitz, of Gering, are thankful Terry is alive for a holiday that was spent in physical and emotional pain just a year prior.
On Thanksgiving Day last year, Terry was admitted to the ER with a severe case of COVID-19.
That day, since Terry hadn't been feeling too great, Vi encouraged the family members who had been planning on coming for the holiday to just stop by for a quick minute to pick up their share of food and then enjoy it with their families in their own homes. While the family came to get their food, Terry slept throughout the day in his bed.
Around 5 p.m. that evening, Vi went to check on Terry and see if he wanted anything to eat.
"I put my hand on his hand, and he was burning up. And I went, 'Oh, no,'" Vi said. "I took his temperature. It was 104.9, and I said, 'We're going to the emergency room.'"
Vi said Terry hates going to the doctor, but this time, he didn't fight her on it.
He slowly made his way to the other side of the house where the car was parked in the garage. It took him two hours to walk less than 50 feet.
"I should've called the emergency room," Vi said.
Due to COVID-19 restrictions, as soon as they arrived, hospital staff whisked Terry away out of the car and told Vi to stay put. It was heartbreaking for her, but she did as she was told.
From there, they did a rapid test on Terry for COVID, and it came back positive.
"(Hospital staff said,) 'It's really doing a number on his oxygen and possibly his heart,' and he's had open heart surgery 15 years ago, so that was a concern," Vi said. "So they said, 'We're going to admit him. We'll call you later.' So, they called me in the morning and said, 'We got him on oxygen and we've got him turned up really high,' and they kept me updated on that."
Just a couple days later, Terry called Vi around 11:30 p.m. He said they had an important decision to make.
"He said, 'Did we put anything in our wills about a ventilator?' And I said 'No, we did not,'" Vi said.
They had just done their wills that September.
"He says 'Well, the hospital wants a decision.'"
Vi, groggy with sleep but aware of implications of the situation, said it was a decision he could make.
"I said, 'Well, but I'm talking to you. You are lucid; you make that decision,'" Vi said. "And he said, 'Well, if I don't do anything, I'll die. If I try the ventilator, I could still die. Just want you to know that.'"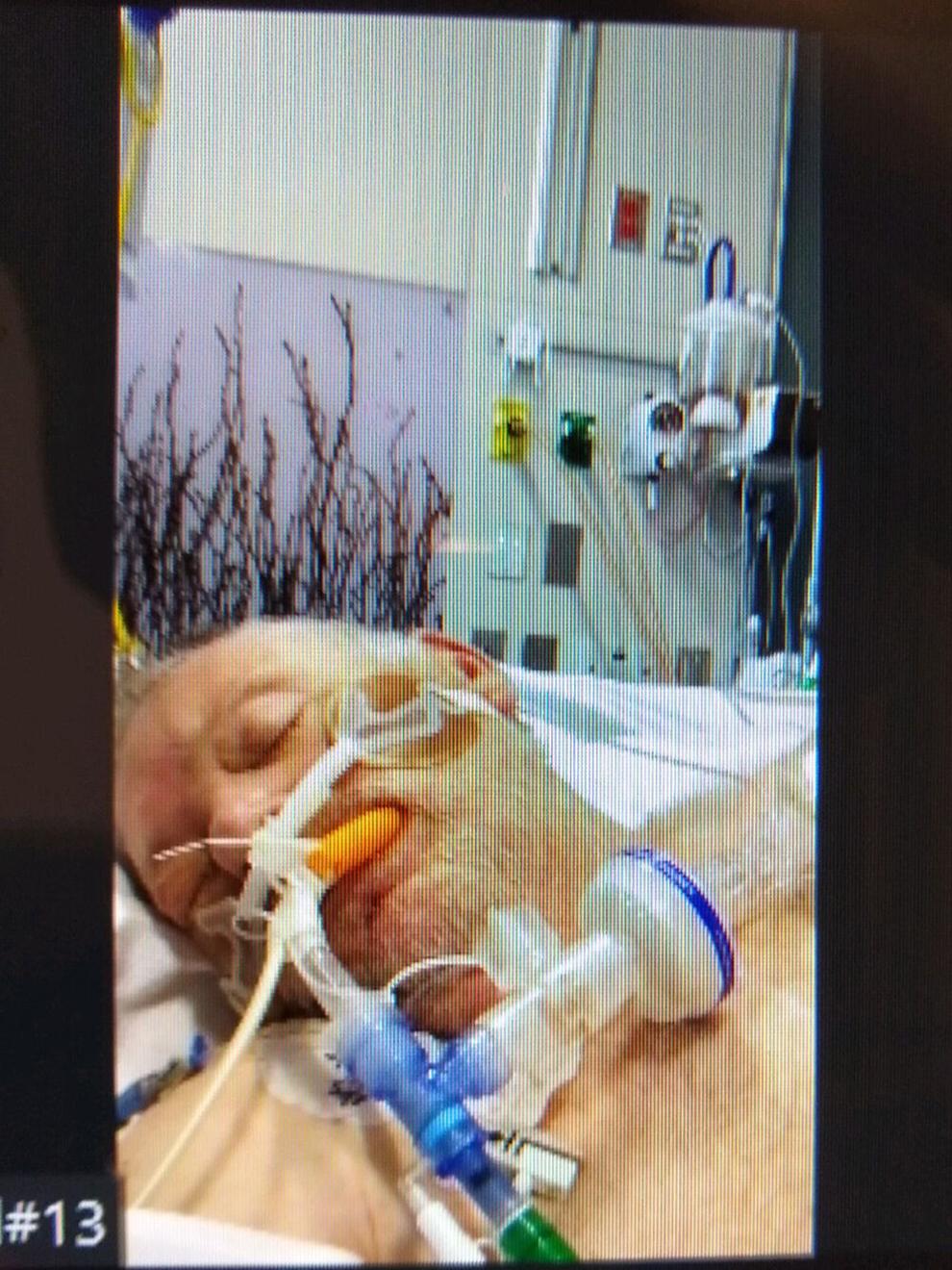 They talked it through, told each other "I love you," and said their good-byes. Terry went on a ventilator the next morning.
"I didn't get to talk to him before he went on the (ventilator), so my last conversation (with him) was (at) 11:30, at night," Vi said with tears in her eyes, "which was hard."
Terry was on the ventilator for 16 days. This was the second time Terry had been on a ventilator, the first being when he had his open heart surgery about 15 years ago. Vi remembered something the doctor had told her at that time.
"'We don't like to leave them on any longer than 10 days at a time, because then it starts doing damage to your other organs.' And so, the 10th day came around, and it was like — Oh. I'm going to have to make a decision to take him off," Vi said.
However, this time around the circumstances were different, and doctors told her that COVID patients are being left on a little longer.
The following days were filled with agonizing updates of when staff turned the ventilator up or down, all while Vi continued to work her job as a life insurance agent.
"There are other people on the ventilators — my clients, my customers are dying, and I'm filling out life insurance claims for my customers," Vi said. "And I'm thinking in the back of my mind, 'Am I going to have to do this as well?'"
That Sunday, Vi went into church believing she was going to have to take him off the ventilator. The congregation gathered around her and they all prayed.
"Prayer changes things. … The next morning, he came off the ventilator. So, he is a true miracle," she said, choking up.
"They said he opened up his eyes, and so they turned the ventilator down and they kept turning it down, and he was able to breathe on his own. He's our miracle person."
Still, the miracle didn't lift him off the bed and get him back on his feet right away. Having been in bed for so long, he lost all his strength, and the ventilator took away his voice for a while.
"He had to learn how to talk; he had to learn how to walk again," Vi said. "It was a pretty scary time. But he made it. He's alive."
He spent many days lying in bed, attempting to garner enough strength just to sit up. Once he could do that, he could start thinking about the rehabilitation process. But it was a long, arduous road to get there. Once he was able to sit up, the hospital had a machine that could help him stand him up on his feet.
"It was scary standing up and fearful," Terry, who also has a prosthetic leg from a different incident, said. "There's a lot of fear involved in that, of whether you're going to be able to walk again, and there's a lot of body strength that you lose."
Terry was eventually moved to the fourth floor, which is acute rehabilitation. He would spend three hours a day working toward different physical and mental rehabilitation goals, and it was exhausting.
"They push you pretty hard," he said. "…The very first thing we do is we get on a walker and get down to the gym — and I'm struggling even on the walker — and get on the parallel bars. And when I got up on the parallel bars, they wanted me to do what I could do. I could take two steps or three steps … and they wanted me to swing a leg and then swing the other leg, and I couldn't do it. And then we walked back to my room, and I was just really, totally wiped out."
Slowly but surely, however, Terry grew stronger each day. Meeting his goals and surpassing the staff's.
"The key thing to their acute rehabilitation is you have goals when you go out to do that," he said. "My mindset was always to hit their goal and go past that, because I had my goal, which was to go past their goal. And then I hit that, then they want me to do more."
Eventually, he grew strong enough to be released from the hospital, but instead of going home, he went to a nursing home to finish out his rehabilitation. Since Vi was still working, she couldn't be at home to make sure he was OK during the day.
"If he fell here, he'd lay here until I came home for noon or supper," she said. "It was just safer for him to go to a nursing home and build his strength up."
Terry spent a total of 69 days in the hospital, and 30 more days in a nursing home — all through Christmas, New Year's and Valentine's Day. Vi got to see him in person twice the entire time — only once without a window of Plexiglas between them. It made for a lot of Zoom calls, often without much sound from Terry, at least in the beginning.
"He would talk and I couldn't hear, and I just, I agreed to whatever," Vi said.
It was a frustrating time for Terry. When he wasn't on a Zoom call with Vi, which typically lasted about an hour to an hour and a half, or being treated by the hospital staff, he was left alone with his thoughts.
"It's lonely. You lay there and you wonder," he said. "You did wonder if you're going to die. Or, you wonder if, am I going to be a cripple? Or, you wonder, you know, you wonder how long is it going to take?"
For Terry, the only thing he had to look forward to each day was Vi's phone calls.
"The frustrating part is my mindset was, I couldn't wait 'til I could talk to her," he said. "…I was always looking forward to Vi calling. That was the highlight of my day for her to call. And, she called in the evenings at about 7-7:30. And we'd visit for as long as they would allow it, which would be hour (to) an hour and a half. And then I couldn't wait until the next day."
For the most part, Terry tried not to think too much about his situation; he didn't want to get sucked too deep into his thoughts. But it wasn't easy to stay positive all the time. Fortunately, he had a hospital staff determined not to let him fall into what he called the "pity pot."
"If I started getting into the pity pot, she (Terry's doctor) would just get really tough with me," he said. "And then I had some nurses that would not allow me to get on the pity pot. They were just encouraging."
On March 4, 2021, after a tough road that took its toll both physically and mentally, Terry finally got to return home. Despite his months of rehab, though, he still wasn't fully recovered.
Terry began using a cane to help him walk, which is something he hadn't used prior to coming down with COVID. Since then Terry can walk around the house without the cane, but he still uses it in public — just in case. He's only started driving again just a few months ago, and there are moments when his voice still isn't quite up to par.
"My voice still crackles sometimes, or a lot of times, and I have to work at projection," he said.
Terry still hasn't returned to work full time, but he's been slowly picking up more hours at Farmers Insurance, where he's worked with Vi for years.
"He hasn't worked full time this year," Vi said. "It's just a little bit here and a little bit there, but it's getting to be more."
Terry said, "That's probably the frustrating part is not being able to (work much yet). … I feel frustrated because I don't feel functional."
Still, Terry and Vi are staying positive because after a year since the incident, he's almost back to normal.
"He's still a work in progress," Vi said. "It's been a year, but it's still a work in progress getting better and better."
Both Terry and Vi have since been vaccinated and have received the booster shots for COVID-19. After a long year of hospitals, rehab and time apart, they are ready to celebrate the holiday season they didn't get last year with family they haven't seen for a long time.
"I'm going to get to see my son for the first time in two years," Terry said. "...(I'm) thankful to be able to spend time with family. Family is all we have. It's all you have. You can go get the most expensive job you want or expensive car— you don't have anything. But you got family, you get everything. Family and God."
Reflecting on all that they've experienced this past year, Terry and Vi said they have a lot to be thankful for this Thanksgiving.
"I'm just thankful to be here. Thankful that God placed this person in my life," Terry said, pointing at Vi. "She's done a lot. She does a lot. … I'm just glad to see the sun."
Vi said, "I'm thankful for that he's going to be able to enjoy the family, because that's what he enjoys is having all the family around. … It's just an exciting time to be all together."