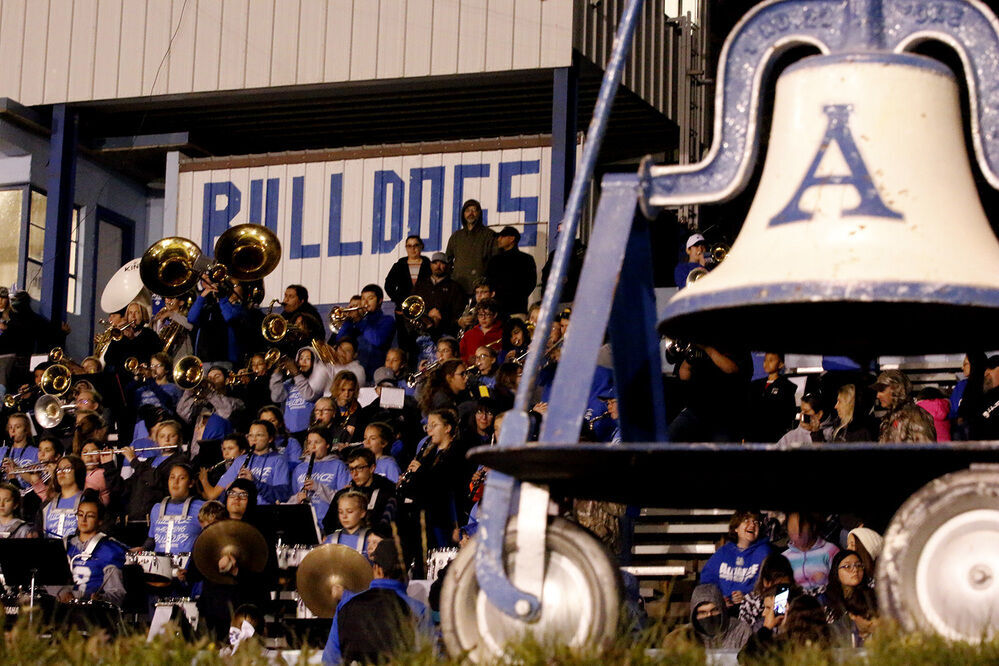 Allegations of resistance by the Alliance school district to participate in COVID-19 health investigations has gained the attention of state officials.
On Friday, Gov. Pete Ricketts and other state officials spoke as Ricketts' announced changes to directed health measures, which will take effect on Wednesday, Oct. 21. During that press conference, state health and education officials discussed coronavirus-related topics.
In response to a question from Nebraska Department of Education Commissioner Matthew Blomstedt, he acknowledged that the Panhandle Public Health District and state officials have encountered access problems in health investigations and enforcing requirements in the Alliance Public Schools. Blomstedt said he had met with a group of school board members from across the state on Thursday, asking for "a level of compliance." He plans to meet with Alliance school board members. 
"... Or we are going to have to step in and do a little bit more and put some other requirements onto the school," Blomstedt said.
With outbreaks of COVID-19 in Alliance, he said, it is really important that the school board pulls together and cooperates with health officials in investigations.
"Basically, my main message is, everywhere, 'You have to get into line and be able to do that.'" he said. "...There will have to be some type of formal work to ensure that they are getting into line."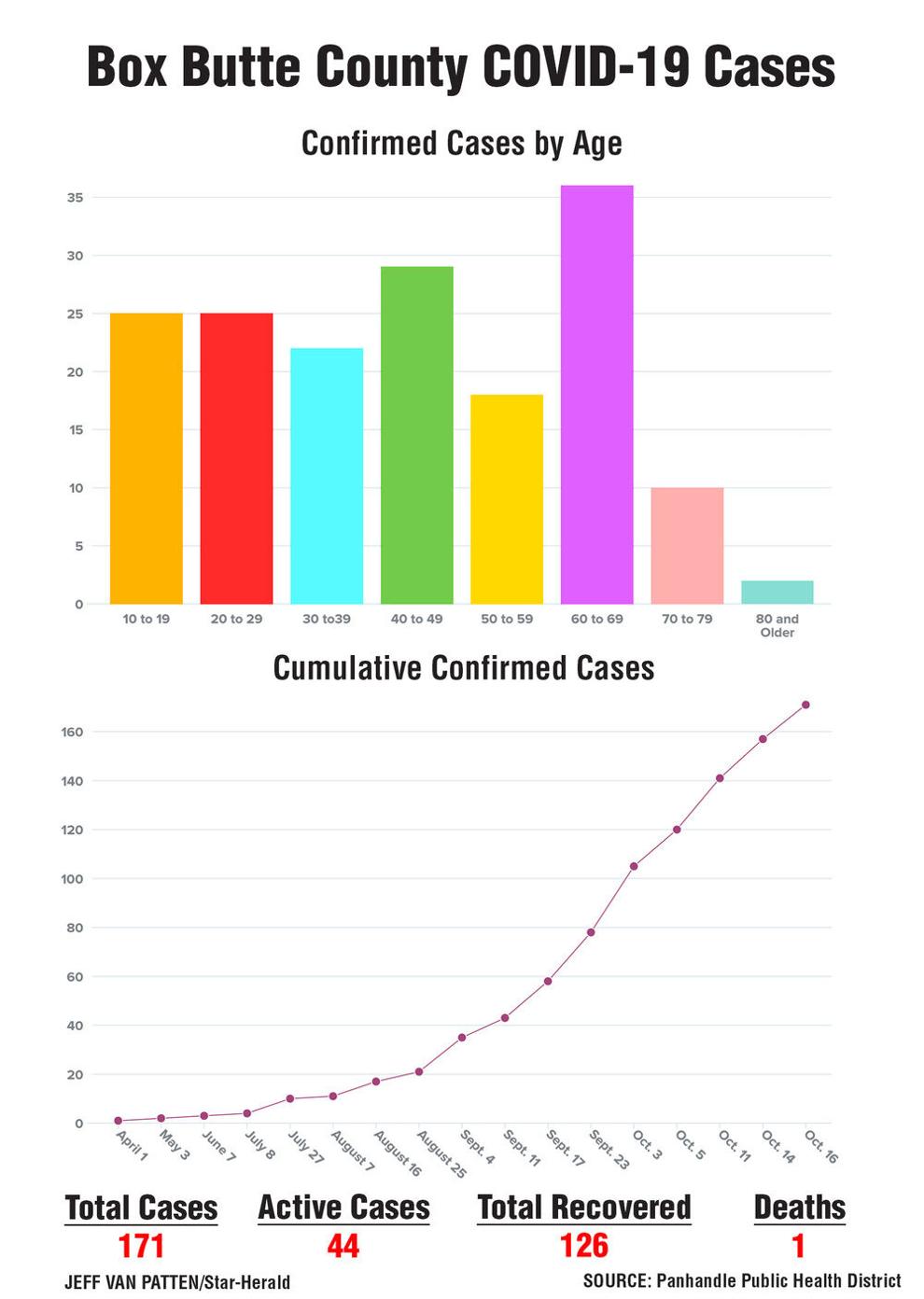 Click on the above graphic to see it in full size. 
Cases in Nebraska have risen to levels that state health officials called concerning during Rickett's press conference Friday.
"We have entered a dangerous phase in the pandemic for Nebraska," Dr. James Lawler, a director at UNMC's Global Center for Health Security, said during the press conference.
From the data, he said, Nebraska has reached levels of cases in its communities that are in great excess of where the state was at its previous peak in May and higher than those experienced in New York at its peak.
In the Panhandle, Box Butte has been cited as a community with a concerning increase in cases. A graphic on PPHD.org of Box Butte shows a steady increase, with cases rising from 32 cases on Sept. 1 to 171 by Oct. 16. That's an increase of more than 400%.
As the community saw an increase in cases, Panhandle Public Health officials weren't the only ones expressing concern, with hospital officials and even doctors from outside of the community sending out press releases or columns urging residents to take precautions to prevent the spread of the virus.
On Oct. 5, Box Butte County was the first in the Panhandle to move into the high or elevated risk on a dial used by PPHD to illustrate risk of COVID-19. Over a two-week period, Box Butte had seen its overall positivity rate increase to 21.8%, according to a Centers for Medicare & Medicaid Services(CMS) ranking. Community spread had increased to more than 50% of cases and a vast majority of cases were occurring in Alliance, Tabi Prochazka, PPHD deputy director of health promotions and preparedness, advised during one of PPHD's biweekly briefings.
Though two counties, Scotts Bluff and Dawes, top Box Butte in the number of cases, the county is not far behind its neighboring Dawes County as far as positive cases. Dawes County has 195 cases and Box Butte County has 171 cases.
As of Friday, at 44 cases, Box Butte had the second most active cases in the Panhandle Health District.
PPHD officials have said community spread has rapidly increased. That means that officials are unable to identify a close contact to which a person may have been exposed to COVID-19.
Positivity rate, an indicator of how many people are testing positive compared to those who are not, has also increased. The higher the rate, the more people who are testing positive for the virus. This week, Box Butte's positivity rate had increased to 23.3% for the month of October, Prochazka told the Star-Herald. In September, the positivity rate for Box Butte had climbed to 16.8%. 
Box Butte County is not alone in seeing an increase in cases, but health officials say, it is alone in the way that school officials have been working with PPHD as it tries to identify cases on the school level.
Kim Engel, PPHD director, said that positive cases and exposures in school are a concern. It's not a concern that is uncommon to the coronavirus, but all communicable diseases.
"School is literally the largest gathering that we in the health district are having every day," Engel said. "When you think of it that way, there has to be extra protection in place to prevent the spread of coronavirus."
All schools throughout the Panhandle were tasked with putting together re-opening plans, all of which were submitted to PPHD and state education officials. Plans have differed, regarding masks and some other steps. On the state level, Gov. Pete Ricketts and Nebraska Department of Education officials have avoided mask mandates, but on the school level, there has been discussion that they should be required.
In August, Alliance Public Schools Superintendent Bob Unzicker presented the school board a plan that included steps that the district would take as health dials in the Panhandle or community take. However, the school district reduced the plan to a couple of pages, noted in the school district measures as only taking the steps that were in the "moderate level," which was the level at the time that school began in August.
In Alliance's school reopening plan, it says, "Alliance Public Schools will cooperate with all case investigations."
However, in recent weeks, Engel said, that cooperation has changed as PPHD has done its investigations and an increasing number of students have had to be quarantined. In an email sent to PPHD on Oct. 5, Unzicker told PPHD that the school board plan did not allow the administration to share seating charts, class rosters, interview students or staff or take measurements for Panhandle Public Health District investigations. Administration and school personnel were directed not to provide "these instruments or information" to Panhandle Public Health effective immediately.
The Panhandle Public Health District, and state officials seemed to reiterate in Friday's press conference, concerns about the district not participating in investigations. Unzicker and school board president Tim Kollars deny that the district is not participating in investigations.
Unzicker acknowledged that there are "vast perspectives" among the school board and the community on handling COVID-19 response, from support and opposition of mask requirements to the level of cooperation of the district with health officials.
"From the perspective of the board, it's their plan," he said, referring to the steps outlined in the email provided to PPHD.
"The board wants to limit the cooperation to allowing PPHD access to do their investigations," he said, explaining that staff and administration would not provide information outlined in the email or other steps that Kollars told the Star-Herald "is doing PPHD's job for them."
Unzicker said, "That's the board directive of what the plan says. They want Panhandle Public Health doing the investigation, not the administration."
Changes to Alliance reopening plans
Components of the reopening plan were in line with steps recommended by state and Panhandle health officials.
One area in which the plan followed recommendations is that students be paired together in cohorts, or select groups that would attend class or classes together and use seating charts.
Such methods "keep the same students near each other, so if someone does test positive, it reduces the number of students who may have been exposed or need to quarantine," Engel said.
In many of the classes, due to size, Unzicker said, it is not possible to keep students 6-feet apart. According to reports, the school board had asked for "as few restrictions as possible," including social distancing restrictions. The school did not put into place a requirement that students wear masks, though the plan does say they are recommended when unable to maintain 6-foot social distancing.
As a school district, the Alliance School District has not formally changed its plan — the district had not had the reopening plan on its agenda for action, and Kollars said they were not changing the plan. However, interviews with Unzicker and Kollars acknowledge that some changes have been made, at least informally.
One of those areas is in eliminating seating charts, which Engel said are helpful in limiting the spread of the coronavirus by readily identifying where students or staff may sit during class-time or other activities.
Cohorts remained in place, but Unzicker and Kollars both told the Star-Herald that the district was no longer using seating charts. Kollars told the Star-Herald that seating charts are no longer being used because they were used during investigations to identify close contacts.
Though the Alliance school board met on Monday, Oct. 12 to discuss the plan and re-evaluate the plan, it was not on the agenda for action. However, the topic did generate a lot of comments, particularly from those supporting and opposing the use of masks.
Issues between Panhandle Public Health District and the Alliance school board came to a head even before that meeting, formalized on Friday, Oct. 9, when Unzicker contacted health officials via email.
Cooperating in investigations
Despite the direction given to Unzicker and passed to staff and PPHD in an email, Kollars, who has been on the school board for 16 years and served as president for more than 10 years, denies that he or other members of the Alliance school board has told the administration or staff not to participate in contact tracing investigations.
"I had asked him (Unzicker) a couple, three questions about how we were doing it. My statement to him was Panhandle Public Health is supposed to be doing these investigations. And, I don't think we should be using our teachers and our administrators to do their investigations for them. Nothing was actually said about not cooperating or anything. I just said we need to watch what we are doing."
Unzicker and Kollars say that staff are cooperating with health officials in investigations, but Engel said that cooperation has only gone so far as providing information regarding persons who have tested positive.
Engel said that PPHD officials have been able to make contact with positive cases, who are not and should not be in school, but are no longer able to make contact with school staff and determine students or staff who may have been close contacts.
Without the assistance of school districts, Engel said, PPHD would experience great difficulties in doing its investigations.
"We cover 15,000 square miles, 63 school buildings, and every day, there are just more and more cases," she said. "We are depending on open, honest communication. It helps us make the investigation in a timely way. It makes all the difference."
Taking issue with investigations
Kollars says he and members of the school board take issue with school administration and staff taking steps that help identify close contacts, rather than PPHD officials. One of the common ways that school officials throughout PPHD and other areas of the state have been assisting public health officials is in providing seating charts, when used, class rosters and attendance records.
Kollars, whose own children have been identified as close contacts in investigations and subject to quarantine, takes issue with investigations and the actions of health officials.
He questions the need for quarantines and has been involved in appealing quarantines put into place by PPHD.
In one instance involving his son, Kollars told the Star-Herald, the boy been identified as a close contact, with health officials using seating charts and school attendance records. However, the young man had not been in class on one of the identified days, having been at a football game on one of the days.
Asked how such an instance can occur, Engel said that school officials advised that a student participating in a school activity is not recorded as an absence. Once a discrepancy has been advised, officials investigate and school administration clarified the student had not been in class and changes to a quarantine order could be made. It is not often that officials have to issue written quarantine orders, Engel said, and the discrepancies in cases can be resolved could have been resolved prior to a quarantine order having to be issued, if health officials had been allowed to interview the student.
Kollars said another child had also been identified as a close contact, and he successfully appealed that case to the Nebraska Department of Health and Human Services, reversing the quarantine order.
Engels said that since March 2, PPHD has only had three appeals filed.
At the center of the issues between public health officials and the Alliance school board is controversy about masking students.
PPHD has been following, as formalized by Gov. Ricketts' in September, guidance regarding quarantining and isolation of students and staff in COVID-19 cases.
Guidance centers around determining whether or not close contacts have to quarantine if a student or staff member tests positive. If all students and staff are wearing a mask, and a student or staff member tests positive, only the student or staff member who tested positive would have to isolate. Students and staff could monitor for symptoms and would not have to quarantine.
If only one of the parties in a close contact investigation wore a mask, whether that be the student or staff member who tested positive or the other individual, persons identified as close contacts would have to quarantine. Engel said that without a mask mandate in Alliance Public Schools, there has been a large number of students who have had to quarantine. As many as 40 students in a class have had to quarantine. As of Friday, more than 60 students were quarantined at Alliance Public Schools.
In Alliance, the school district has not put into place a mask mandate. Other schools in the Panhandle have not put into place mask mandates, though Scottsbluff, Gering and Gordon-Rushville are three districts where mask mandates are currently in place. Gering initially started the school year with an opt-in policy, but quickly changed that after needing to quarantine a large amount of students.
Simply put, the more students who are wearing masks, the fewer students who have to quarantine.
"The goal of (not participating) seems to be to stop quarantines," Engel said. "But a mask requirement would reduce quarantines."
Kollars and Unzicker both cited quarantines as causing issues regarding students being able to participate in school.
"When students get sick, they'll go home," Kollars said. "When they have symptoms, they go home. And it's the school board's responsibility to provide an equal education to people and do it in the safest manner possible. And when you're quarantining people that aren't even close to following the guidelines and the directed health mandate, that is not protecting kids."
Kollars said PPHD should have to provide evidence that a person was a close contact in order to quarantine someone. With the elimination of seating charts and other steps, Engel said, it is difficult to identify close contacts.
"Most people understand that what happens in the school district affects the community and what happens in the community affects the schools," Engel said of virus spread. 
Kollars says he and other board members "have studied infection rates and all kinds of stuff. And what they are asking us to do is having zero effect" on cases. "And we just keep kicking our kids out on quarantine because they're not doing investigations like they should . . ."
Kollars also cited personal views on masks, saying that he opposes them and he doesn't believe that most people wear them properly. He believes that a "large majority" of the parents in the school district are also "anti-mask."
"It's disruptive to education," he said of masks. "It's just a useless thing."
The Star-Herald did ask Kollars about rumors on social media and shared by students and parents that extreme measures, such as student illnesses are not being reported, children not being taken to the doctor for testing, or parents and students urged not to participate in health investigations, to keep other students on athletic teams from having to quarantine or students not able to attend other activities. Kollars said he had no knowledge of such activities.
"If you're kid is sick, you keep them home. If people don't want to take their kid to get them tested, I don't have any control over that," he ssaid. "That is really what makes this a great country. People can do what they want with their own families."
At the same time, he said, he agreed that people should be monitoring their own health, that kids who are sick should be kept home, though he also expressed an opinion that "there is nothing that can be done.
Why school district cooperation is important
For investigations involving schools, Engel said and Blomstedt reiterated, that officials are dependent on school districts to be cooperative in investigations and keeping kids in school.
Engel said officials are dependent on "open and honest communication" to do investigations in a timely manner to prevent additional spread of the virus. PPHD officials reach out to students or staff identified to continue identifying close contacts, but that initial contact with staff is important.
Oftentimes, case investigations are beginning a minimum of 24 to 48 hours after someone has been tested. In cases where testing is taking longer, it can be up to 5 days.
In cases involving children, she said, it can be very difficult for a young student to remember who they were sitting by in class days earlier. Kindergartners have difficulty remembering some events that happened that day, let alone what happened the week before.
"The school staff know the student's schedule," Engel said. "We don't know that, so they can help us make sure that we have looked at every class that they (the students) are in."
Teachers could also assist with providing information on if children were involved in activities, had been on the bus, or in the cases of the junior and high school students, eating lunch in the school cafeteria. School staff were also providing contact information.
Health officials have also been told of "immense social pressure" for students and parents not to participate in investigations. Engel said that she hoped that parents and others would do the right thing to prevent the spread of the virus.
During Ricketts' press conference, Blomstedt said that masks and quarantines were better than the alternative of moving children to remote learning, as was done in the spring.
Affect on student activities
Kollars cited Alliance Public Schools as having fewer cases than school districts such as Scottsbluff or Gering, where mask mandates are currently in place.
Engel disagreed that it was a fair comparison, based on population and other demographics, or as evidence that mask mandates are not effective.
Engel told the Star-Herald that such comparisons are not "very meaningful."
"The goal is to keep kids in school and the number in quarantine is much higher in Alliance than of the other schools."
As of Friday, one school district, Scottsbluff Public Schools, had notified Alliance that it intended to withdraw from all athletic competitions with Alliance schools, home and away, effective immediately. Upon receiving word that Scottsbluff had taken such action, the Star-Herald reached out to Scottsbluff superintendent Rick Myles, but had not heard from him as of press time.
The fall sports season is close to wrapping up, so effects on those schedules are minimal. A junior varsity volleyball match that had been planned for Saturday was canceled. Athletic matches on the schedule are a junior and varsity volleyball game on Tuesday, Oct. 20, which as of now, is expected to be canceled. Alliance and Scottsbluff would both be scheduled to compete in district volleyball competition planned for Oct. 27. The schedule for Class B Football Playoffs has not yet been announced.
It is not known if other districts will follow Scottsbluff school district in withdrawing from competitions or if it will continue into the winter sports season. Cancellation of matches due to coronavirus has occurred during the fall sports season, in both western and eastern Nebraska.
After the governor's press conference Friday and the notification by the Scottsbluff school district, Kollars issued the following written statement to the Star-Herald: "In response to the continued misinformation being distributed regarding Alliance Public Schools response to COVID-19, the board of education is releasing the following information. The school superintendent was instructed that our staff was to cooperate fully with PPHD as their fully trained employees conducted investigations of COVID-19 exposure within our school. As in every other contact tracing investigation, this includes interviewing the positive case, full access to our buildings if measurements were necessary and the ability to contact our staff to conduct any interviews necessary to collect relevant information. His recommendation was in response to multiple quarantine orders being changed or overturned due to inaccurate information from staff after positive cases were not interviewed prior to issuance of quarantine orders. The board hoped that this change would ensure that trained individuals utilize verified firsthand information when contact tracing is completed within our schools. AHS staff continues to comply with all quarantine orders as well as completing necessary disinfection as necessary."
The Star-Herald sought interviews from parents and students as part of this story. Though several parents have also said that they have reached out to the NSEA and the Nebraska Department of Education, with some planning to file complaints, and indicated they had written letters to the Alliance School Board, all declined to give formal interviews for this story.
Kollar told the Star-Herald that the board will continue to evaluate its response and that if there is a reason to change things, the board would. School boards are tasked with making tough decisions and doing what it thinks is right.
"We're comfortable in what we are doing," he said. "The whole thing that we are trying to do is from a different angle. We're (school boards) all in the same boat. We're trying to do what is best for the kids."