The Panhandle is reporting low COVID-19 case numbers, though caution is needed as one of the COVID-19 variants has been detected in two counties.
Paulette Schnell, Scotts Bluff County Health director, reported that the Panhandle reported just 18 cases of COVID-19 last week.
"I think this is the lowest number we've had to report in a very long time," she said.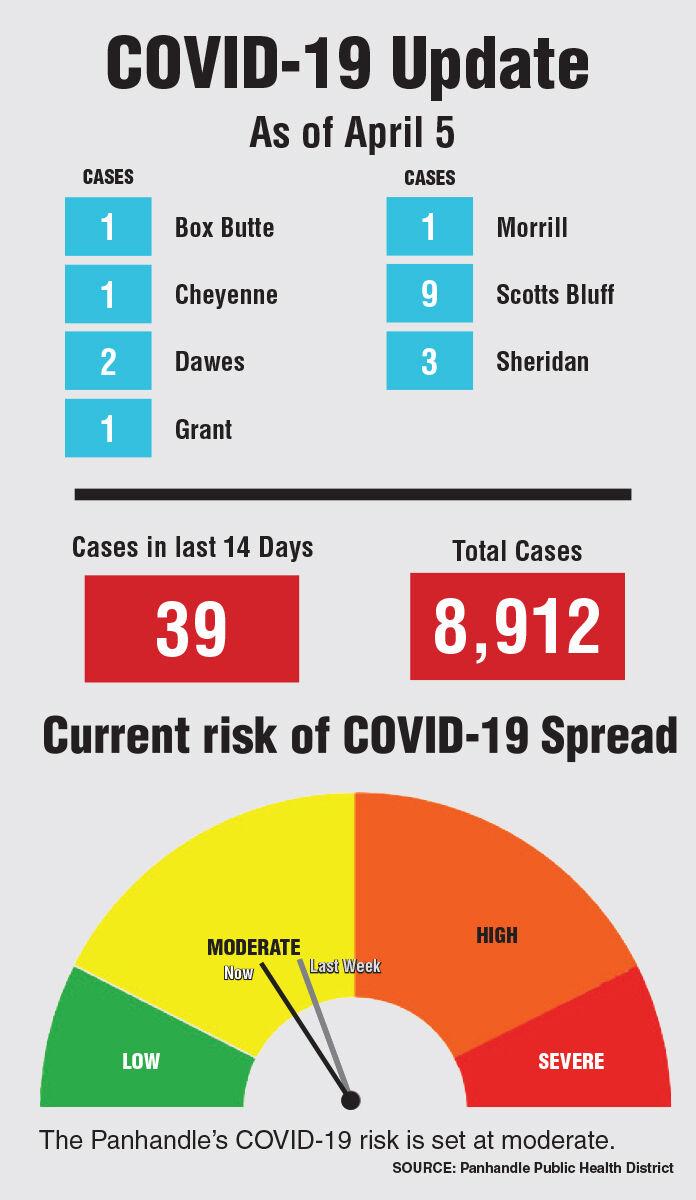 Scotts Bluff County had the highest number of cases, with 9 cases. Cases were reported in Box Butte, Cheyenne, Dawes, Grant, Morrill and Sheridan counties. The positivity rate has dropped down to 4.48% and there are no active hospitalizations in the Panhandle, as of Monday, April 5. There are five deaths pending verification.
On Friday, Schnell said, Panhandle officials had received notification the B.1.1.7 COVID-19 variant, first identified in the U.K, has been detected among four people in two Panhandle counties.
She described the B.1.1.7 COVID-19 variant as a "much more contagious and severe COVID strain."
The variant was initially detected in the U.S. in December. It's not the only variant circulating in the state. As of Monday morning, the Nebraska Department of Health and Human Services said in a press release, 140 cases of the B.1.1.7 COVID-19 variant (the U.K. variant), 42 cases of the B1.427/B1.429 variant (the California variant), and two cases of the P.1 variant (the Brazil variant) have been identified in Nebraska.
Regarding the B.1.1.7 COVID-19 variant, Schnell said, "this variant seems to spread more easily and quickly than any other variant which may lead to more COVID cases and, potentially, for increased severity."
Last week, with more variants in the state, Panhandle officials described it as a race to get people vaccinated. Schnell reiterated the call for vaccination, noting that studies suggest that current vaccines approved are offering protection against the variants.
"Finding the strains in the Panhandle reinforces the importance of getting your COVID vaccine," she said. "Consider it your molecular PPE and one of the best protections against that insidious virus."
Getting vaccinated is now easier than ever, with PPHD announcing that people can sign up for their own time slots online now. Health officials announced last week that anyone over the age of 18 now qualifies for the vaccination.
To date, 35.4% of Panhandle adults, or 23,219 people, have received at least one dose of the vaccine. Prochazka said the Johnson & Johnson vaccine, which is a one-dose vaccine, is now widely available in the Panhandle. For the Moderna vaccine, which has been available in the Panhandle since earlier this year, two doses are recommended to reach its highest efficacy.
People are asked to first register at ne.vaccinate.gov, which makes the vaccine process smoother at the vaccination site, Tabi Prochazka, deputy director of health preparedness and promotions, said.
Then, people can visit a website to sign up for a spot. For the corresponding counties, pick a location, day, and time that works for you. Dates and times will be added to the links as they are made available, so you can keep checking back.