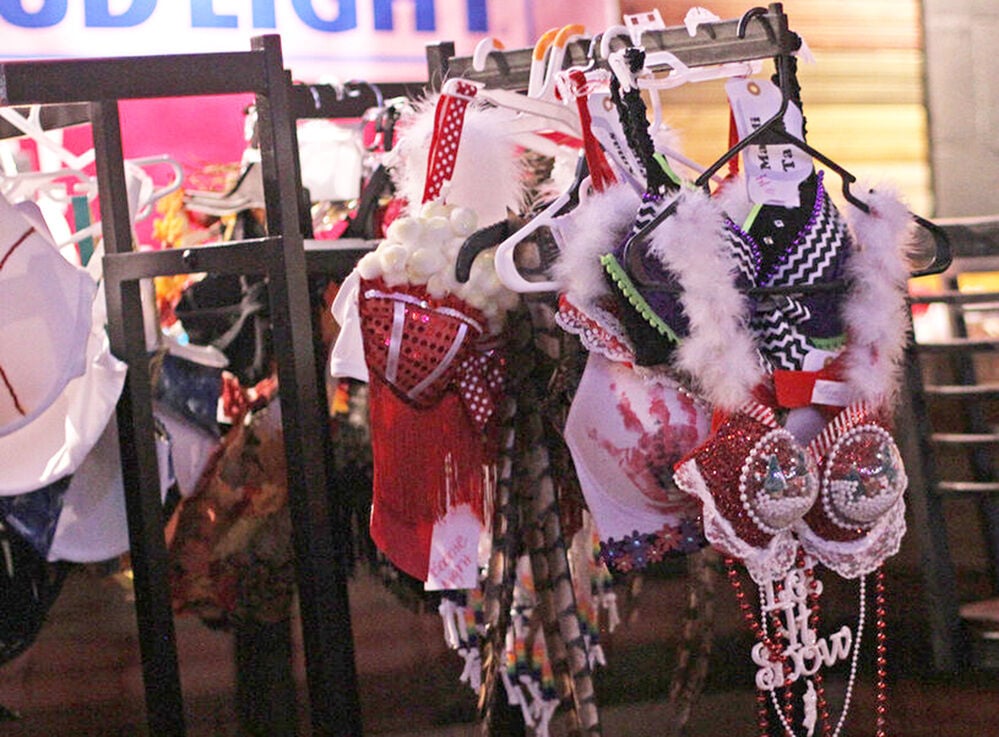 Going into its ninth year, the annual Save a Rack fundraiser event will be looking to add to its nearly $340,000 of donations that it has raised for the Festival of Hope over the past eight years.
Terry Lyle, owner of Backaracks, the host of the event alongside KNEB, said it came together eight years ago when Steve Flowers and Kendra Feather of KNEB asked to partner on a "wild idea" of a fundraiser for Breast Cancer Awareness Month.
"Steve had a wild idea that he'd seen somewhere and wanted to know if we were interested, and we said absolutely," she said.
That idea was to invite community members to decorate and bid on bras.
"I can remember us all thinking … 'Oh man, wouldn't that be something if we'd raise $5,000?' And I think we raised $14,000 that first year," Lyle said.
The fundraiser has grown in size and popularity, having raised over $40,000 last year and reaching bidders from across the country, the latter mainly due to COVID.
"We've changed it up last year because of COVID, and Kraupie Auction Service came and they donate their time, and they gave us the ability to broadcast it online, so that even a larger audience could participate," Lyle said.
With last year's online success, Lyle said it's coming back again this year. The bras will be on display at Backaracks for the month of October, as well as on the auction website. Corporate tables for the day of the event, which is Oct. 27, are available to be purchased at $1,000. This reserves a table for eight and the $1,000 can be used toward purchasing bras.
The front bar will also be open the day of the event for members of the public to join in the bidding if desired. Seating won't be available where the auctioning is taking place, but it will be broadcasted on a big screen TV, and people can bid at the online site, http://savearack.org.
Kendra Feather, KNEB promotions director and co-organizer of Save a Rack, said some people will even earmark certain bras for certain patients, oftentimes raising thousands of dollars for one individual.
"Sometimes people earmark money (from a bra) for a certain patient," she said. "...It gets to be an emotional thing when you're there."
Feather said she the event is all about having fun while giving back to the community.
"It's a day to make you forget about all that's gone on and just have a little fun and comradery," she said. "Some businesses don't necessarily fit in with Festival of Hope's usual fundraiser, so this gives businesses other opportunities. And, I serve on the board for Festival of Hope, so I see how the money comes back, how it's used and how it helps them (cancer patients)."
Lyle said what she loves most about this fundraiser is the organization the money goes to.
"I love what Festival of Hope does. They use their funds for non-medical treatment expenses, the things that get overlooked," she said. "Someone might be traveling from out of town, might not have gas money or money for a hotel while they're here getting treatments. Someone might need help making their mortgage payment because they can't work. … This is for all the things that people just forget about."
Lyle said she speaks from her own experience, as not only did her mother die after being diagnosed with breast cancer a few decades ago, but she lost her partner Tom Watson to colon cancer just last year. That's why she loves Festival of Hope's mission — because it helped people like her loved ones. Plus, it was an important mission of Watson's as well.
"Tom was there when we looked at each other and when Steve threw out the idea, and so he was a part of it from the beginning," she said. "(It's) just something that was he always supported and (we) want to continue that also for him."
That's why she's also added on a secondary fundraiser in memory of Watson: a winner's choice gun raffle among three different guns. All proceeds from the raffle will also be donated to Festival of Hope.
"(It's) kind of a way to keep Tom involved in his memory at least," Lyle said. "He was a big supporter of Save a Rack and was with us and helped start it."
Lyle said the fundraisers are made possible by the large community support they've received over the years, from bra decorators to bra buyers to bra organizers.
"None of it would be possible without the community's support behind it — two-fold, the people that make the bras and bring them in and the people that come in and bid on them …
"Another thing is Lisa Weborg has always come over every year, helped us set up, because she just has a she has an eye for organizing that way. … It kind of transcends. Normally, I guess, we could be in competition with each other (with Steel Grill) but this is something — Lisa lost her sister — this is something, this event that transcends everything."
The auction will take place on Oct. 27 at 7 p.m. Backaracks will be accepting decorated bras until Oct. 25. Save a Rack T-shirts are on sale at http://Savearack2021.itemorder.com until Oct. 17. All proceeds will go to Festival of Hope.