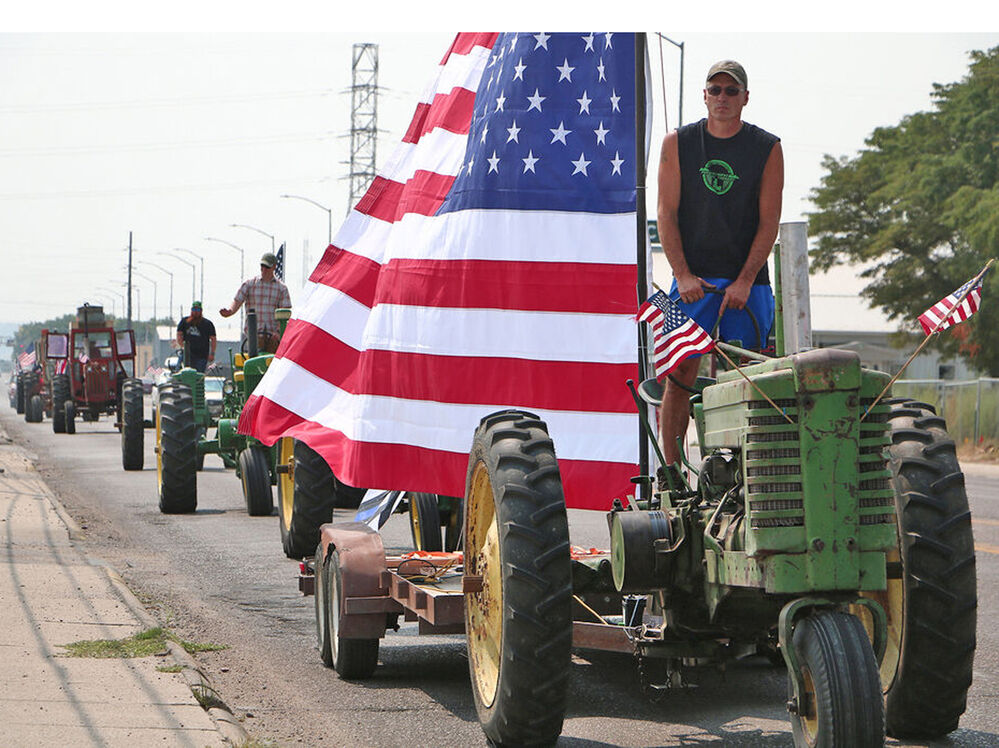 This year's Oregon Trail Days will harken back to its history, although history had little to do with the original celebration until the second year.
Gering's Oregon Trail Days celebration is celebrating its 100th consecutive year July 8-11 as the "longest, continuous running celebration in Nebraska," Bill Schlaepfer, Oregon Trail Days board of directors member said. "(It's) Western Nebraska's safe, fun-filled weekend."
The celebration begins Thursday with the kickoff barbecue and street dance. The public is invited to enjoy delicious barbecue and live entertainment starting at 6 p.m. in downtown Gering. The Meat Shoppe will offer barbecue beef sandwiches and chips for $4 a plate. Gering City Council members will be in attendance, dishing out the meal.
Friday's festivities begin early with the Don Childs Run. Registration opens at 6 a.m. in front of Main Street Appliance, located at 1455 10th St. in Gering. Runners can register until 6:45 a.m., 15 minutes before the race begins. The cost is $10 per runner. Interested participants can get a registration form by visiting the Oregon Trail Days website. Once the race concludes, medals will be awarded.
Kids will be taking to the streets around Legion Park Friday morning for the Kiddie Parade. Area youth will showcase their creativity as they build floats and wear costumes for the community to enjoy.
"They do need to be in some type of a costume," said Melody Abel, an event organizer. "I just enjoy seeing what kind of costumes the kids come up with. Some of them are really creative and I like seeing them out there having fun."
Registration is from 9:15 to 9:30 a.m. This year's Kiddie Parade starts at 10 a.m. at the park. Following the parade, families are encouraged to stick around for the street games and inflatables.
The annual Vera Delaney Memorial art show and sale will be a two-day event. The Gering Civic Center will feature some of the finest art in the area with hundreds of submissions on display Friday from noon to 9 p.m. and Saturday from 9 a.m. to 4 p.m. The artwork on display is first judged at a juried show to qualify for exhibition. The Gering Civic Center is located at 1050 M St.
Gering's main street will be full of energy Friday night as the car show and food fair offer the public an opportunity to look at classic and custom vehicle while eating ethnic cuisine from around the world.
Hot rods and classics will cruise into 10th Street in Gering for the Rod & Custom Car Show Friday night. The show will take place from 5 to 9 p.m. on the north end of 10th Street. There are no registration fees and the first 100 entries will receive a commemorative T-shirt.
The Food Fair will also coincide with the car show, taking place down the street. Registration is first come first serve, costing nonprofits $65 and other organizations $130. The City of Gering implemented safety measures for the International Food Fair. The fire department will assist the Oregon Trail Days committee in drafting and implementing a safety checklist for vendors to abide by prior to operating their station at the food fair.
A free concert at Five Rocks will conclude the day's events. The Gering City Band will perform at 8 p.m.
There will also be square dancing along Tenth and O streets at 8 p.m.
Saturday will also offer various activities for the community to participate in and watch.
The bicycle hill climb will take place at Scotts Bluff National Monument, beginning at 7 a.m.
A Benefit Pancake Feed will also take place at Gardner Park from 7 to 9:30 a.m. Saturday. The cost is $4.
Oregon Trail Days parade will return this year and in honor of the centennial, the parade will feature music performances by local marching bands, longhorns and floats, vehicles transporting local officials and the traditional stagecoach.
"A big, special thing we're going to have is right around 60 longhorn cattle being led down the street," said Bill Peters, who is the general chairman for the Oregon Trail Days Association. "People can marvel at these giant animals with giant horns."
Parade registration and line up begins in the Gering High School parking lot at 8 a.m. Saturday. There is no entry fee. This year's parade theme is "Celebrating 100 years of our legendary past."
Following the parade, the Old Settlers Luncheon will occur at the Gering Civic Center. The luncheon will recognize families who have lived in the valley for 50 years, known as half-century descendants. The luncheon takes place Friday and Saturday at noon.
The quilt show will be held in the city plaza where the Gering Farmer's Market, located at 1030 N St. The show is open Saturday from noon to 5 p.m. The show will feature numerous quilts of varying sizes and each with intricate details made by area quilters.
"That's a new location, but it is a traditional activity that has been so well attended," Peters said.
Legacy of the Plains Museum will also be holding a barbecue for the public from noon to 2 p.m. The cost is $5 per plate.
Chili aficionados can showcase their cooking skills from 1 to 6 p.m. during the 34th annual Nebraska State Championship CASI Chili Cook-Off. The event will take place at Five Rocks Amphitheater and will include concessions and a beer garden, which opens at 1 p.m. and live music by Loaded Dice. The public chili tasting begins at 3 p.m.
A beer and wine tasting event will take place at 1125 J St. in Gering from 6:30 to 9 p.m.
There will also be an Oregon Trail Days Music Festival at 7:30 p.m. at Five Rocks Amphitheater, featuring Sawyer Brown and special guest Ned LeDoux. Gates open at 6:30 p.m. and the concert starts at 7:30 p.m.
The Gospel Jubilee will wrap up this year's centennial celebration Sunday, July 11. The jubilee will take place at Legion Park.
To celebrate its centennial, the Oregon Trail Days website was also revamped, featuring event details, forms for entering the events as well as videos and photos from previous celebrations.
For more information about this year's event, the public can call the Oregon Trail Days office at 308-436-4457 or visit oregontraildays.com.
MORE OT Days coverage