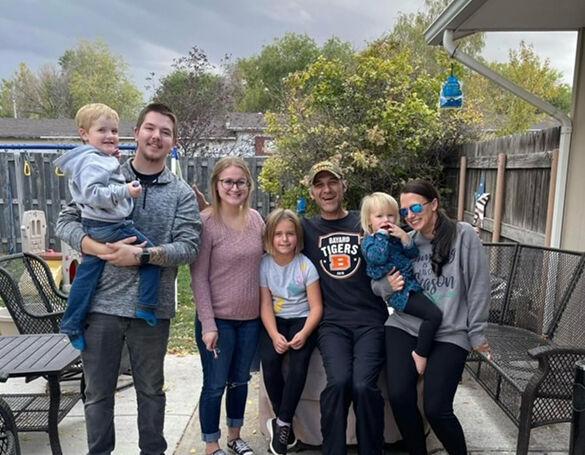 When Timothy Kramer graduated from Bayard High School, he wanted to become a police officer. He joined the Army as a military policeman, ascending the ranks until he became a staff sergeant. He served with the 58th Military Police Company in the 25th Infantry Division. He was deployed to Iraq twice.
Then, on Aug. 6, 2006, the vehicle he was riding in ran over an improvised explosive device. Kramer suffered a traumatic brain injury. The injuries led to him having a stroke, suffering seizures and headaches, and losing the use of his left hand and foot. He underwent several months of rehabilitation and physical therapy but still needs to use a wheelchair.
Kramer's home in Bayard isn't well-suited for someone in a wheelchair. Someone needs to open doors for him and lift his wheelchair over the threshold. He can't tuck his younger daughters into bed at night because the wheelchair is too wide to fit into their rooms.
That will all change later this year. The Kramers will receive a new, more accessible house courtesy of Homes For Our Troops (HFOT), a Massachusetts-based charity founded in 2004.
"Our mission is to build and donate specially-adapted custom homes to disabled veterans ... to enable them to rebuild their lives," executive director Bill Ivey said. The majority of the veterans HFOT helps are blind, paralyzed or have missing limbs. The charity works with Veterans Affairs and medical facilities to find veterans in need, though many are recommended by their fellow service members.
This Saturday, HFOT will officially complete its 326th house. Staff are currently working on an additional 71 projects, including the new Kramer residence, and more than 100 veterans are in the process of applying.
"The other thing we do that might be different is we stay in contact with our veterans for life," Ivey said. Employees help veterans and their spouses with whatever they need help with, from getting into the workforce to starting nonprofits. "...Whatever our veterans want to do, we're there to support them." The charity has one department with five full-time staff whose sole goal is to follow up with the veterans they build houses for.
Kramer's case was a more personal one for Ivey. In 2006, Ivey served as the commander of the task force Kramer was assigned to. The staff sergeant had been part of Ivey's security detail. Ivey left the company less than a month before Kramer was wounded in action. The two were reunited at a veteran's conference in Massachusetts in 2019.
"When he rolled in in his wheelchair, I was looking at him and I thought, 'that guy looks familiar,'" Ivey said. "It was one of those moments when you turn to each other and you say, 'hey, were you with...?'"
Kramer and his family had been flown out to the conference by HFOT to learn more about their future home.
"It's kind of crazy how 15 years later we run into each other and he's running this organization," Kramer said.
Each house is built with more than 40 adaptations for accessibility. For wheelchair-bound veterans, these include wider hallways and doorways, hard surface flooring, poll-down shelves and a roll-in shower. The sinks, countertops and stovetops all have space for wheelchair users, as well.
"There's a lot of things you don't really think about unless you're in a wheelchair until you go, 'oh heck, I can't reach that,'" Ivey said. These include the windows, which are lower to the ground and open left-to-right. The exterior doors can also be opened automatically from a key fob, and the thresholds are significantly lower so veterans can roll in and out at their leisure. Families pick out everything from the paint color to the faucet design to the style of cabinets.
The veterans do not have to pay a mortgage, but they do need to pay taxes. To help with this, HFOT provides them with pro bono financial planners for three years.
Homes have either been started or completed in 45 of the 50 states. Kramer's will be the first in Nebraska. The veterans get to choose where they want their new house to be built. Those from colder climates often choose to have their new homes built somewhere warmer, Ivey said.
Not Kramer, though. "This is home," the staff sergeant said. "Nebraska is home. Bayard, Minatare, the Panhandle is where I was born and raised. The Valley runs through my blood, I wouldn't leave it just because it's cold. The greatest part of America (is) right here." Having family in the area also helped cement his decision.
The new Kramer home will be located a few miles south of Lake Minatare. HFOT crews have already started moving dirt, but construction has not yet begun in earnest.
Ivey will join the Kramers for a community kickoff at 10 a.m. on Saturday, Feb. 5, at The Rock Church in Scottsbluff. Ivey will introduce Kramer to the community, and people can ask him and other HFOT staff questions about the program. The kickoff is the first of three special events which occur during construction. The second is a volunteer day for landscaping, and the last will be a key ceremony when the family officially moves in. Ivey said the home should be ready by August.
Kramer said his family was extremely excited for the events and to experience their new home. "It's life-changing. When I went into the service, I never expected to go to war. I never expected to serve outside the continental U.S. except the bases I served at. When you go to war and you lose things, and this organization helps, it's a blessing ... I can't say thank you enough."
Ivey said the charity spends 90 cents of every $1 donated on their mission, so little money goes toward advertising. Those interested in learning more about HFOT can visit www.hfotusa.org.