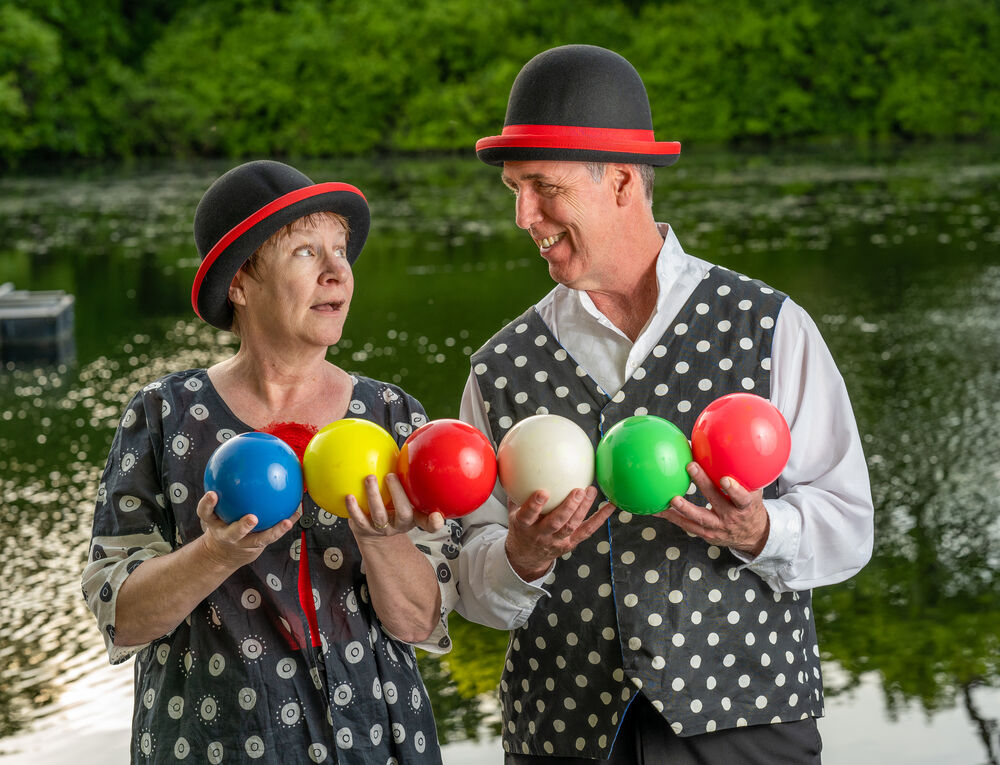 The Midwest Theater will be filled with laughter on Tuesday, July 20, when the comedic duo of Jay Cady and Leslie Seifert-Cady take the stage with their "Laughing Matters" variety show.
It will have everything from juggling to stories to comedy bits for a fun show for the whole family.
"We are a vaudeville variety duet," Cady said.
Their performance is the main event for the Lied Scottsbluff Public Library's summer reading wrap up party, which will take place at the Midwest Theater from 7 p.m. to 8:30 p.m.
"We tried to schedule them last year, but due to COVID, it didn't work out," children's librarian Deb Carlson said. "By working with several libraries across Nebraska and Wyoming, we were able to put together a tour so they could afford to come all the way from Kansas City."
The couple met in 1980 when they both worked for a Kansas City company of performers. In 1984, the company disbanded, but the two kept in touch. Not long after, they married and started their own comedy act, which has since performed in 36 states and seven countries.
"The company fell apart, and Leslie and I fell together," Cady said. "We performed a lot at outdoor county fairs, and then we discovered performing for libraries."
Cady said the duo will cater their summer performances to whatever the summer reading theme is for each year, to make it particularly special for young readers.
"We'll pick routines that we have that will fit the theme and then usually come up with something original too," he said. "It will be fun. … I think there's something special about watching a show with two performers, and you get to see the interaction of the two characters. So like I said before, it's a classic vaudeville duet."
Carlson said the laugh-out-loud show isn't just for summer readers though.
"Although this is the wrap up for summer readers and their families, we want to welcome everyone from the community to attend," children's librarian Deb Carlson said. "They do not need to have been registered in the program. It will just be an entertaining evening for the whole family."
Following the performance, sponsored by Platte Valley Companies and Backaracks, the library will do various summer reading prize drawings, including for the grand prize of a Nintendo Switch and Animal Crossing game donated by NTC Logistics. The winner of the "Doggie Treat" candy jar guessing game will also be announced, as well as the winners of the five door prizes, which are backpacks filled with animal themed prizes. Each child will leave with a Tails and Tales goodie bag to take home.