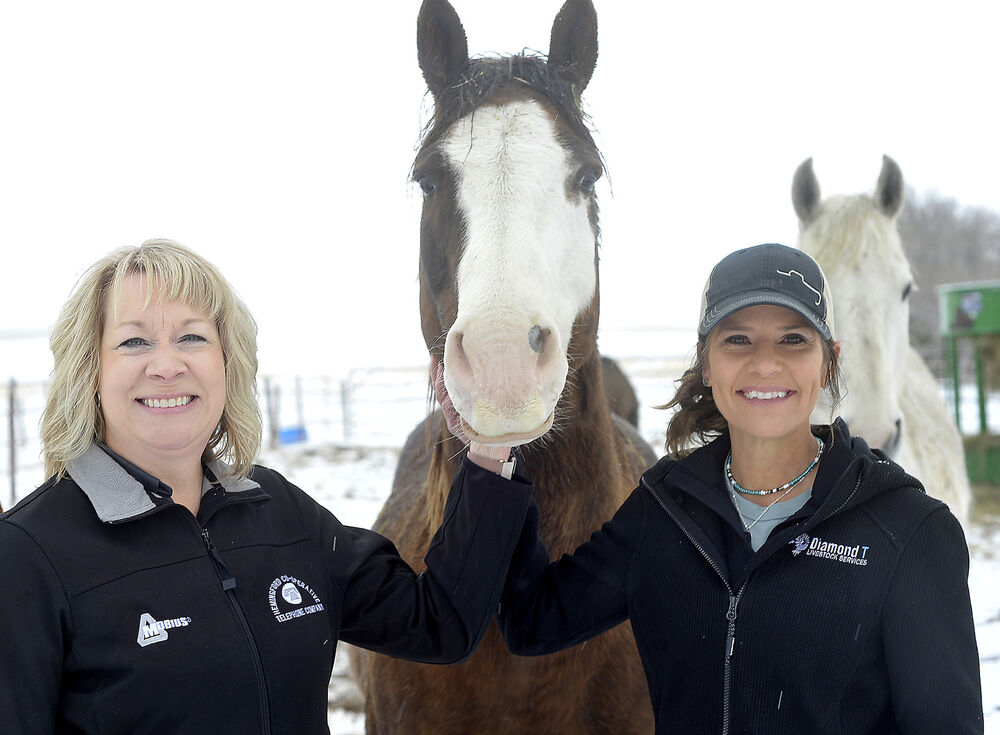 The internet is important in the success of Teresa Sanders' business. Fast and reliable connections with her 40 representatives and clients across the United States and Canada could mean the difference between success and failure.
Her business, Diamond T Livestock Services, is a service-based business specializing in performing a variety of tasks in beef packing facilities, feedyards and ranches.
"We are employed as a third party to perform extensive services including beef carcass data, beef mobility scoring, animal welfare monitoring, beef liver abscess scoring, DNA collection, and a large array of professional research work and audits," Sanders said.
Sanders started her business 26 years ago with the data from about 2,000 head "coming across my desk; today I have about 7 1/2 million head come across my desk."
Until a few weeks ago, on the Sanders ranch 21 miles Hemingford, she used a satellite provider, but the service was slow and unreliable.
"I receive big files and send big files," she said. I have to have fast, reliable internet."
A few weeks ago Mobius, a communications company in Hemingford, laid fiber to the ranch.
"With fiber, it's amazing. It's more like a relief" Sanders said.
The speed and reliability fiber provides is a "game changer," she said.
SPEED & RELIABILITY MATTERS
The Federal Communications Commission (FCC) defines advanced broadband as download speeds of at least 25 megabits per second (Mbps) with upload speeds of 3 Mbps, a baseline that experts call "25-3" for short. In today's world this is almost obsolete, Mobius Communications' General Manager Tonya Mayer said.
Mobius, because they use fiber, has 25-25 up to one gigabit per second, Mayer said.
"Our board believes everyone deserves broadband," Mayer said. "We need fiber in rural Nebraska."
In 2010 Mobius tested fiber in the village of Berea. After it was successful in Berea, Mobius put fiber in their hometown of Hemingford.
The rural Nebraska company has been adding fiber for rural Nebraska ever since, Mayer said. However, it is not cheap.
Before the COVID-19 pandemic the cost to put in a mile of fiber was $15,000-$18,000. With the pandemic and the shortages, the price climbed to closer to $25,000 a mile.
"We get grants but that only covers part of our investments," Mayer said. "We get excited when we get more than one person per mile."
Mobius has laid down 400-route miles of fiber. Route miles are the number of miles that are spanned by a telecommunications network. They are the total geographic distance between cities or other terminal points.
Within the 400 route miles Mobius has been able to take fiber to the small rural towns of Crawford and Whitney, as well as to Agate Fossil Beds, and to the Sanders' ranch.
"We are very proud of what we have done and continue to look for ways to continue deploying fiber in rural Nebraska," Mayer said.
Mobius has just recently taken fiber to Belmont, Nebraska, a community of eight people, 11 miles southeast of Crawford.
With the high cost of laying a mile of fiber, Mobius has taken advantage of money from the CARES Act and is hoping there will be more coming in the future.
"We were awarded $1,344,400 in DED Cares Act Grants in 2020," Mayer said. "With it, we deployed over 75 miles of fiber to the home and connected approximately 100 homes/businesses. We had a 25% match but with increased costs it was closer to 50% match."
There are bills in the state legislature attempting to address the need for high speed internet in Nebraska. The first is Gov. Pete Ricketts' bill, LB 338. The bill, called the Broadband Bridge Act, will commit $40 million over two years to expand the broadband infrastructure in Nebraska, both urban and rural.
"I think it's a good bill, and I'm hoping it will pass," State Senator Tom Brewer said in an interview Tuesday, April 27, while the bill was being debated on the floor of the Legislature. "It's a lot of money, but it's a good investment."
The majority of the areas with no or limited high speed internet are in central and western Nebraska, he said. "Central and western Nebraska need the help."
"It is going to be tough, but I think it will pass," Brewer said. "The urban senators see it as a gift for the rural senators."
If it goes to a filibuster, he said. "We will need 33 senators and we don't have that."
Between money from the Cares Act and the $40 million from LB 388 that is about a $90 million investment in broadband, Brewer said. "That is pretty good shot in the arm."
The second bill is LB 388, introduced by rural senator Bruce Bostelman. The bill is meant to give rural internet customers more input on their broadband carrier.
In both bills, funding would only be available to companies offering service of 100 Mbps or greater for both upload and download speeds (100-100).
"The (COVID-19) pandemic really showed our need for (advanced) broadband,' Mayer said. "It also showed the gap in rural America."
For Sanders' two children, Wade, 17, and Josie, 14, "satellite was a mess for the kids on internet with school. The service was slow" and unreliable.
Besides school her children are also very active in 4-H livestock judging. With satellite, they would compete but, when they recorded their reasons for why they placed one animal ahead of another it would take a long time to upload and get to where they needed to go.
"Now (with fiber). it is instead," Sanders said.
Whether it is for remote schooling or business, Mayer said it is important for economic development. People say they like the idea of living in a small town, but they need to be connected.
"Those living in rural America deserve good solid internet connections," Mayer said.
LIVING RURAL, WORKING URBAN
For Paige Paradeis, the access to high speed internet made it possible for her to move home to Hemingford in 2015. Though she lives in rural Nebraska the company she works for is in Chicago, Illinois.
Paradeis works as a senior solutions architect a marketing company.
She was missing home and decided to move closer. Her original plan was to move to Denver, Colorado, but after spending time in Hemingford, she said, "It was a breath of fresh air and I decided to stay."
A key reason was the high speed internet offered through fiber.
The company was new at the time and had employees in Chicago, Kansas City, Dallas and Hemingford.
"I had the best internet out of everyone in our company at the time," Paradeis, who lives on a ranch 13 miles outside of town, said. "It's crazy but II was the only one who had fiber. They have caught up."
In today's business world you are screen sharing, which Paradeis said takes a lot of bandwidth.
"You need speed and reliability," she said. "Anything less than 25 (Mbps) is not working, you need 100-100."
High speed broadband "opens up our opportunities for hiring," Paradeis said. Before a company's hiring pool was much smaller, you had to live where you worked. That is what took Paradeis from Nebraska to Chicago, now it is open to "anyone who has good internet."
The fiber, which offers high speed internet, allows Paradeis to live in rural Nebraska while working for a company in a large metropolitan area.
Today, Paradeis' company has grown to include an Alliance, Nebraska graduate who lives in Omaha and another western Nebraskan living 10 miles from Paradeis' ranch.
"High speed broadband is the only way you can survive. You have to have fast instant internet," Sanders said. "Some of my reps are in small areas without fiber. They have had emails (pay invoices) that have gotten stuck in outbox for two weeks."
With fiber, there are no hold ups, she said.
The other day, Sanders said, her husband Tom, watched a bull sale live without any delays. When he saw the bull he wanted, he put in a bid and purchased it as if he was at the sale itself.
"With broadband the sky is the limit, especially in smaller towns," Mayer said. "It gives them a leg up."