In closing arguments Friday, the prosecution and defense at Marcus Winston's murder trial offered starkly different versions of the fight that ended with Timothy Montgomery fatally shot outside a downtown Lincoln bar.
On one side, Deputy Lancaster County Attorney Amy Goodro described what happened at 1:30 a.m. March 15, 2020, as Winston "bringing a gun to a fist fight." An unjustified and unreasonable use of deadly force. A first-degree murder.
"It's not reasonable to shoot and murder somebody over a couple punches potentially," she said. 
On the other side, defense attorney Heather Colton argued that Montgomery, a 250-pound trained boxer who had registered his hands as weapons, had punched Winston so hard it knocked a tooth loose and cut through both his lips. 
Then, as another man went after Winston, Montgomery turned to Winston's 5-foot-4, 145-pound cousin, Nathaniel Love. 
Bystanders testified Montgomery was standing over Love and "pounding on him." Some thought it looked like the guy on the ground was unconscious. 
"Marcus only pulled his gun and fired four shots when he had no other choice," Colton said. 
While there was no video of the fight outside Main Street Bar, Lincoln police pieced together clips to track Winston, Love and Montgomery's movements as they entered and left the bar, marking their blurred pixels from a camera down the block once they went outside. It gave jurors a sense of the fight described by witnesses as a pounding by Montgomery.
From start to finish, it lasted around 90 seconds.
Goodro pointed to a part of the video where Love appeared to go down on the ground but get back up again 1 second later, she said. 
"Not enough time for some savage, brutal beating of haymakers," she said. 
And she pointed to the fact that Winston admitted to firing four shots, telling the jury he kept firing until Montgomery stopped hitting Love.
Goodro said it showed premeditation. 
"It's not just one to attempt to get him off. It's decisions," she said.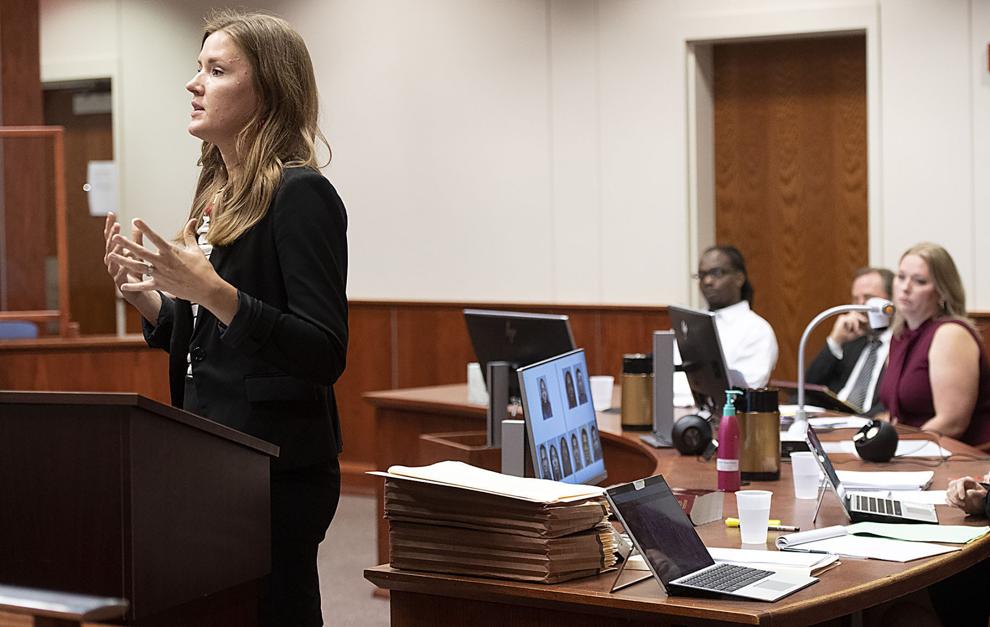 Colton told jurors the state wanted them to believe that Winston had murder on his mind and Montgomery was his intended target.
"A man with a gun and a plan finds his target and starts shooting. But Marcus Winston didn't do that," she said.
She said Winston tried to talk it out with Montgomery, then tried to retreat after he punched him. But Montgomery kept coming.
"He had to protect himself, and he had to protect Nate," Colton said. 
After eight days of testimony, the jury of six men and six women began deliberating at around noon Friday.