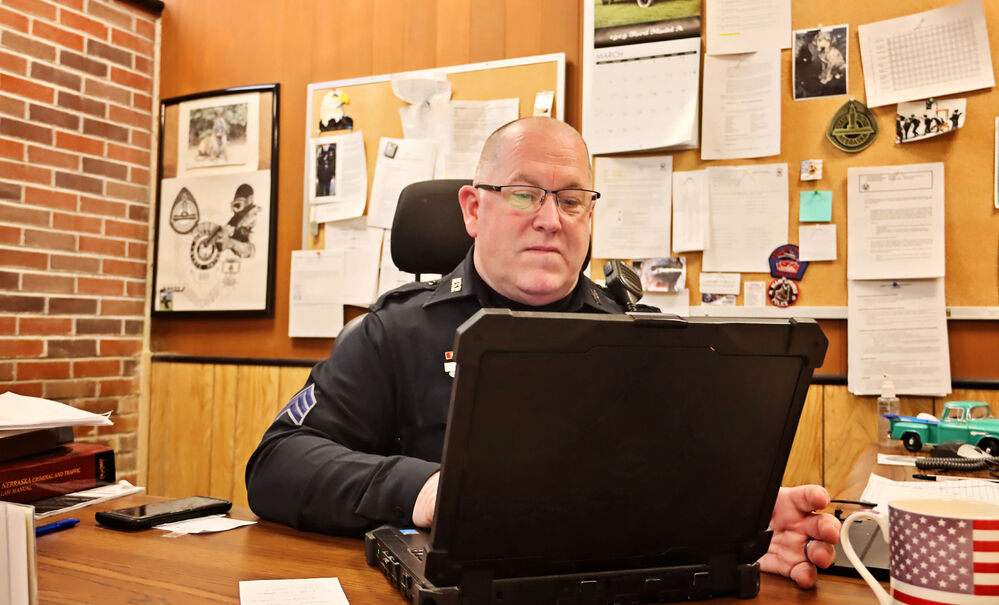 Some belabor the night shift.
Nebraska State Patrol Sgt. Chris Baer has worked much of his career on the night shift. On a recent Tuesday, after spending an hour attempting to pair his mobile command center with the patrol car he is driving, he hits the road, traveling down Highway 26 toward Mitchell. A red and orange sunset is on the horizon.
"If I didn't work nights, I'd miss views like that," he said, looking toward the Monument.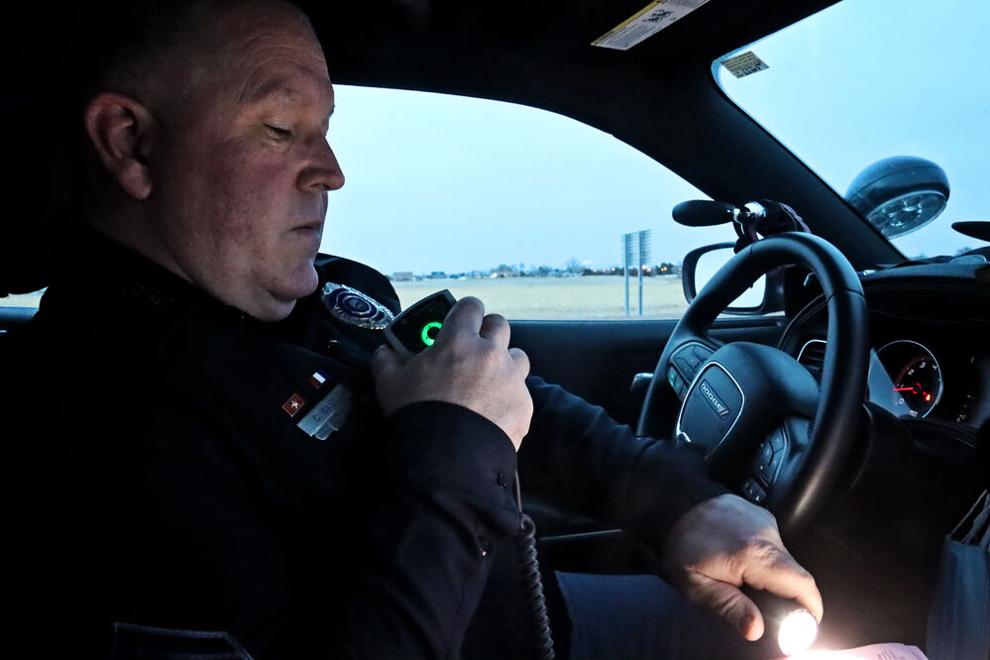 With sergeants able to pick shifts using a seniority process, it's also obvious it's Baer's preferred shift, though there may not be a lot of contenders for it.
Even when Baer is on shift, he can take some time to touch base with his family. He and one of his daughters have a nightly routine where they try to connect for a few moments during the night via FaceTime. It's a touching ritual Baer said means a lot to him and his daughter.
He's disappointed when he misses her call, misses her when he tries back. One of the advantages of his shift is that he'll have the end of the week and weekend to spend time with family.
"The days off coincide with my family's schedule," Baer said. "There has been a large portion of my career where I chose to stay on nights. It's just a more active time. I've tried a couple of different times to work day shifts, but this works out best for us."
Today, Nebraska State Patrol troopers are more mobile than ever. Increased technology allows them to operate from the road.
"We can operate pretty much anywhere we can get (cell) service," Bauer said. "We have service throughout most of the Panhandle."
During a shift, Baer has troopers spread all across the Panhandle. On a recent shift, he showed and demonstrated the "MDC," or mobile data center. The center is a laptop that has all the programs troopers need to connect with dispatchers remotely, tracks troopers using GPS, On this particular night, Baer shows one trooper in Sidney and another in Alliance and moving throughout the shift as they patrol the state's highways.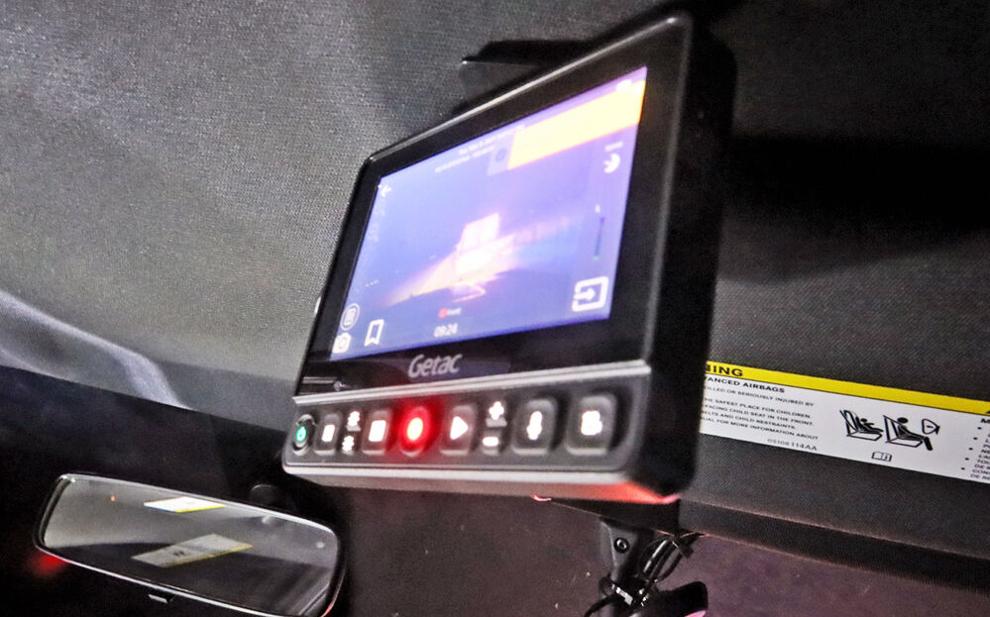 "It benefits me to stay mobile, too," he said, though he stays stationed around the Scottsbluff area, to allow him to be in a central location and respond to assist troopers anywhere with any incidents or situations that arise, such as a wreck.
Even the radars have changed, with forward and rear facing antennas, something a longtime trooper like Baer would have seen advance.
"We can clock vehicles that are coming at us, or if in the same lane and there is one ahead of us that is really smoking along, we can clock in the same direction. Same with the rear antenna: If they are going away from us or if they are' coming up on us."
Being a trooper in today's modern world, especially in the Panhandle, takes commitment.
"I've got one trooper on my shift who made 26 felony arrests in 2020," he said. "So that means a lot of misdemeanor arrests. He's very busy. He's always on the road, always doing something, and that was during a pandemic," Baer said.
Unless a trooper is assigned to a special selective, such as a vehicle checkpoint, troopers are not assigned to a specific routine, set route. Troopers  live and work throughout the Panhandle — Chadron, Alliance and Sidney, in addition to Scottsbluff.
"You kind of have to be self-motivated, a self-starter," Baer said. "Because we're going to go out and most of the time, you're going to be by yourself. You don't have set parameters."
The Nebraska State Patrol's jurisdiction is statewide, and for the troopers in Troop E, they may find themselves anywhere in the Panhandle during a shift.
"We respond to calls for service as they arise, where they arise. ... You might live in Scottsbluff, but you might end up going and working the Interstate or in Deuel County, if there's a situation there. It's pretty important, all of our troopers have to be pretty well versed with all the area resources, facilities and other agencies. It is just a wider jurisdiction that we have to take care."
Though Baer said the Nebraska State Patrol has always embraced mobility since it began in 1937, Baer said the patrol has never been more mobile than they are today. In those early days, troopers would be assigned to stations and communications worked by putting out a flag, alerting the trooper he needed to stop to retrieve a message.
Troop E Headquarters in Scottsbluff is the basis of the Panhandle troop, where training will be provided, unless its a course offered at the Nebraska Training Academy in Grand Island. Generally, supervisors, investigators and other staff will be seen at Troop E, but troopers are out on the highways. Troopers still come to the central offices, but usually only if there is a need, like doing reports, printing a document or needing to refill inventory items. They can do much of their job in the car, with even tickets printed from a small printer that sits between the front seats.
Technology also can be useful in monitoring needs within the Panhandle. Baer explains that tracking through the Nebraska Department of Transportation and the Nebraska State Patrol can identify "hot spots" where traffic issues are. Old-fashioned citizen complaints are also tracked to help troopers determine focuses for patrol.
For example, Baer makes an effort on this recent Tuesday to patrol Highway 26 to Henry.
"Henry seems to be a real concern," he said. "People who are living in Henry for the last three or four months have been forwarding us quite a few complaints."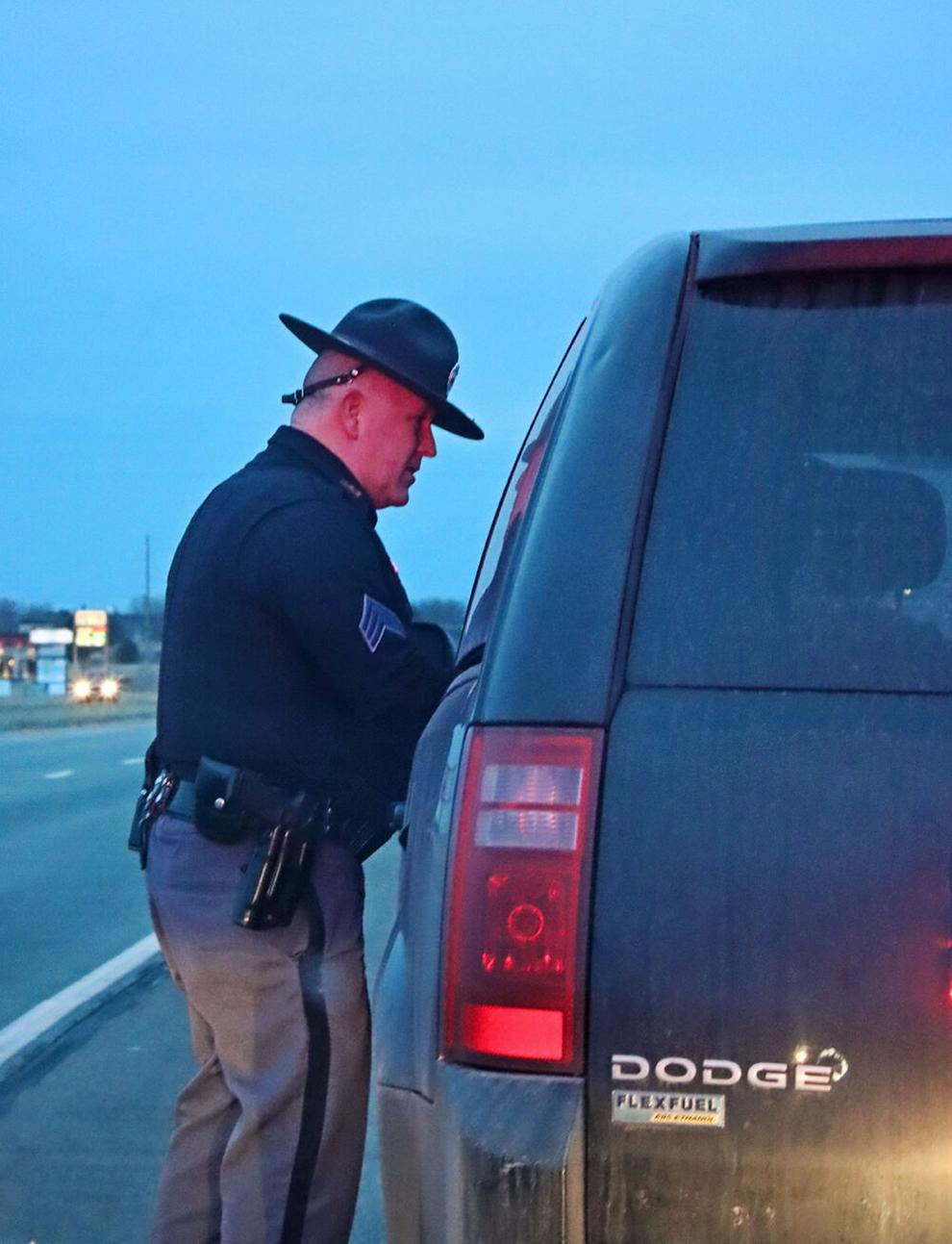 During that evening's patrol, he makes a couple of stops, issuing warnings to drivers. There are others that slow once seeing the Nebraska State Patrol car among the traffic on the highway, with just that visibility bringing compliance.
Baer became a trooper in the Nebraska State Patrol after attending Chadron State College, where he measured in criminal justice and even did an internship at a local sheriff's department.
"I had an interest in law enforcement," he said. "I really didn't know exactly what I wanted to do, but through the racquetball courts and weight room, I got to know some of our local troopers up there. I just befriended them, met their families and they we're very happy with what they did. They really talked well about their experiences with the Nebraska State Patrol. That was probably my predominant guide that lead me to the patrol.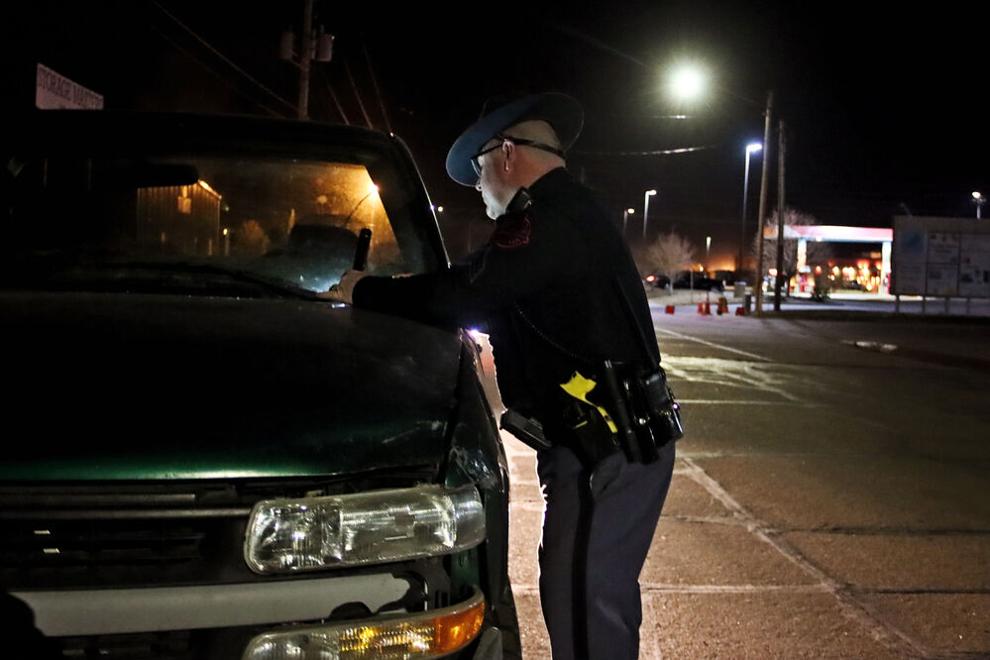 "They took the time with me to interact with me, as part of their community, and just maybe mentor and guide me."
Baer, who grew up in Hemingford, said he felt like he "came back home" when he was assigned to Troop E after completing the academy and a six-month training period in O'Neill. He was first stationed in Valentine.
"Valentine was a really great place to kind of get your young trooper teach in because you're a long ways from a lot of a different resources, whether it's within the agency or otherwise. You really kind of had to learn to do a lot of different things, where a lot of different hats, if you will."
Baer served in Valentine for about a year before a position as K-9 officer opened up in Chadron.
"I knew that I wanted to be a K-9 officer," he said. "That was one of the goals that I had for myself for my career. ... I was very fortunate and given the position and I was able to move to Chadron. I was stationed with the first female police service dog the NSP ever put to work."
Her name was Donna, and she was a Belgian Malinois, Baer remembers fondly as he looks at a photo of himself posing with the dog.
During the time he handled Donna, he was sent to Iraq, serving with the 1057th Transportation Company in 2003. Unfortunately, during that time, Donna died. Upon his return in 2004, he returned to patrol and able to return to his K9 position. This time, he was partnered with a Dutch Shepard named Bubba.
"I didn't name him," he says, laughing, as he grabs a photo of him and Bubba. "He was a very large dog."
He and Bubba worked together until 2011, when Bubba was retired.
Asked what he liked about being a K-9 officer, Baer said, "There really wasn't much not to like. It's a very demanding position, because you have a tool that's able and capable of being used in a very large area and they (the dogs) do a large variety of jobs for us. What probably wears a young handler out is the demand and the intensity of the job itself. Your phone rings an awful lot. You're missing holidays. You are called for sporadic call outs. You're just incredibly, incredibly busy."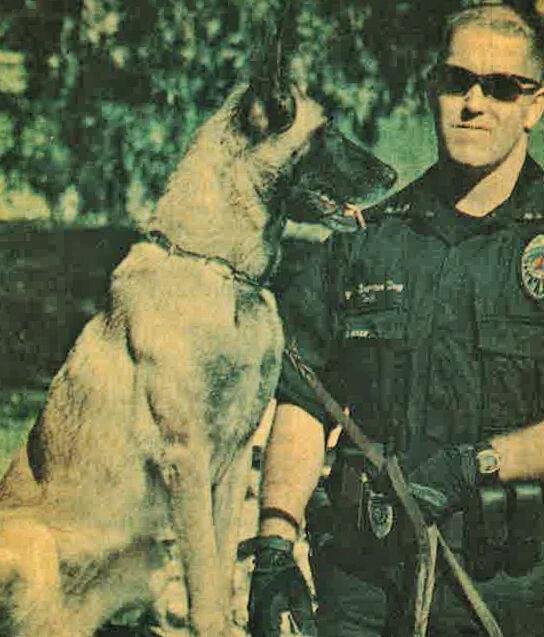 When Baer first began in the position, he didn't have children. With small children when Bubba retired, Baer opted to return to traffic patrol. However, he admits it was one of the most rewarding parts of his job over his career.
For 20 years, Baer served with the National Guard, first serving with the Alliance unit which was a field artillery unit at the time and then the 1057th Transportation Company. He retired in 2007 as a platoon sergeant.
That National Guard experience also fed well into Baer's interest in the Nebraska State Patrol's SWAT team, which he served on for almost 10 years.
"It's almost a natural thing for people who have a military background," he said, saying SWAT officers are typically interested in the advanced training and weapons that are part of the job.
After stepping down from SWAT, Baer has continued his work in preparing for some of the most serious events that law enforcement encounter, becoming specialized in training for active shooter situations. He is often among teams planning exercises at local schools and offers a civilian active killer training (CRAKE) to groups and businesses.
On the highways, Baer said he makes another troubling observation — drivers have also become more aggressive. It comes to his attention as he travels Highway 26 and watches a driver weave in and out of traffic, even nearly cutting off Baer as she travels.
"There's more vehicles on the road. There are larger vehicles on the road. I do feel like drivers are in a hurry more, especially when it is this time of night (dinner hour) or in the morning when they are trying to get kids to school or going to work.
"Vehicles have become safer over the years, and smoother to operate, brakes are actually better, and safety systems are better for everybody involved. But, I also think that has helped people to drive more aggressively (because they have a false sense of security)."
As Baer readied for his shift, he handed his duty belt over, asking for a guess how much it weighs. He doesn't really answer how much it does actually weigh, but notes that it is heavy.
"We've continually added items to the belt over the years. I actually wear suspenders now because it's so heavy."
Asked about the characteristic trooper hat that he wears, and puts on each time he makes a stop, Baer seems surprised when asked about the hat.
"It's become part of me, I guess," he said, only mentioning it was easier to put on when getting out of the car when the state patrol drove the once-popular Crown Victoria cars.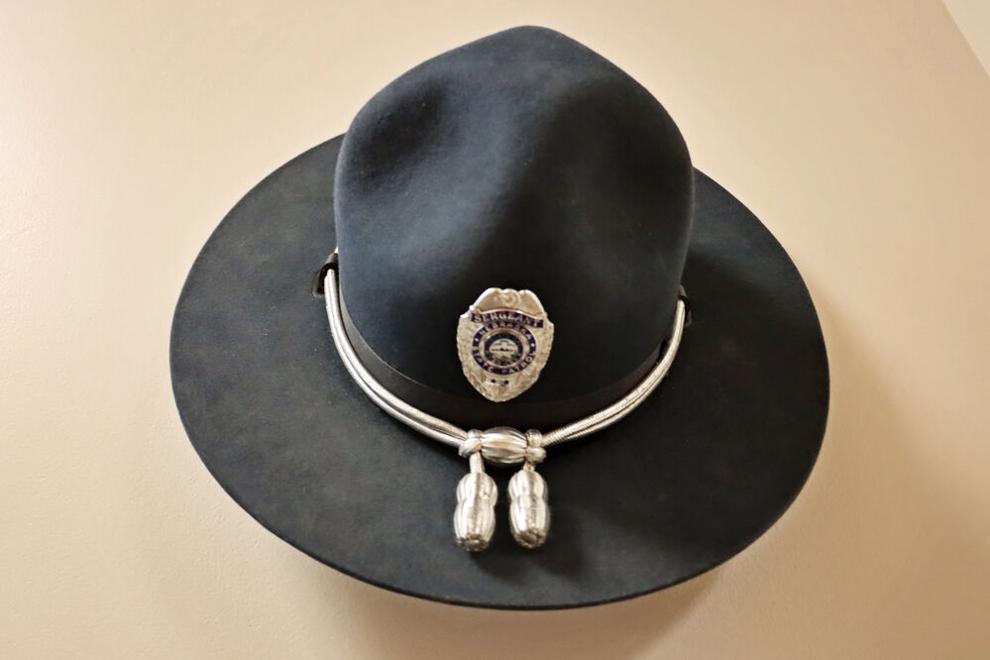 Like the hat, being a trooper is part of who Baer is. When reflecting on his career, he said he hopes that he has made a difference during his 24 years as a trooper, whether that is as a sergeant training fellow troopers, volunteering in the community or in his daily interactions with the public. For younger troopers, he said, he hopes to pass on to them insight from the experiences he has and help them have a successful career serving the state.
"I've enjoyed my time as a trooper," he said. "There's a tremendous amount of things that I really love. The challenge of everyday that you go to work. There is definitely a new challenge. And, we don't always see the best side of people, but really, people is the bottom line for me on why I do this job."
Though times have changed, Baer said, law enforcement officers like himself are dedicated not only to the job, but to the communities they serve.
"The majority of the people that I work with just believe in what they're doing, they want to be here and they want to better our communities, even though, at times, that is just not a very easy thing to do."
Looking into the future, Baer plays it coy on how long he'll continue to strap on the heaviness of his duty belt, and even the at times heavy nature of the job. He'll be due for retirement soon, but won't actually admit when that will come to be or what he plans to do in his retirement years.
For now, he's just keeping his eye on the road, one mile marker at a time.