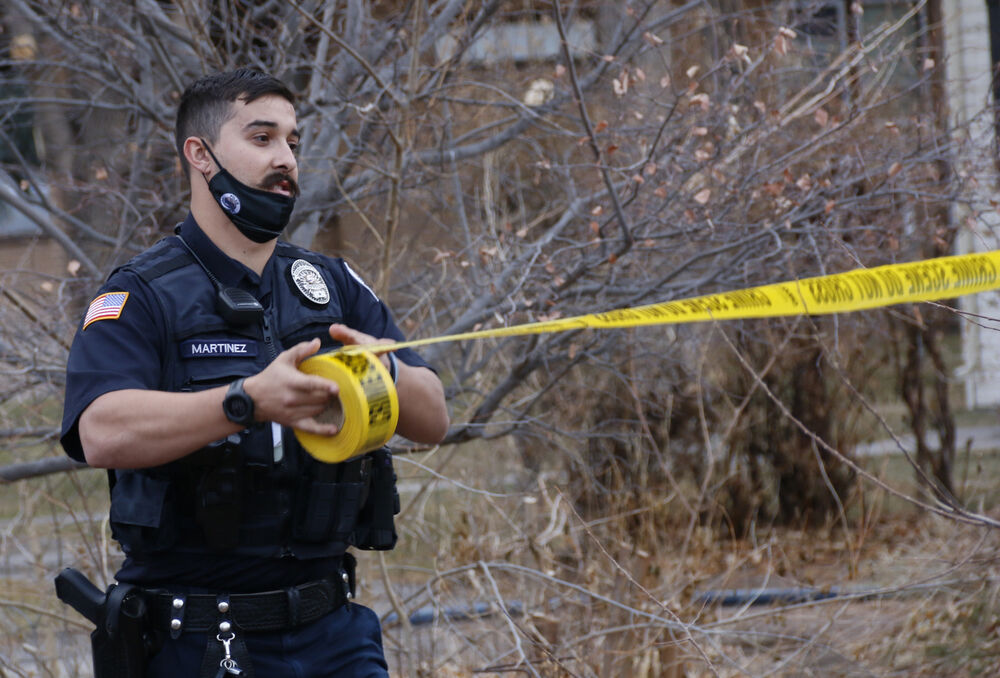 When Nebraska began seeing COVID-19 cases in March, Scottsbluff Police Chief Kevin Spencer didn't envision that his agency would still be talking about the pandemic nine months later.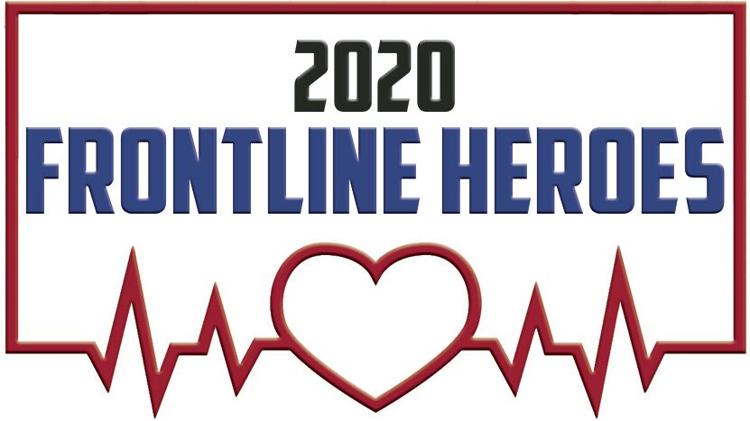 Spencer said the Scottsbluff Police Department moved pretty quickly in the early days of coronavirus cases being seen in the Panhandle. They already had some stock of personal protective equipment, some from preparations made after the 9/11 terrorist attacks and some from the H1N1 pandemic.
However, assessing that stock is something that the department continues to do regularly, nine months later.
"You wouldn't think you would be needing special equipment for a year," he said.
Those first days of making preparations as the coronavirus moved into the state happened rapidly. In some ways, things changed just as quickly.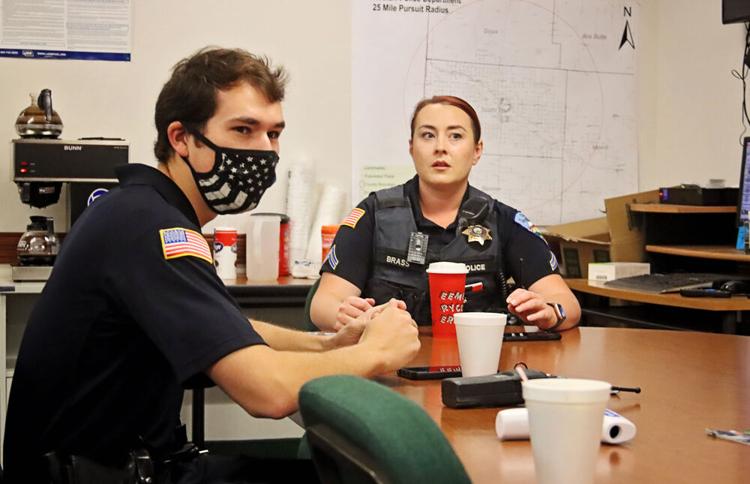 "It happened pretty quick," Spencer said of the department cataloging N95 masks and getting officers fitted for N95s.
Eventually, the department moved to cloth masks, providing some of its stock to health care professionals who had a higher need for the medical masks.
"Getting officers fitted didn't really do us a lot of good, because there were shortages of N95s," he said, noting that initial thoughts that N95 masks would be the most useful to be among those first anticipated measures changed as more information was learned as COVID-19 protocols were implemented.
The department ordered gowns, gloves and other supplies that officers would need in preparation.
"We were fortunate that we had a lot of PPE going into the pandemic," Spencer said. "And, we've been able to add to it or at least sustain PPE.
"We've also had a lot of people help, especially in the beginning, with sewing masks for us."
So much so, he said, he has been able to reach out to agencies such as Nebraska Department of Health and Human Services and Scotts Bluff County Probation to offer equipment.
The ways that officers do everyday duties has changed during the pandemic.
Gering Police Officer Justin Brunz said, "It really has changed a lot how we operate day-to-day, just little things that we have to do different to keep ourselves safe and not take the virus home to our families."
Spencer explained procedures for officers and other staff for interacting with the public, and preventing spread of the coronavirus are among the things done at the Scottsbluff Police Department during the pandemic. He wrote protocols that he said other agencies in the Panhandle and other areas of the state also implemented.
"I drafted special orders that provided good guidance to the officers as to how to respond to calls, how to communicate with people and encouraging them to keep their distance, to do as much of the work outside as they could, and restricting some of the things that they could do," Spencer said.
Brunz described similar procedures at the Gering Police Department.
"Any calls for service we go on, we're required to wear masks," he said. "If we have anybody in our car, a prisoner or a ride-along, everybody's supposed to wear a mask. Just the little things, like when we make a traffic stop, remembering to put our mask on before we go up and make contact with the driver to make them safe and keep us safe from anybody who may be carrying the virus."
All of the departments and Valley Ambulance began working with the communications center on protocols for dispatchers to ask people about COVID-19 exposure.
Questions, such as if a person was suffering symptoms or had been diagnosed with COVID-19, "gave us some advanced warning so that we would take precautions," Spencer said. "You know, though, it's hard for law enforcement sometimes to put on all that PPE, depending on the circumstances. Sometimes, it's not practical because of what's going on."
For example, he said, officers handling a disturbance may be put in a position where a mask slips off or other gear is an impediment. Officers have to do the best they can in the situations they are in.
In the early months of the pandemic, Spencer and Brunz said call volume dropped off as more people stayed at home.
At the Scottsbluff Police Department, the department adjusted its shifts to spread out officers to cover shifts.
"Once the gravity of all of this started settling in, we created a modified work schedule, where we staggered everybody to limit their exposure, even to each other," Spencer said. "Most of the (officers) on patrol were working a 60-hour work week and we had to stagger them. There was protocol for cleaning vehicles, wearing PPE and other things."
Hours for administrative staff, such as records staff, were also adjusted to have one staff member on hand.
At the City of Gering, similar adjustments were also implemented, according to information released by city officials over the last nine months.
Early protocols even leaned toward issuing citations, rather than making arrests, Spencer said.
"Even if they didn't know a person was COVID positive, the directive was to write citations to limit exposure to themselves," he said.
He even gave a directive not to perform preliminary breath tests, and to depend on field sobriety tests for drunken driving arrests, to prevent exposure.
Limiting physical arrests also limits exposure at the Scotts Bluff County Detention Center, which did struggle with a large number of COVID-19 positive cases among staff and inmates this fall.
Protests on June 1 in reaction to the death of George Floyd presented another challenge for law enforcement, Spencer said.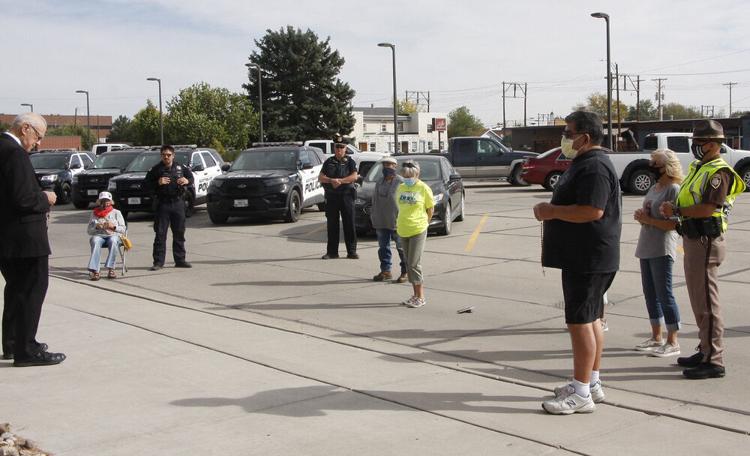 "It was the exposure of the protesters that we were more concerned about," he said, noting the potential gathering of large crowds in local marches held on June 1. "We kept our distance and we were able to do that. ... The protesters were really peaceful and the organizers did a great job of keeping it peaceful."
The very nature of a police officer's job means they will have contact with the public.
Scottsbluff Police Department had three officers who tested positive for job-related COVID-19 exposure over the last eight months and one officer who tested positive after non-job-related exposure. At the Gering Police Department, Brunz said, four officers have tested positive for the virus, though he didn't specify if they were job-related exposure.
At the Gering Police Department, Brunz said officers began wearing masks from the beginning and were issued masks with the Gering Police Department logo. Like Scottsbluff, masks have now also become mandatory in the office, not just when working with public.
Exposures, whether to other officers or to the public, can mean quarantines. Officers with the Scottsbluff Police Department have arrested drivers, later to learn that they were COVID positive. They have encountered citizens who know they are positive, but resist isolation. In one instance, Spencer said, officers made contact with a woman multiple times over a weekend and Spencer personally delivered orders requiring her to quarantine.
"I don't think we had any more contact with her after that," he said, admitting that he has been surprised by some people's unwillingness to take preventive measures to protect others, including police officers. The department has also had persons who test positive come down to the police department.
At the same time, he said he has also spoken to people who were unable to quarantine because of economic circumstances, which he said he could empathize with.
"There are so many stories out there, and you can't think that everyone is going to reach the same," Spencer said. "Everyone has their own context and their own experiences."
Quarantines have an impact on staffing levels. One officer has had to quarantine twice and isolate once, Spencer said.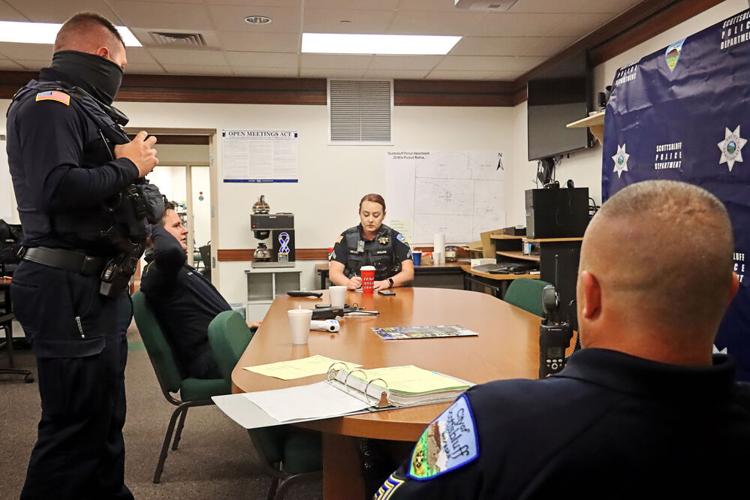 Quarantines and isolations can stretch departments, especially small ones, like Gering, which has 17 certified officers.
"We're not a big department so it's a lot of overtime spread out among the other officers to cover those shifts," Brunz said, saying officers across the board had to cover shifts in recent months.
"Our administration worked the best they could to lessen that burden, making use of part-time officers and even having our school resource officers help on the road. Investigators have got back in uniform and worked the road to alleviate some of the overtime stress on the patrol guys."
For officers, chief among the concerns is that they are also going home to families at the end of a shift.
"In the back of your head, you are a little worried when you get home," Brunz said. "If one of your kids get sick, you wonder, 'Did I get him sick?' If it is just the common cold, you wonder. My wife had the actual cold, but as soon as she started showing symptoms she went and got tested, just to make sure. You just don't know."
Officers' families have also have had to make contingency plans, in case of an exposure. Brunz said he and his wife, who is an investigator at the Scottsbluff Police Department, have such a contingency plan in place.
"If one of us were exposed, we have a camper and that person would go sleep in the camper," he said. Other plans include taking the children to their grandparents and other steps they have planned for various what-if scenarios. "Fortunately, we've not had to do any of that, yet."
Spencer said the state offered alternative housing for officers who are unable to go home to families due to an exposure. None of the officers have taken advantage of that at this time, but it is reassuring to know it is in place.
Police officers have even had to think of alternatives, such as what do with homeless who are COVID-positive. In that instance, Spencer said, Panhandle Public Health District officials were quick to help the department come up with a solution.
In many areas of the country, and locally, an increase in domestic violence arrests have been reported.
As the pandemic continued, Brunz told the Star-Herald, domestic disputes among family members and juvenile crimes are two areas that he saw an increase.
"Especially in the time when everyone was in quarantine and just being at home, together that long," he said. "With juveniles at home, it is kind of the same concept of them being stuck at home, especially when school was not in session."
For the most part, Brunz and Spencer said the types of calls have become more typical.
However, at the Scottsbluff Police Department, Spencer said he believes the department has seen an increase in calls.
"We've been very busy," he said, unable to pinpoint why that may be.
With the current call volume, Spencer said he doesn't think the police department would be in a place where it could stagger shifts among its officers. Therefore, he said, he remains hopeful that local case levels continue to decline.
There is also hope among officers with the vaccine being made available. Spencer has encouraged his officers to get the COVID-19 vaccination. Most officers in the department have now had the first inoculation of the COVID-19 vaccine, and are awaiting a second dose of the vaccination.
Brunz and Spencer both had the same answer when asked what lessons they feel law enforcement has learned from the pandemic: Be prepared.
"Be prepared as much as you possibly can," Spencer said. "Always have some PPE on hand and maintain and foster good relations, with all of your co-workers, the other agencies, Scottsbluff Public Health and Panhandle Public Health. They have just done an outstanding job of getting us through this," he said.
He said health officials have been willing to answer his questions or respond to his emails, even when busy.
"They deserve, and I hope they get a lot of credit for getting us through this. They have done this in a very accommodating, compassionate way."
He estimates more emphasis will be placed on long-term planning. Experiencing a months-long event is not a concept that Spencer said he had ever considered, despite his own lengthy career in law enforcement..
The department has done infectious disease training, and has an infectious disease control policy, but it is an area that Spencer said he'll explore more detailed training on in the future.
"Once we are done and through this, I want to renew that training. At times, we think, 'Is this training really the best use of our time?' It is. It needs to be a priority."
Spencer praised city officials, city councils and the community for the work they have done during the pandemic to assist law enforcement agencies.
The work of the police officers during this time is worth praising.
"I am really proud of the men and the women of the police department," Spencer said. "I am proud of them and the work they have done during the pandemic."