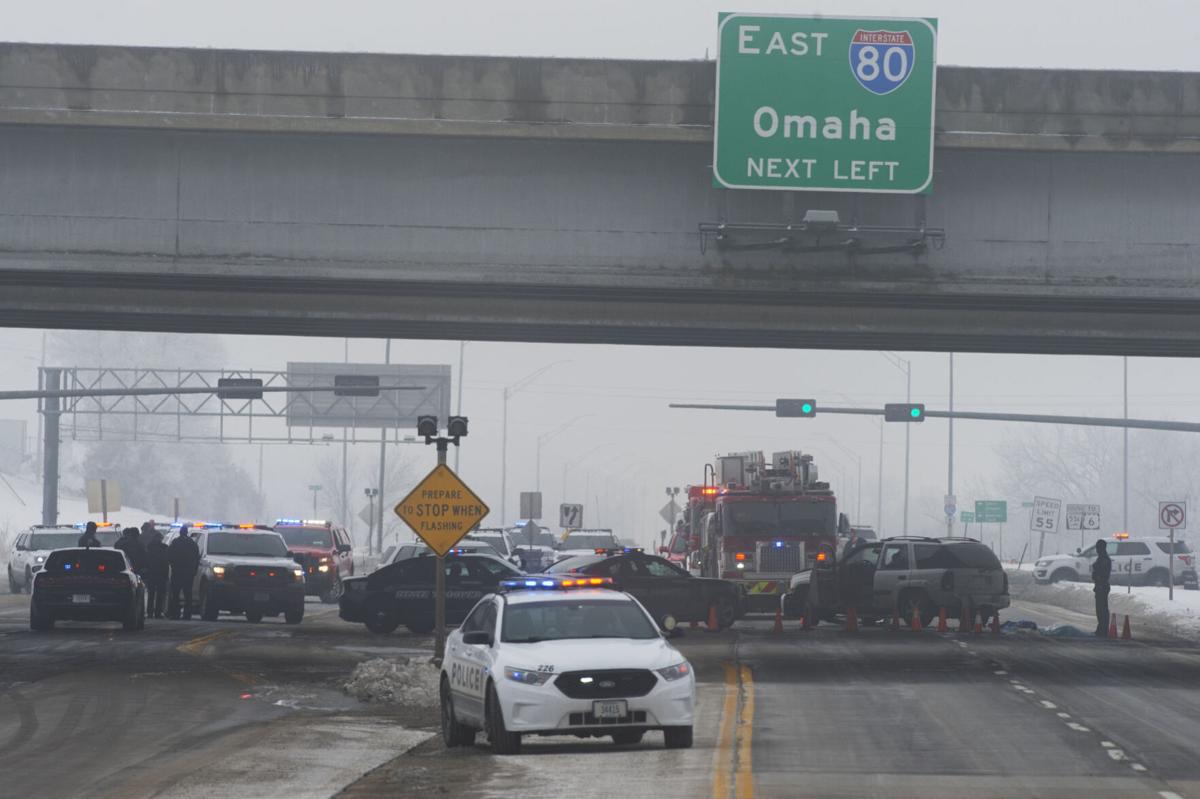 The woman killed in a shootout with law enforcement Saturday morning has been identified as 30-year-old Hailey Stainbrook of Casper, Wyoming, according to Lancaster County Sheriff Terry Wagner.
The man with her, 26-year-old Christian Alexander of Evansville, Wyoming, which is just outside of Casper, remained in a Lincoln hospital Monday in grave condition. 
Wagner said law enforcement learned the Chevy Trailblazer they were in had been stolen Thursday morning after it was left warming up in a hotel parking lot in Cheyenne, Wyoming. He said a 38-caliber revolver was in it when it was stolen.
Wagner said they're still trying to determine if it was the same firearm used in the shootout with law enforcement Saturday at around 9:30 a.m. under the Interstate 80 overpass at the 56th Street exit.
The incident began with a report of a robbery at a northwest Lincoln hotel at 8:39 a.m. Saturday. The victim had met the pair the night before and displayed a gun to rob him of his wallet, Wagner said. 
At 9:16 a.m., the man learned that his credit card was being used at a gas station in north Lincoln.
Soon after, a Nebraska State Patrol trooper saw the Chevy Trailblazer and suspects — a man and a woman — described by the victim and attempted to stop them in the 5500 block of Superior Street.
While being pursued, the passenger, Alexander, allegedly began firing shots at the trooper.
Another trooper and a Lincoln Police Department officer joined the pursuit, which ended at about 9:30 a.m. when one of the officers crashed into the Trailblazer underneath the I-80 overpass on 56th Street. The man continued to shoot at officers, and officers returned fire, Wagner said.
He said Stainbrook, who was wanted on a warrant out of Virginia on a drug charge, then picked up a gun, refused officers' orders to drop it and was shot. Wagner said it is unclear whether she fired any shots.
The male suspect was taken to a hospital with life-threatening injuries. The woman also was taken to a hospital but later died.
A trooper sustained non-life-threatening injuries when his vehicle collided with the Trailblazer. He was treated at a hospital and later released.
All of the officers involved in the incident have been placed on administrative leave, per the departments' policies.
Wagner said officers from both the State Patrol and LPD fired shots, but he didn't say how many shots were fired or if it was a trooper or the Lincoln officer who shot the suspects.
The State Patrol and LPD requested that the sheriff's office conduct the investigation.
LATEST MISSING PERSONS CASES