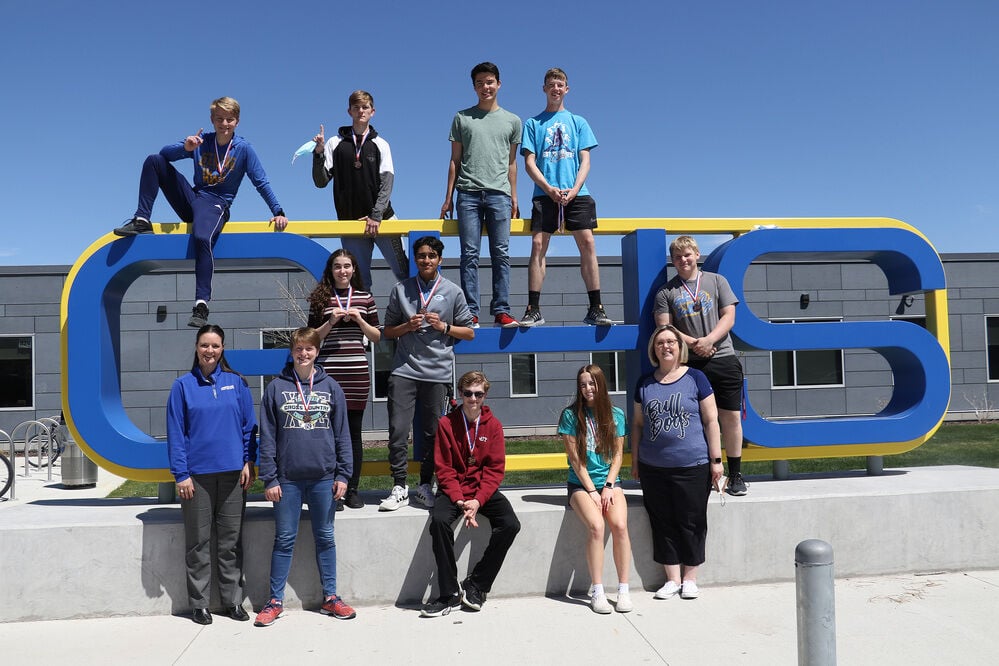 After losing their first round in the double elimination state tournament, the Gering High School Quiz Bowl team wasn't expecting to go much further. Then they pulled out six wins in a row to work their way up through the loser's bracket. They ended with a third place finish out of 25 teams.
"No, no, not at all," the team echoed each other with laughter when asked if they expected to do well.
"Other teams are able to take it a lot more seriously, like have a lot more practice," senior Emme Parker said. "Ours is, everyone is so involved (that) we just meet once a week to practice."
The Educational Service Unit state quiz bowl tournament hosted by ESU 9 took place at North Shore Assembly of God in Hastings on Wednesday, April 28. Having lost the first round, the Gering team finished the tournament 6-2, playing the most games out of any of the teams present.
Students said the rules for the state quiz bowl tournament differed from those of their regular season games. While they were used to getting 30-60 seconds to discuss or come up with an answer, depending on the round, they said all the games at state allowed only 15 seconds and more limited discussion. They were also not afforded pencils and paper to jot ideas — or equations for math problems — down.
The Bulldogs' first game was a close one, only losing by 10 points to Wahoo, 50-40. They went on to shut out Johnson County Central 25-0, and win the next three games against Ogallala 25-15 Palmyra-Bennet (no score available) and McCook 30-10.
Their sixth game of the day against Sutton was their most exciting one. Down by 10 points with one question to go, the Gering team's only chance at moving on to the next round was to get both the final toss up and the bonus questions right.
"It was a military question, and you could just see the timer ticking down," coach Amanda Cochran said. "Nobody buzzed, nobody buzzed, nobody buzzed. And right at the end, Milo (Newman) pressed the button and he got it right."
Now only down by five, they had to buzz in first and get the final question right. This time it was an animal question and the team was confident that member Victoria Christophersen would get it, since it's her specialty. But once again, both teams were stumped.
"They asked the question — it was a really hard question — and we're all looking at each other going, 'Ah man, that's a hard question,' and the timer's going down again down, down, down," Cochran said. "And one second left, Victoria goes, 'I think it's a salamander,' so Milo, the captain, has to give the answer, so he turns to the judge and says, 'Salamander!' And the judges all look at each other like it was a 'Hail, Mary' thrown out down the field. And they all go, 'Ahh it's amazing! Gering wins!'"
The students said everyone in the room was cheering — everyone except maybe the Sutton team and fans.
"That was about as sour as a loss that you can have," sophomore Wyatt Soule said. "I would have been upset if I was them."
After beating Sutton 20-15, Gering went on to win one more game over Norris 50-25. Their final game against Nebraska Evangelical Lutheran was ended with a loss 45-20, awarding them third place in the tournament. NE Lutheran went on to beat Howells-Dodge twice to take the championship.
The 10 Gering quiz bowl teammates said the experience down in Hastings was a lot of fun, and they were proud of their accomplishment of receiving third place. But most of them admitted the finish against Sutton was the best part.
"It was a lot of fun," Christophersen said.