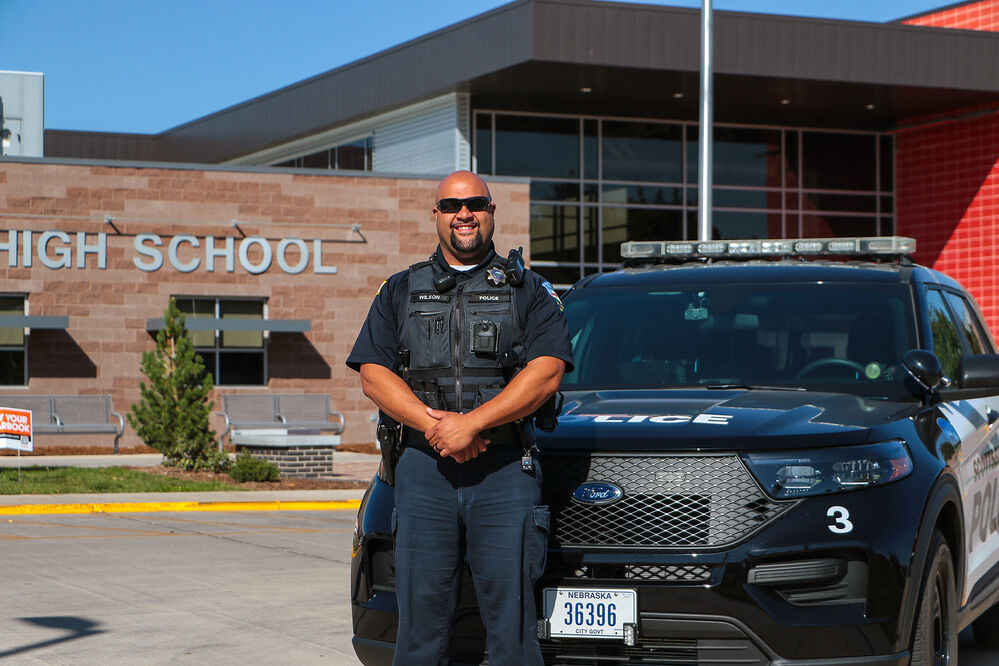 Scottsbluff Police Officer Ron Wilson went into law enforcement to make a difference in people's lives.
Now, as the new school resource officer at Scottsbluff High School, Wilson is getting the chance to make a difference in the lives of area youth.
Wilson, who has been with Scottsbluff Police Department for six years, said having two young kids at home helped spur his switch from patrolling the streets to patrolling the halls at Scottsbluff High School.
"I really liked the idea of the school, one for the hours, but also being able to get to know the kids who I'll be dealing with or talking to who are going to be teachers and lawyers and working out there in the community. So, I thought it would be a good time to get in here and get to know them when they're young," Wilson said.
He said he also likes the idea of helping shape the youths impression of law enforcement officers.
"I have a very open door policy. Kids walk by, they'll say hi, they'll come in and they'll just talk about how their day is. I think that's an awesome way for them to see that just because you carry a badge doesn't mean you're a jerk. It doesn't mean that the only reason we're here is to enforce laws. We're also here to support families, help people out. I think that's a great way for them to see that now instead of getting older and never dealing with a cop until something happens — they get pulled over or something like that," he said.
Wilson said the job entails a lot more than just enforcing laws and keeping kids on the straight and narrow.
"I think people sometimes think that I'm just here to keep the kids in line. I like to walk around in between class. I try to smile and say hi to the kids so they know that I am here to be supportive — I'm a resource for them to go through. I'm not just someone who's going to come down on them when they're doing something wrong. I'm also here to support them," he said.
Wilson said he likes reaching the kids before they get "sour on the world."
"The kids are usually happier. That's also nice because it's a more positive way (meet people)," he said. "Out on the street, some people — not everybody — are already jaded by the world. So, I have to try to tear that down, whereas here I can build something more positive (from the beginning)."
The contact he has with the youth now will reap benefits in the future, he said.
"I think we'll definitely see it pay out in the future with people being able to see that, again, the officers aren't just jerks trying to enforce the law. I really can't wait to see that one day when I'm back on the street and I see these kids out in the world. It will be cool to see that transition (the kids make after high school)," he said.
Wilson said it takes a different skill-set to be a school resource officer.
"It takes a lot more officer presence (working in the streets). We show up on a call and we get to kind of show we have our presence out there so people know we're in control — not in an intimidating way, but still an authoritative way," he said. "It definitely takes being able to talk them down rather than just, 'OK. I'm taking you to jail.' No, I'm going to talk to you. I'm going to listen to what you have to say and try to help you out the best way I can. It takes a lot more what we call 'verbal judo.' It takes a lot more talking than it does strong arming, like on the street."
Wilson said social media plays a big role in a lot of the issues he deals with at the school.
"They're (students) videoing everything. Their whole life is on social media. Sometimes, it helps us with evidence. Sometimes, it just makes them want to do things more to get attention," he said.
Wilson said college put him on the path to finding an interest in being a police officer.
"I was majoring in psychology in college, and I really got interested in people and how they operate. So that really got me wanting to give back to my community," he said.
As a young father, Wilson said he saw a good way to support his young family. While he was still going to school at the University of Nebraska at Kearney, the Scottsbluff Police Department posted an ad seeking police officers. Wilson said he jumped at the chance.