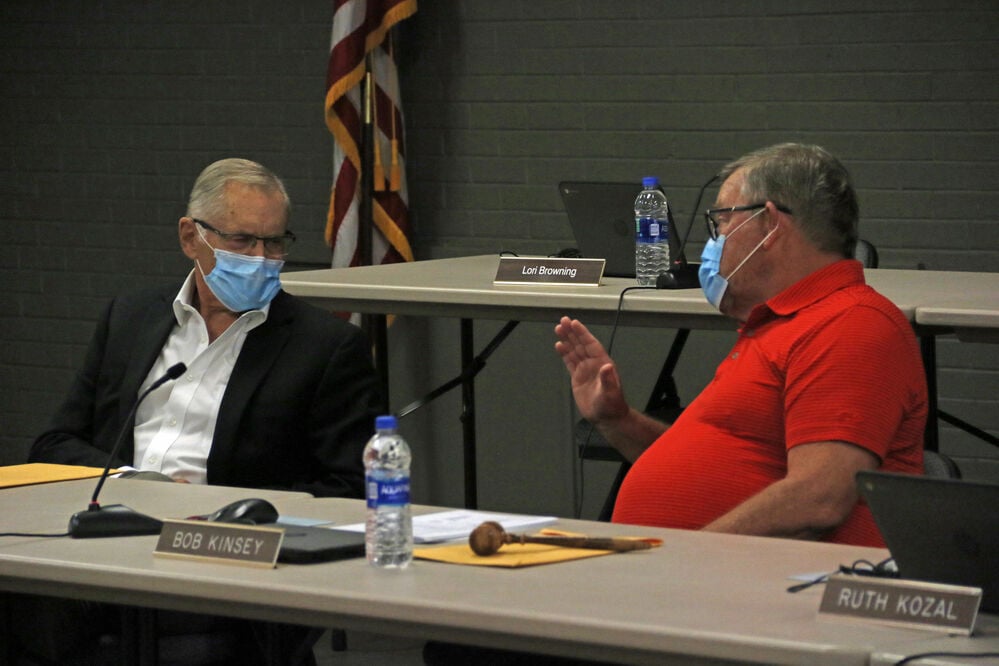 The Scottsbluff Public Schools Board of Education unanimously approved a $6,000 expense to help fund and participate in a mentorship program.
The vote came after the Board debated its efficacy and expressed concerns over its operations. The approval continued Scottsbluff Public Schools investment in the TeamMates Mentoring Program that served 35 students in the district last year, according to Scotts Bluff County Chapter Coordinator Mary Kay Haun. She added that there are four more students from Longfellow Elementary and Bluffs Middle School requesting mentorships this year.
"It takes approximately $400 to keep a mentor/mentee match open," Haun told the Board during her presentation and request for funding. She said the money pays for background checks, training and aptitude tests for mentor/mentee matches. In an email, Haun told the Star-Herald that with 34 active matches, it takes $13,600 to keep the relationships going.
"The $6,000 that Scottsbluff invested in TeamMates of Scotts Bluff County helps us keep these matches active. The other money is raised through grants and fundraisers," Haun said.
The program was founded in 1991 by former Nebraska Huskers Head Coach Tom Osborne along with his wife Nancy. In its 30-year operation, TeamMates expanded out of Nebraska and across the Midwest into Iowa, Wyoming, South Dakota and Kansas. The program served over 9,500 students in over 160 communities last school year, according to the 2019 Teammates annual report.
"Our mission is to positively impact the world by inspiring youth to reach their full potential through mentoring," Haun said during her presentation.
The opposition to the funding came primarily from board member Bob Kinsey.
"I'm very concerned about spending this money," Kinsey said during the meeting. "The program, I think, has changed severely from what the Osborne family had."
Kinsey said he'd been told by three friends who served as mentors that the program had become "corporate." He said that he'd been told the program no longer allowed mentors to bond with mentees outside the school, such as fishing or golfing, and that interactions had been limited for liability reasons.
"(Mentors) are restricted to only visits on campus during lunch," Kinsey said. "Which one friend of mine whose a mentor says he gets 20 minutes with his student."
Kinsey did not name the friends he cited and asked Haun not to name him either.
Kinsey said he was also concerned that TeamMates put its money in banks headquartered outside the Panhandle and that the Osborne family no longer had influence over the day-to-day goings-on of TeamMates.
He added that he felt the local organization was doing the best they could do, but that rules "from on high" restricted the program's ability to perform its function.
Haun responded, saying that mentors had never been allowed to take mentees golfing or fishing and that the program did allow for interactions outside of school time via TeamMates sponsored events.
"Some of those people that were taking kids fishing or taking kids golfing were not really supposed to do that," Haun said. "It's always been a school-based mentoring program."
She also listed off several off-campus events including a campus tour of Western Nebraska Community College, a Legacy of the Plains visit and graduation celebrations.
"Tom Osborne's daughter, Suzanne Hince, is the executive director of the foundation and her whole goal is to keep the program sustainable," Haun said, responding to Kinsey's comment about the Osborne family's involvement.
Haun said the banking changes occurred before her time, but that TeamMates keeps its money in Platte Valley Companies (headquartered in Scottsbluff) and Great Western Banks (headquartered in Sioux Falls, South Dakota). Haun said most of their money was in Platte Valley Companies.
"That's good to hear," Kinsey said. "Historically, in our valley, the banks have been one of the major supporters of everything."
In the end, Kinsey and the other five board members voted to approve the TeamMates funding for another year.
In an interview with the Star-Herald after the meeting, Kinsey said he'd initially planned on voting against the funding. Now, he said he hopes Haun heard his concerns and that the program will make adjustments.
During the meeting, Haun said Gering Public Schools committed $6,000 to the program and Mitchell Public Schools committed $1,000 to the Scotts Bluff County program.
"I think this year, more than ever, mentors are going to be more important than anything," Haun said before the debate.
Be the first to know
Get local news delivered to your inbox!