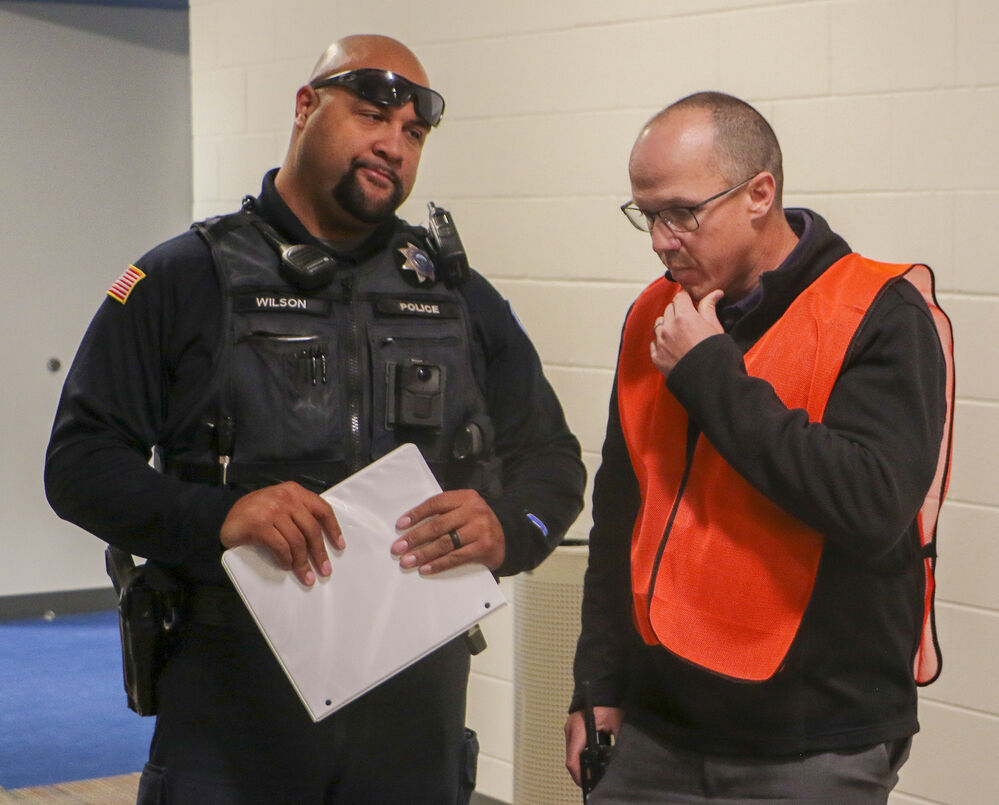 Locks. Lights. Out of Sight.
That was the message Scottsbluff High School Principal Justin Shaddick called over the school's intercom at 9:28 a.m. on Monday at the start of an active shooter drill.
There was no sign of activity in the hallways, but teachers and students were buys locking doors to their respective classrooms, pulling down black shades and going into hiding during the annual Communitywide Emergency Response Simulation.
Shaddick said he was pleased with the school's response to the active shooter scenario.
"It went well," he said. "There are things that we need to work on. That's why we run the drills. I thought it was a very good scenario, a very realistic scenario. It lets us think through different options when we're calm and collected. In an emergency, we might not be calm and collected."
For the most part, the drill was similar to active shooter drills in the past, though this year's drill did have a twist.
"The hostage situation was new so we could try to determine how to evacuate and that's something that we would probably do differently next time," he said. "In this year's drill, one room was designated as having a hostage situation. The outside of the room was secured by Scottsbluff Police Officer Ron Wilson. In a real-life hostage situation, Wilson said the SWAT team and a negotiator would respond to the scene to help resolve the situation.
"Mainly, it was trying to determine how we would evacuate. One of the questions I asked Officer Wilson was whether or not the room is secured by the police department. If the room wasn't secured by the police department, my question would be who do we evacuate in that situation? Do we evacuate if we don't have the police barricading the suspect in the room? So a lot of things run through your head on how do we evacuate the best way? And I think we might approach that differently next time."
Shaddick said he was pleased with the way the students responded.
"I think our students did a good job. I think the more practice they have at this, — if we ever were to encounter a real-life situation — they could handle those procedures much better. Your emotions are going to be running high. So, being able to recall what the process is without having to think a ton about it will really help us," he said.
Wilson said he was pleased with how well the drill went from the law enforcement aspect.
"I was surprised. It went a little smoother than I thought it was going to go," he said. "I thought we'd have a lot more kids out in the hallways not caring, but for the most part kids got into classrooms where they needed to be. It sounds like they got over to the armory, so from police standpoint it went pretty well for being a drill.
Wilson said there were some minor issues including a few students not being where they were supposed to be.
"We do these drills so we can get those addressed," he said. "(There were minor things like) admin reminding (teachers) to make sure, even if it's a substitute, they know what the procedure is. (All of the issues) are easy fixes."
Shaddick said concerns will be addressed in the school and district-wide.
"The SHS admin team will meet in the conference room to go over SHS-specific scenarios that we need to improve on. We will send communication back out to staff, basically a review of the drills, things that we can work on and the upcoming drills. We'll then meet as a whole district over at ESU 13 to discuss different things we could be doing," he said.
Shaddick said the collaboration with ESU 13 on the drill is invaluable.
"It's good because we get to hear ideas and how they approach the situation and how there were differences and maybe ways we can improve," he said. "It's nice to have that collaboration. It's nice to have that collaboration with Scottsbluff Police Department and all the schools because there's a reality that we could all be working together in a similar situation."