Matt Salomon uses the same classroom at Gering High School he's used for several years. The room is tucked away behind the newly renovated portions of the buildings, past the old entrance and down a few hallways.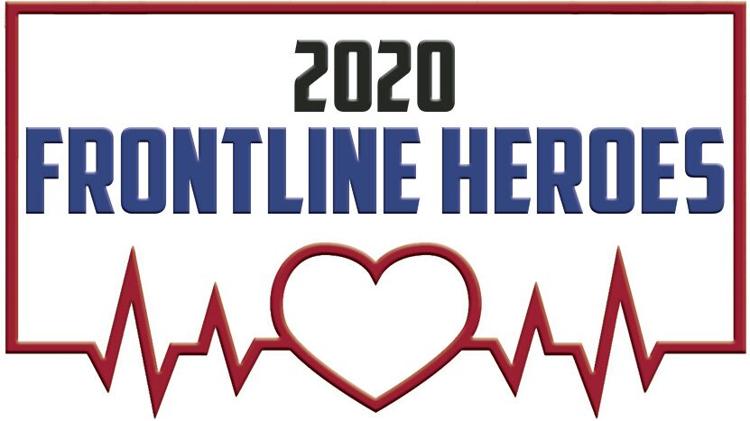 There, Salomon teaches social studies, including history, government, and sociology. His class is decorated with both classroom materials and cards announcing the graduations of his students. While the classroom materials line the walls from top to bottom, the graduation cards rest at the front of the classroom for all his students to see.
Set off to the side, his crop of 2020 cards is fewer in number than years past.
Every year, Salomon and his hundreds of colleagues in the Scottsbluff and Gering area are asked to guide hundreds of children through the most formative periods in their lives. In 2020, they were asked to do this again — alongside a debilitating and sometimes deadly virus. For two semesters, area teachers did exactly that, first online than in person, all the while risking their health to do their jobs.
In March 2020, teachers across the Panhandle and the U.S. moved to online instruction. At this time, teachers were halfway through their lesson plans. Others, like choir instructors Shelly Muggli and Brad Ronne, were amid routine traditions.
Before the pandemic began, Muggli, Gering High School's director of choirs, and Ronne, Scottsbluff High School's vocal director, were planning showcase performances for the school year. Muggli and her students were planning a rendition of "Wizard of Oz." Ronne and his students were working through "West Side Story." Neither show was ever performed before an audience.
Muggli also worried the spring shutdown would negatively affect enrollment in her programs since she wasn't able to recruit among the junior high kids. For the most part, that didn't happen, Muggli said.
But fatigue from online learning and canceled programs affected students.
Over the summer, Scottsbluff Public Schools Superintendent Rick Myles announced the district would reopen in-person classes so long as the virus conditions remained low. Over the next six months, Myles would make this announcement again and again as virus conditions did worsen.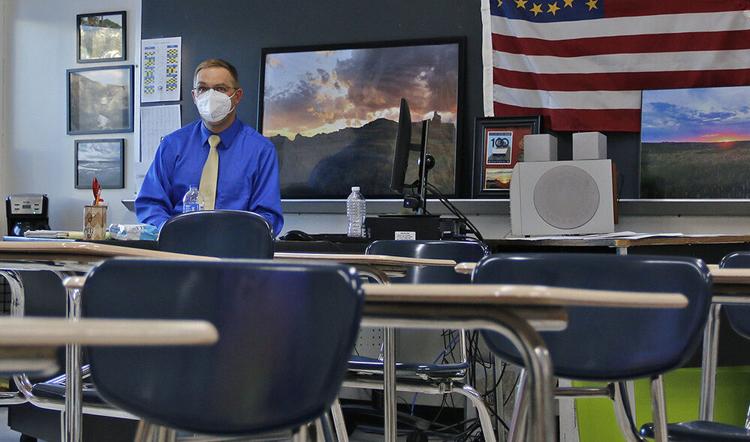 To reopen, Myles and other administrators implemented a mask mandate, a series of cleaning protocols, changes in class schedules, and an online learning alternative to reduce in-person interactions and the spread of COVID-19. Gering Public Schools quickly followed suit, implementing a similar set of protocols — although Gering allowed students to opt-out of mask-wearing in their initial plan.
Also during the summer, Scottsbluff schools reignited their summer school program with in-person instruction, effectively using the program as a test run for some of the new procedures like daily temperature checks and mask-wearing.
The program's principal, Ashlen Schaneman, said that students adapted well to the changes. She said that if a student was having trouble keeping their mask on, they would take mask breaks, walking outside away from other students to take their mask off for a few minutes.
Westmoor Elementary teacher Aleighica Keeran also participated in the summer school program. She was teaching fifth-grade last spring when the district went online.
"I didn't get to say goodbye to my kiddos, that was the hardest part," she said.
She added that her transition from in-person classes to distance learning went well with only a few technician hiccups early on.
"I made a deal with my kids at the beginning of (2020) If they all gave a hundred percent, they tried their best, I would dye my hair purple," she said. "Since we did not do state testing, but they did well with the online learning — I dyed my hair purple for them."
However, early indicators suggest that students in the area have struggled to learn amid the pandemic. Assessment directors at Scottsbluff, Gering, Alliance and Sidney Public Schools all acknowledged a slight drop in academic performance gains last year. While the drop was predictable, for some schools, it wasn't as bad as they feared it would be.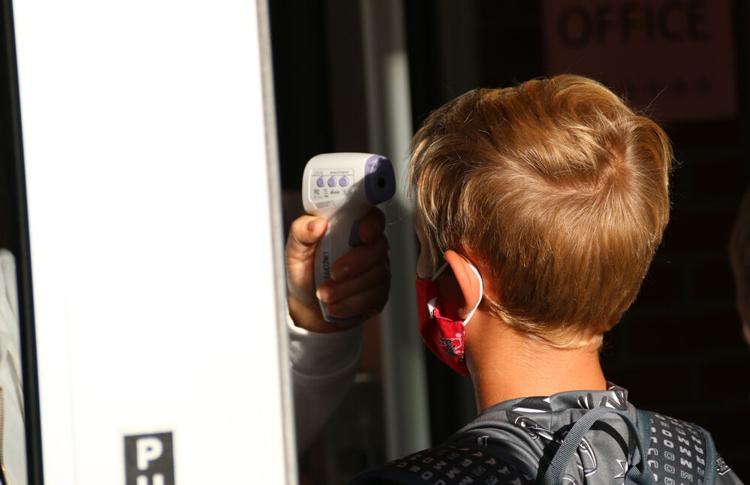 "It definitely impacted summer school, because we usually use spring data to decide who needs extra support, although our teachers are pretty good judges of the kids based on what they were doing in the class," said Scottsbluff Curriculum and Instruction Executive Director Mike Mason. "Then also, using that data to get those kids in to support classes right away, we didn't have that."
When fall classes rolled around, much of the year resembled normalcy. Performances were reignited. Sports started back up. Homecoming happened, although Gering schools were forced to delay its festivities due to an outbreak.
As the days got colder, signs that normal was again coming to an end began to surface. For instance, the 38th Old West Weekend, a marching band competition hosted by Scottsbluff High School, was significantly scaled-down in October. Normally, a dozen bands from across the state flood downtown Scottsbluff with local fight songs and twirling flags.
In 2020, instead of marching down Broadway, five bands took to the Bearcat Stadium's track to march and Scottsbluff High School was not one of them. Scottsbluff High School Band Director Frank Ibero said he wasn't able to field a marching band after about 20% of his students were forced to quarantine.
While most of the high school band was at home, one member, Riley Ibero, was able to stick around and help out.
"I was pretty disappointed," Riley said, referring to his reaction when he found out he and his bandmates wouldn't perform. "I'm glad I still get to do something."
Riley, Frank Ibero's son, was able to assist behind-the-scenes during Old West Weekend.
The Old West Weekend was a microcosm of a larger trend in the last months of school last fall. Numerous infections and mass quarantines among students and staff diminished Scottsbluff and Gering Public Schools' ability to run their districts, according to both district's superintendents.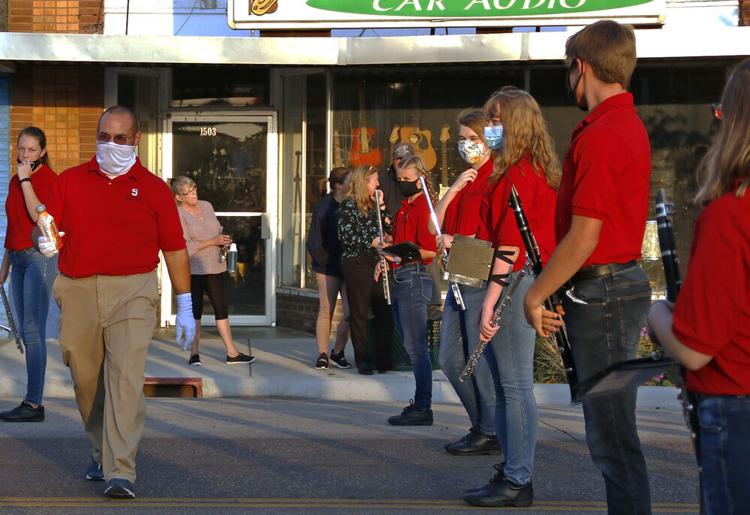 In all, Scottsbluff Public Schools' total number of quarantines increased from 46 in the week of Oct. 13 to over 300 by Nov. 12. While Gering Public Schools did not report its quarantine numbers, anecdotes from teachers inside the building suggest a similar experience.
For Gering High School Spanish Teacher Christopher Guadarrama, that meant unpredictable class sizes and lesson plans drawn out by repeated quarantines.
Guadarrama described the process as a student getting sick then returning to school after the illness subsided, only for a family member to get sick and force the student back into quarantine for two weeks.
"The classroom has been up and down," he said.
Guadarrama, a Gering High School graduate, taught his first semester in fall 2020.
"I just think that the kids are really panicked and just overwhelmed and stressed," he said. "Kind of like how some of us teachers are. We are all just trying to get our grades in and help out the best we can."
Guadarrama's assertion is supported by data from the Nebraska School Educators Association, the state's voluntary teachers union. About 30% of Panhandle teachers responded to a survey asking how they felt about in-person classes in the pandemic.
Of the teachers who responded to the survey, nearly 80% said they felt angry, frustrated, stressed, overwhelmed, or worried about teaching in the pandemic. A sizable minority of teachers (35%) also said they didn't have enough time to prepare for their current workload. About 40% of Panhandle teachers also said they didn't feel like their district was listening to educators.
"I think that's pretty accurate," Muggli — who, in addition to leading Gering's band program, serves as the president of the Gering Educators Association — told the Star-Herald. "I also know that this is new. We've never had to do this before."
Additionally, a survey of Scottsbluff Public School teachers released in October said that about 40% of teachers and staff were uncomfortable returning to in-person class if the local risk dial remained in the red.
NSEA accompanied the release of its survey results with an impassioned call for Gov. Pete Ricketts to impose a statewide mask mandate. The call was met with continued resistance on the part of the governor who's said that educating people about wearing masks is a more effective strategy.
But this strategy hasn't always proved successful in social studies teacher Salomon's classroom.
"The mask-wearing hasn't been the greatest," Salomon said. "So, one kid tested positive than all the kids around him usually had to go into quarantine."
Salomon said he's tried to get as many kids as possible in his classroom to wear masks, but the politics intertwined with face coverings has made it particularly difficult.
"I took the approach with the COVID stuff that it has nothing to do with politics. It's just a virus. The mask-wearing is the best way because of how close we are to each other," he said. "But sometimes that was an uphill battle."
At the start of the new year, Scottsbluff and Gering schools both began their semesters in-person. Since the high water mark in October and November, cases of COVID-19 have fallen off. But it's unclear what the lasting impact on teachers will be. For one, the NSEA survey in October reported that 20% of respondents were considering leaving their jobs by the end of the school year.
Whether that number will increase or decrease remains unclear.
Olivia Wieseler contributed to reporting and writing this article.