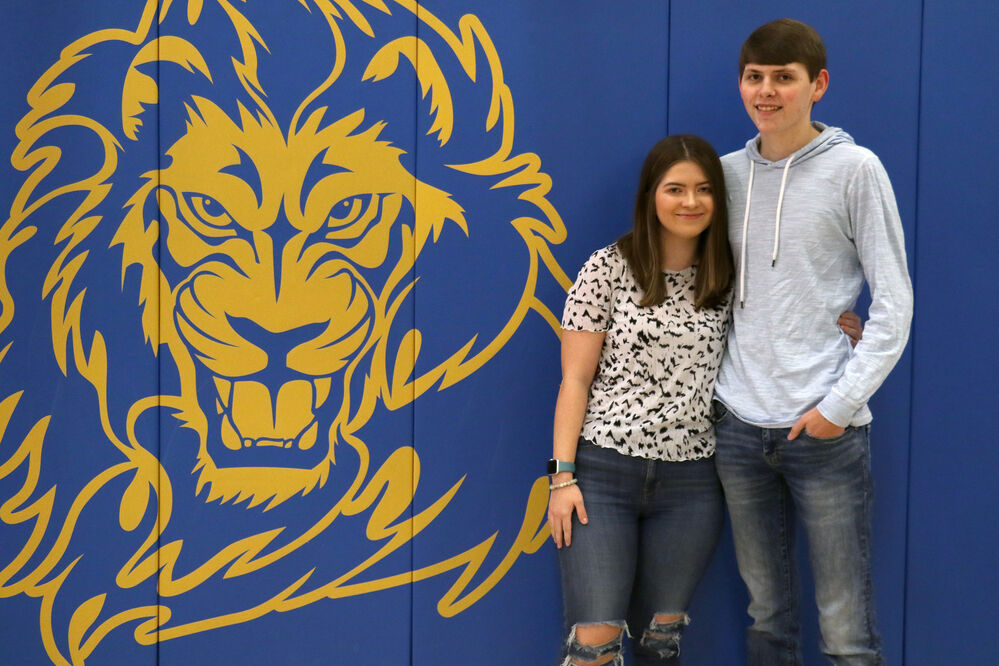 It's every high schooler's dream to don a cap and gown and walk across a stage to receive their hard-earned diploma. Not many would even fathom receiving two diplomas within a year, let alone within a week.
That was the reality for two Morrill seniors who graduated with their associates degree from Western Nebraska Community College last week, before graduating with their high school diploma Saturday.
Dylan Cecil received his Associate of Science degree in pre-professional nursing, while Madyson Lees received her Associate of Arts degree in psychology.
When they first began taking dual credit classes through WNCC's CollegeNOW! program in their second semester of sophomore year, neither of them even considered actually finishing their degrees in high school.
"We had a really good relationship with the counselor who used to work here at Morrill High School," Lees said. "And … I don't really know how we got on the topic, but he's like, 'Well, you know, you could get your associates degree in two years right now?' And we're kind of like, 'Oh, no, we can't do that.' And we ended up doing it. So, it kind of was just one of those things that we talked about and didn't actually think we would do until we got further along."
At the time, the two students wanted to take the typical classes that are required at most colleges and try a few things out to see in what field they might want to pursue a career. After they took a few summer classes, they sat down with their counselor to start making a plan for classes within a specific degree program.
Next thing they knew, they were heading down to Scottsbluff to walk across the WNCC stage.
"For me, I felt like the semester didn't feel like my senior (year). It didn't feel real, didn't feel real, then all of a sudden, we're walking the stage of WNCC, and I was like, 'Oh my God, this is real. This is happening,'" Lees said. "It was kind of one of those things like submitting the last assignment was like, 'Yeah, right. It always feels like the last assignment.' So, I was kind of waiting for more, and then we finally (were) sitting in the chairs in our cap and gown at this graduation ceremony for us. It was really surreal."
Cecil said, "I remember sitting down at my computer for the very first assignment for my very first class then fast forwarding, it felt — it just went by really fast. It always felt like you were going to that endpoint. … It's really empowering, having that head-start and everything."
Despite getting their associates degrees before their high school diplomas, Lees and Cecil said they didn't necessarily feel different from their peers.
"We don't feel any different. We're still really excited for graduation and everything, but we've also kind of been through it before," Lees said. "That made the WNCC graduation more intimidating, because everyone else had done that before, and we were like, 'It's kind of our first time.'"
One of the classes both Lees and Cecil took was a certified nursing assistant (CNA) course, in which they got their CNA licenses. After that, Lees began working nights full-time at the Western Nebraska Veterans Home, while Cecil worked part-time.
The two not only managed to do their jobs while taking college-level courses, they had other high school classes to complete as well and also remained active in many school activities. Both were involved in One Act, student council and FBLA, and Lees was a cheerleader. They also began a peer mentoring program together.
"We kind of felt like we had learned a lot in our time, so it was something that we started passing on to people, and then we just made a way for that to continue whenever we're not here anymore," Lees said.
Despite all the hard work it took them to stay involved and complete their dual credit courses, Cecil and Lees stressed the major advantages of taking college courses in high school.
"It's a great way, even if you don't want to get a degree, I think taking the classes and exploring all those interests … give you a chance to step out and be like an adult and explore those interests," Lees said. "I feel like I had a much better grasp on what I want to do with my life after taking some of these classes because I got to weed through what I did and didn't like really quickly. So I think that really helped, and I think it really is a great thing for people to do."
"I definitely recommend getting your degree," Cecil said. "However, I think even taking a few classes that pique your interest really help you determine whether your future career is right for you."
For Lees, the biggest takeaway was her ability to accomplish anything she put her mind to.
"I realized I can do anything I put my mind to. Two years ago, I started this thinking, 'There's no way I'll do it. That's absolutely crazy. We'll just see how far we get.' Now I'm here. I've walked the stage. I'm getting ready to walk the stage again. And it's really just — it's crazy to be here. It doesn't feel real, and it's really inspiring for me to realize I can go and decide I want to do this really ambitious career, because I know I can do it.
"I think a lot of people assume you have to be really smart to do it (graduate with an associates degree) and you don't. … Not that we're not smart, but I feel like the assumption is that we're really, really smart — and anybody can do it. You really just have to put your head to it."