COVID-19 testing available through TestNebraska has ended in the Panhandle, as well as the rest of the state, bringing to a close one of the key ways people accessed free testing.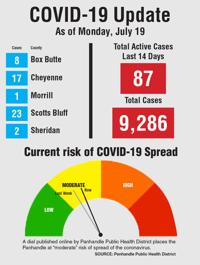 End of TestNebraska means significant decline in free testing options for COVID-19
Panhandle Public Health District Director Kim Engel announced that testing through TestNebraska had ended on Sunday, July 18. That's because the State of Nebraska's contract with TestNebraska ends on July 31, and in order to ensure that testing and results had been processed by that date, testing ended earlier in the month.
Testing will continue to be offered throughout the Panhandle, however, free testing is limited. Community Action Health Center is the only option for free testing, which is available to asymptomatic people. Testing is offered 8 a.m. to noon, Tuesdays, Wednesdays and Thursdays. Online signup for a testing slot is available: https://tinyurl.com/yydxr5mc
Testing continues to be available at no cost to those who travel outside of the Panhandle, which can be accessed by calling PPHD, 308-262-5764.
Testing options are available at Alliance Community Pharmacy, Morrill County Community Hospital in Bridgeport, Box Butte General Hospital in Alliance and Regional West Physicians Clinic. Most are offering self-pay or insurance billing options.
"Even though that free testing access (through TestNebraska) is no longer available, don't let that stop you," Engel said.
You can also call your health provider. Most insurance companies are covering the cost of COVID-19 testing. Information regarding testing is available on the PPHD website.
Self-testing options are also available at some pharmacies.
"Testing looks a little bit different, but the majority of tests were happening within our communities and our local pharmacies, anyway," Tabi Prochazka, deputy director of health promotions at PPHD, said.
The ending of testing isn't the only change that will occur this month. Starting on July 30, PPHD will begin only reporting Scotts Bluff County case numbers. Effective June 30, Gov. Pete Ricketts ended his state of emergency declaration, which had been in effect since March 13, 2020. It resulted in an end to directed health measures, but also in data tracking. The state had already ended its dashboard, which showed case numbers and other data throughout the state.
PPHD had 30 days to continue its tracking, but the comprehensive data collecting and reporting by county will discontinue. Data will continue to be reported, just on a cumulative level for data such as cases in the Panhandle, vaccination rates and other information. Scotts Bluff County specific data will be available because its population is above 20,000 residents.
"We do think it's more informative to make it (data reporting) as local as we can, but we have to stay within those state guidelines," Engel said.
Asked if she was concerned about the lack of free testing available, Engel said that she was. "Overall, I'm more concerned about just the total picture of what's happening with the changes, how the data is being recorded and the ending of the emergency declaration," she said. "I worry that people will think we really are over this and it's behind us. And, I wish that were true."
Due to low vaccination rates in the Panhandle, Engel said there is concern that the Panhandle may be susceptible to another increase in COVID-19 cases. As of Monday, the Panhandle reported 32% of the population had been vaccinated. The highest rates of vaccination on the county level are in Banner and Garden counties, both reporting 37% vaccination rate.
Starting in mid-May, PPHD reported case numbers of 20 or less, but has seen those case numbers doubling in July. Beginning with the first week of July, Panhandle has seen an increase in cases. Panhandle Public Health District reported 51 current cases of COVID-19, and its positivity rate last week reached 21.7%.
Last week, PPHD reported 47 cases of COVID-19 had occurred.
Jessica Davies, assistant health director, said rising case levels have generated some questions about variants circulating in the Panhandle.
"We know that many people have asked us about the Delta variant, and where that puts us in terms of that (case level). Our first Panhandle case with the variant was actually in April, and we've seen cases with the variant since that point.
We know that with the Delta variant, that it (COVID-19) can spread more easily and is more contagious, and also from that the viral load, is much more (than with previous variants)."
Davies said that concerns about that increased viral load reinforces the importance of getting vaccinated. According to figures from Dr. Anthony Fauci, White House chief medical adviser during the pandemic, 99.2% of U.S. COVID deaths in June were among unvaccinated individuals.
Dr. Matthew Brunner, chief medical officer at Regional West Medical Center, was cited as encouraging people to get vaccinated, quoted as saying that the vaccine is safe and the vaccine's efficacy is excellent. People 12 years of age and older can be vaccinated, and Engel said that those youth who can be vaccinated should consider doing so as soon as possible to ensure they can complete their vaccination soon after school would start for the upcoming 2021-2022 school year.
"If you get it now (the first dose of the vaccine), shortly after school starts, you're fully protected," she said.
Engel said the majority of the persons who have contracted COVID-19 are unvaccinated, however, there have been some cases among people who are vaccinated.
"To my knowledge, we haven't seen any serious illness (among those vacinated individuals)," she said.
Hospitalizations continue to occur, with four people hospitalized due to COVID-19 as of Monday's reporting. Four deaths are pending verification. As of Monday, PPHD reported 197 deaths had occurred since March 2020. With four deaths pending verification, the Panhandle will exceed more than 200 people confirmed as having died COVID-related deaths.
The increase in cases has resulted in the risk dial climbing again, still in the "moderate" risk level. This week, the dial saw an increase again, hovering near the middle of the moderate risk level. On the county level, Scotts Bluff County continues to have the most cases, however, Cheyenne County follows close behind. Both counties are in the moderate risk level, joined by Dawes, Box Butte, Morrill, Kimball and Grant counties.
For more information about COVID-19 on the Panhandle level, visit pphd.org.