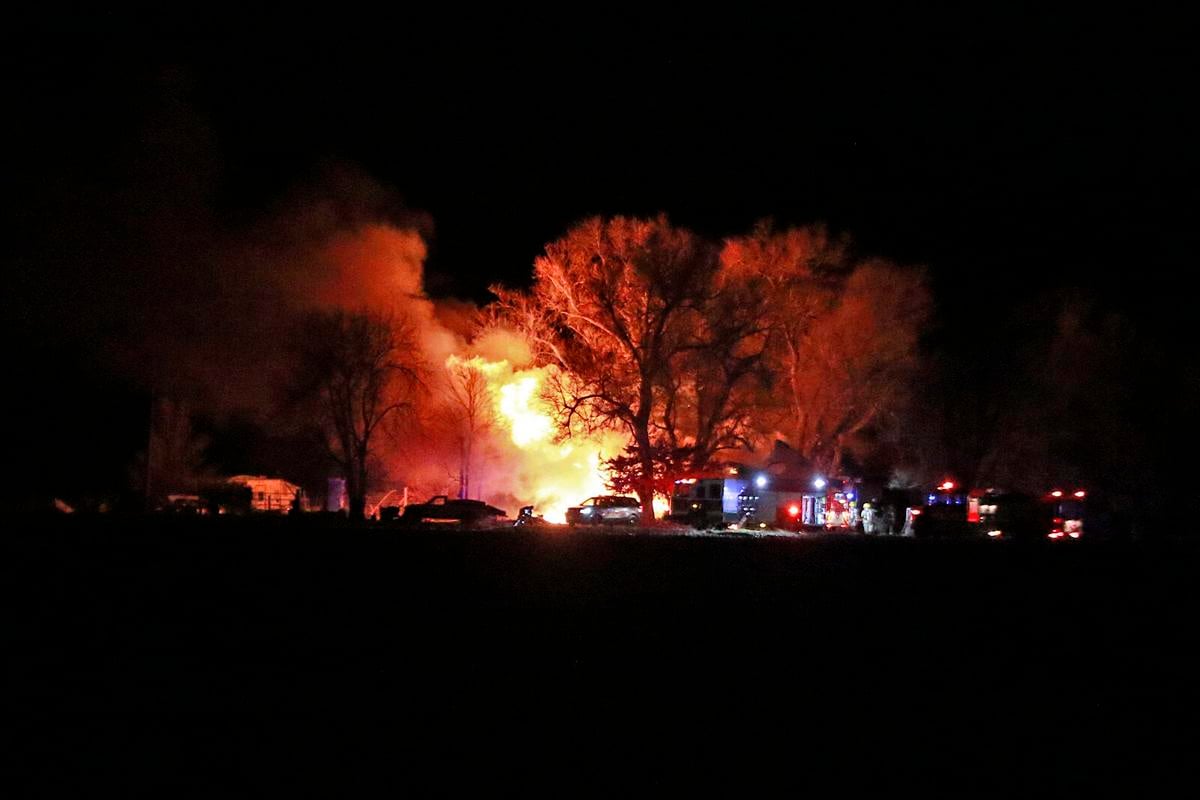 Three fire departments battled a fire west of Scottsbluff Sunday.
Scottsbluff Rural Fire Department, assisted by Gering Fire Department and Scottsbluff Fire Department, responded to the fire on Kolt Lane shortly after 12 a.m. Scottsbluff Rural Fire Chief Paul Reisig said the home is located about one-eighth of a mile south of where the former KOLT radio station was located. The home had been fully engulfed by the time firefighters arrived.
Initially, Reisig said, a call had come in reporting smoke in the Huntsville Addition, resulting in the mutual aid call. However, due to the narrowness of the road, Reisig said, firefighters had to lay large diameter house and truck in water to battle the blaze. Scottsbluff firefighters on Engine One were stationed nearest the house and water was pumped from a Gering Fire Department truck about 30 feet to the home. He said that Scottsbluff Rural and Gering firefighters hauled water using portable tanks. 
Reisig estimated that firefighters hauled about 28,000 gallons of water to battle the fire. 
"It was quite a tanker-tender relay," he said. "...Everyone worked hard and everyone worked well."
Firefighters were on scene until about 6 a.m. Sunday morning.
No one was in the home at the time of the blaze. Riesig said the home is owned by Robert Avila Sr., but serves as a second home for the family and is not regularly occupied. Avila's son, Robert Avila Jr., stays at the home on occasion, but he was not at the home at the time of the fire. Minor injuries were reported among two firefighters and a deputy was treated for smoke inhalation. 
Scottsbluff Fire Marshal Anthony Murphy investigated the fire, Reisig said. He attributed the fire to an improperly installed chimney. At one time, Reisig said, the home had a flat roof and a gabled "false roof" was installed over the flat roof. Piping between the flat roof and the gabled false roof appears to have either deteriorated or it wasn't insulated properly and sparks caught the false roof on fire. 
Reisig said that the fire serves as a reminder to people to check their heating systems, especially wood-burning stoves. With the long, cold winter, he said, buildup can occur in the chimneys or other problems can exist and fires can happen.
Between all three departments, Reisig said, close to 30 personnel were on scene. Scottsbluff Fire had its Engine One on scene, Gering Fire had four tanker trucks and Scottsbluff Rural also had four trucks. Morrill Fire Department also responded, providing an illumination apparatus and bringing a truck to haul that equipment.  
Firefighter Ministry also responded, and is now providing aid, according to Carissa Schank.
Damages were estimated at $28,950, with the home totally destroyed, and $5,000 in contents.