Nebraska Public Power officials have finalized a route for a new transmission line that will serve Scottsbluff residents. Construction is expected to be completed in spring 2025, according to information presented by NPPD Project Manager Paul Brune to the Scottsbluff City Council during its meeting Monday.
The Scottsbluff Power Project will consist of establishing a new 115-kilovolt (KV) transmission line between two load serving substations. Bruno said that the electrical load in the community continues to grow, "and we want to make sure we have adequate capacity for the future. That's one of the things that we monitor, and that was one of the drivers (of the project."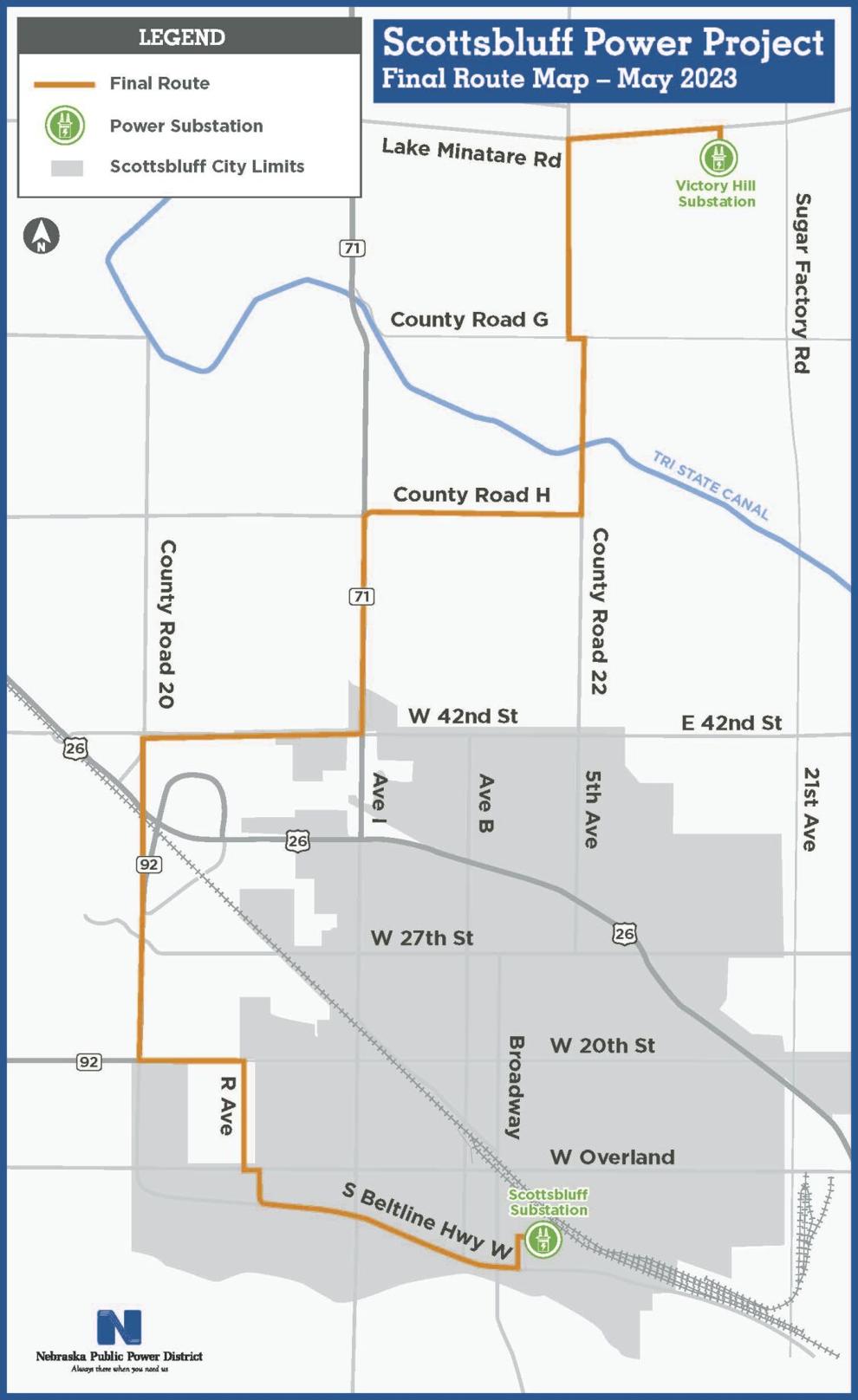 The project will add capacity, while also improving reliability. Currently, NPPD's Victory Hill substation and the substation by its service building are connected by one existing transmission line. The addition of a second transmission line will improve the reliability and resiliency of the system.
A map of the ten-mile route shows it mostly in rural areas, aside from portions on South Beltline Highway, Avenue R and West 20th Street. The route will follow Highway 92, W. 42nd St., Highway 71 and Couty Road 22 until it gets to Lake Minatare Road, where the Victory Hill substation is.
NPPD began the process to determine its route several months ago, using a three-step process that began in September. Multiple proposed routes were under consideration and routes were narrowed down to a preferred route and an alternate route by November. The final route was identified in March.
As part of the process, potential landowners who would be impacted were notified of public hearings and open houses to offer feedback. Two public open houses were held in the area, as well as a virtual open house. During those open houses, more than 400 people attended and feedback was gathered from more than 300 people. During the selection process, engineering surveys, desktop surveys and input were used.
Landowners who were identified along the proposed routes have been notified. Those landowners who lived along other routes that were considered will also be notified.
Right-of-way agents, surveyors and others will be working in the community in the upcoming months as NPPD works toward construction.
"The first step, from here and now that we have selected the route, is to start meeting with the landowners," Brune said.
Accessing the properties to begin the surveying process will begin to start designing the line and mapping. As the engineering process is complete, crews will be moving in equipment and materials.
Currently, construction is slated to being in the fall of 2024.
"We'll work through the winter and the spring time," Brune said. "I'm guessing the April-May timeline of 2025 is when we plan to be complete with the project."