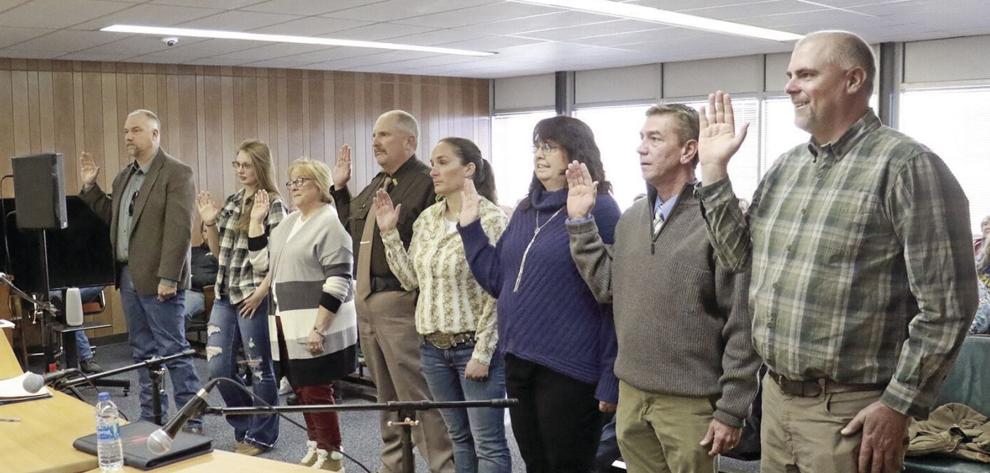 The people of Banner County — which boasts a population below 700 people — accomplished something extraordinary in November 2022. With eight elected positions on the ballot, voters put new faces in six of them, several via write-in votes.
Those elected officials were sworn in on Thursday, Jan. 5, in a packed courtroom. More than 50 people showed up to witness what some called the beginning of a new Banner County, many of which were obliged to stand when seating ran out.
"It's a new year, new beginnings, new changes," said Banner County resident Barb Cross. "I think we're all ready to support the new people, and that's why we're here."
Among those sworn in, Banner County Clerk Katie West said, "I've never heard of this happening, not on any level. Everybody wanted a change, and they really showed it."
West, who emerged victorious over incumbent Lisa Cross, ran as a write-in candidate. And she was not alone; new Banner County Commissioners Laif Anderson and Robin Darnall also ran successful campaigns as write-ins.
While it's uncommon to see a single write-in candidate win an election, it's nearly unheard of to see so many at the same time win.
"It's hard to get even one write-in candidate elected. We did three," said Banner County resident Deborah Genz. "What we did is unprecedented. I hope people take notice and everybody figures out that if you get together, you can do it."
Genz became a leading voice in the county's shakeup, much of which can be traced back to events that took place in December 2021 and came to light early in 2022.
In April 2022, County Treasurer Monty Stoddard, County Assessor Bernice Huffman, and County Clerk's office employee Caily Reece were convicted of attempted public indecency, a Class III misdemeanor. Charges stemmed from the three being caught consuming alcohol and having intercourse in the county courthouse.
The incident lit a fire in Genz and many other Banner County residents, who began to attend commissioner meetings and organize campaigns for change.
"I had to say something, because this is our house," Genz said, gesturing at the courthouse around her. "What you do outside the house is your business, but what you do inside my house is my business."
"She's the little mouse that roared," Banner County Treasurer Kathy Natale said. "No one knew who she was, and then she gathered up all the people."
The county's grassroots efforts were successful, culminating in a significantly altered slate of elected officials. Some, like West, have never held public office before.
"I had a bunch of people ask me to run, and I put it off for the longest time," she said. "Finally, I realized that Banner County needed a change, and I needed a change, and it seemed to be good timing."
Though newly elected to the role of treasurer, Natale served as deputy treasurer for many years previously, and became interim treasurer after Stoddard's resignation in June 2022. The role was later given to Chelsea Mossberg, who ran as a write-in against Natale in November's election.
"I'm glad to be back and I'm ready to do what I can for everyone who supported me so much," Natale said. "I'm honored and humbled to be here."
Incoming Banner County Assessor Kacy Krakow shares that enthusiasm.
"I'm excited for the opportunity, and I look forward to getting to work," she said.
Genz and Natale expressed hope that those who first heard of Banner County in the aftermath of last year's events will get a chance to hear the new, more powerful story that its citizens have forged for themselves.
"This is a good county with good people, and when things went wrong, we took our stand," Genz said.
"This story is worth hearing," Natale said. "How in a little underdog county, people gathered together and showed that they care about integrity."