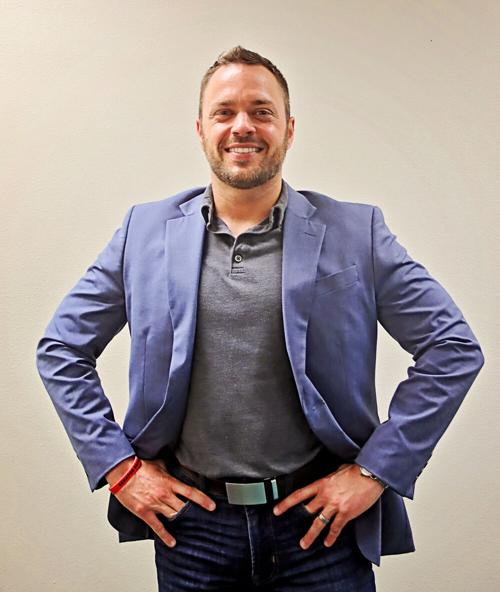 Breland Ridenour may not be a household name, but he's hoping Nebraskans will take notice of him as he has thrown his hat in the ring for the race for governor.
Ridenour, of Omaha, announced his candidacy in mid-May. He traveled to Scottsbluff this week, saying he'll stay two days as the Scotts Bluff County GOP organization hosts a meet and greet for him Saturday. His visit to western Nebraska also included a trip to Gordon to appear on a local radio station, in addition to stops at Scottsbluff area media.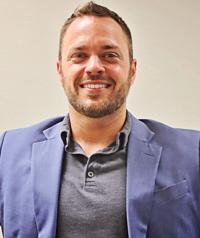 Breland Ridenour looking to be state's next governor
Breland Ridenour, Republican candidate for Nebraska governor
"I'm just trying to get out here and meet as many Nebraskans as possible," Ridenour, who has a return trip planned to Rushville in the next month, told the Star-Herald. "... It's a huge difference between west and east. I absolutely notice that, so the best way I feel like you're going to understand people is to spend time with them."
Three other Republicans have officially joined the race for governor, hoping to succeed Gov. Pete Ricketts. Sen. Brett Lindstrom, of Omaha, announced Thursday, July 15, that he will seek the 2022 Republican gubernatorial nomination. University of Nebraska Regent Jim Pillin of Columbus and Falls City agri-businessman Charles Herbster of Falls City are also seeking to be the state's next governor. Former Gov. Dave Heineman has also said he is considering entering the race.
Ridenour, who is an IT manager for Skarda Equipment, touts himself as "running to make a difference, not a career move." He previously considered running for state legislature, but hasn't held public office previously.
He has always been involved in politics as an informed voter, he said, and he remembers, growing up, "we've always had debates in the family home, about politics, where we believed and where we stood and how we believed."
As a professional in the IT field who has worked for the U.S. Department of Defense and the University of Nebraska Medical Center, he believes the governorship will be a good fit for him.
"The governorship is more my style, more of that, business logistics management, boots on the ground kind of thing," he said. "Leadership is what I excel at.
"...But, why I really wanted to run is because I haven't seen the candidates ... that I believe represent me and many Nebraskans that I know. And those are candidates that are willing to stand up, with a strong backbone, for what is true, what is right and honest."
He said he is tired of the old adage that politicians can't be trusted. He describes himself as a middle class, working man who can relate to Nebraskans more than the other candidates in the race. He describes them all as "good guys, but they're not the right guys. I believe I'm the right choice for Nebraska."
Ridenour said he sees the governor's role as standing inbetween the state and federal government — though he acknowledges not everything the federal government does is bad. However, he said he believes, as cited in the Tenth Amendment, states have the right to govern as they want. Constitutional issues, such as upholding for the rights to freedom of speech under the First Amendment and the right to bear arms under the Second Amendment, are key issues that drove him to consider running for governor.
"I'm an individual who loves liberty," he said. "I like being able to live my life and not having the government constantly intervene with one thing, you know. I'm a supporter of the American dream."
Because he is not a career politician, Ridenour said, he is able to work across the aisle in ways others may not be willing.
"I advertise the 360-degree perspective; that's something you'll hear from me," he said, saying he is good at bringing people together. "And, what that means is that you look at an issue, and you look beyond the issue. What is the source of the problem? You look at it from different angles, from other perspectives of other people — whether it be experts, whether it be people that just have knowledge of an issue, maybe it's a simple taxpayer."
As a candidate, he said, he doesn't have any political agendas based on corporate reputations, family reputations or political reputations, making him able to say what he believes as he campaigns. He describes his campaign as built out of grassroots support and "the only pocket I'm in is Nebraskans." He's also a young man — 33 years old — and cites his energy and passion as advantages.
He has been speaking to Nebraskans as part of his candidacy, learning about topics along the way that affect constituents such as sitting down with a farmer who told him about the effects of technology in agriculture. GOP party organizations across the state have also been supportive. He said he anticipates he'll spend more time traveling the state, as well as connecting with other individuals like legislators and political officials not only in Nebraska, but outside of Nebraska.
"There's a lot of work that needs to be done, not just as a candidate or political official," he said. "I'm still going to fight for what I believe is right, and what is best for Nebraskans."