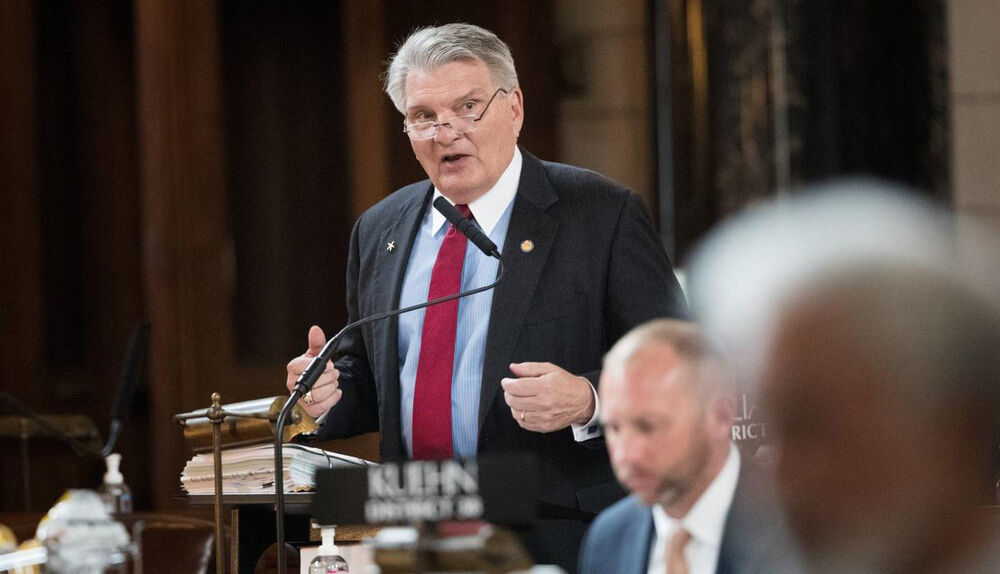 Over the 90-day Legislative session, State Sen. John Stinner, of Gering, will be busy.
After winning an unopposed election to continue leading the Appropriations Committee, Stinner said his top priority for 2021 will be to get a budget out.
"The speaker has asked me to expedite the budget as best I can, in this COVID situation," Stinner told the Star-Herald.
In this biennium or two-year budget cycle, Nebraska finds itself spared — so far — from the budget shortfalls of other states such as Wyoming. Instead, the economic contractions brought on by COVID-19 have created a lot of unknowns, but have not put the state in a situation where cuts are required.
Last week, Gov. Pete Ricketts outlined his recommendations for the budget in the State of State address. Ricketts recommended the legislature produce a budget that prioritizes property tax relief, public safety (in the form of a new state prison), licensing reform for military families and broadband access.
"What people have to understand is the budget that the governor gives the legislature is his recommendations," Stinner said. "We modify those, and many times we're within 90% to 95% of what he recommends. But the budget is really the legislature's."
In all, Stinner introduced 13 other bills for consideration.
One bill, LB 142, would send $500,000 to the Nebraska Cultural Preservation Endowment Fund. That funds things like museums and theaters, such as the Western Nebraska Arts Center.
"With the COVID situation, I felt like that was important. It restores the level that initially was placed. We had cut, actually cut it completely out for a budget cycle when we had a shortfall in revenue."
He said this bill restores the endowment to the full amount.
"When we talked about improving our way of life, the arts have to be part of that," Stinner said.
Stinner was also bringing a bill that brought additional funding to the Museum of Nebraska Arts in Kearney.
"They're doing a major building project and this will be something to match their fundraising efforts," Stinner said. "They'd like to really make it something that you'd want to get off the interstate to look at."
Many of Stinner's other bills are focused around early childhood.
In September, Stinner's Appropriations Committee hosted a collection of experts ranging from university administrators, policy writers and child care industry leaders. Each gave testimony about child care and its effects on the Nebraska workforce as the committee launched a study examining the pandemic's fiscal impact on the Nebraska child care system.
In short, the experts testified that Nebraska's child care system is inadequate despite its importance to parents and the economy. The pandemic was likely exacerbating this problem, they said.
To address this problem, Stinner introduced an increase in funding to the Sixpence program.
"We have a very successful Sixpence program in Scottsbluff. So, hopefully, those funds will get out and we'll have more Sixpence programs throughout the state," he said.
Stinner also introduced a bill to address $100 million in building maintenance for the state's university system. The bill allows a portion of the maintenance cost to be bonded.
"That's a major bill for the university system to deal with something that we've looked at for six years that I've been here and probably even before that, I'm sure of it," he said.