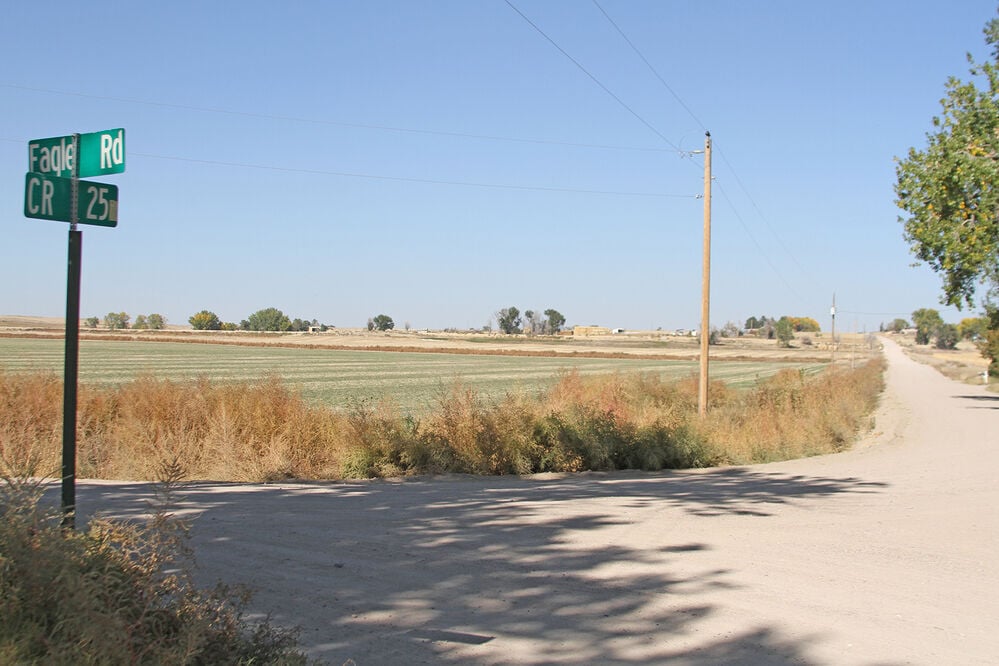 Area resident Bob Sorok wants drivers to slow down on Country Road 25.
"The big problem is we have speeders who fly north and south on County Road 25, doing 60, 70 mph," he said.
Sorok said he's concerned he or somebody else may be struck by a vehicle while on his daily walks with his dog, when his young cousins walk to throw rocks in a creek near Eagle Road or when he pulls out of his driveway.
"There's a couple of times if had pulled out, I wouldn't be talking to you right now," he said.
Sorok said most of the people speeding live in the area, and while its worse in the evening, there's really no pattern.
"I'll be out working on the ranch on the weekend they'll just be going north or south, just cookin' it," he said.
A couple weeks ago, Sorok asked the county to install stop signs at the three-way intersection of County Road 25 and Eagle Road.
Scotts Bluff Board of County Commissioners discussed adding stop signs Monday evening, but were stymied by requirements for adding those kinds of signs.
Linda Grummert, the county highway superintendent, said stop signs can't be used for speed control according to the Federal Manual on Uniform Traffic Control Devices.
"Stop signs cannot be used to control speed," she told commissioners several times at the meeting.
Grummert and Assistant Roads Superintendent Steve Baird presented data from car counters put out for a week at the intersection, finding an average of 135 cars drive north and south on County Road 25, and 119 drive east and west on Eagle.
Grummert said the counters record wheelbases which determines the number of cars and type of traffic on the road. The measure also gives an estimated driving speeds, which were above legal limits.
"Eighty-five percent are driving 67 mph," Baird said.
Chairman Ken Meyer asked if they were able to lower speed limits, which are 50 mph on gravel county roads according to state statute. Grummert said, "You're not supposed to lower it to more than what 85% of traffic is traveling."
In addition to not using the sign as speed control — which she said falls to enforcement and speed limit signs — the intersection didn't meet other thresholds to warrant a multi-sign stop, such as obscured views of the intersection, five accidents in a year or 300 drivers in an hour.
Commissioner Mark Reichert asked, "Why do we have to wait for an accident; until somebody gets hurt before we do something?"
Grummert responded that the traffic count is too low.
Commissioners asked if putting a stop sign underneath the double arrow was on the table, and Grummert said any stop-sign resolution would require an engineering study, which would run the county $2,500.
"You can't just put a stop sign there," she said.
Commissioners requested that Grummert consider additional speed limit signs.
Commissioner Charlie Knapper asked if the county is at risk for lawsuits if something happens.
"We know there's excessive speeds out there. We've now had a homeowner complain about the danger out there and we say 'we're not going to do anything.' What kind of liability do we have there?"
Grummert said in an interview Tuesday that adding stop signs, especially more than one, is a balance.
"You can cause accidents by having an incorrect installation," she said.
Grummert cited research Tuesday from the City of Fort Collins which found people intentionality violated stop signs installed as "nuisances'" to find other routes or "speed breakers."
"In those locations where vehicles do stop, the speed reduction is effective only in the immediate vicinity of the stop sign, and frequently speeds are actually higher between intersections," the report said.
Grummert said she's not sure how much additional signage would fix speeding problems, saying she's not sure how to fix human nature.
"I don't want to do the wrong thing out there," she said. "We'll take a look if adding additional signage reminding people that the speed limit is 50 mph will work, but I just don't know."
Sorok, who couldn't attend the county board meeting Monday night, said he understood the county's hands were tied. He said he appreciated the the Scotts Bluff Sherriff's Office's efforts to find fast drivers.
Deputy Chief Troy Brown said catching speeders on county roads "is a hit or miss, and so far, we've missed."
He said if there's a specific traffic complaint, the area is put on the books for 10 days for officers to patrol between assignments. He said there's no area particularly prone for accidents or speeding, except for Stegall Road.
"Out-of-town traffic treats that 55 mph like 85 mph," he said.
Brown said deputies do their best, but enforcement in a big county is a challenge on the many gravel roads.
"Unfortunately, they see us coming," he said.
Sorok said he's just asking people to slow down.