A local military veteran and his family are beginning a new chapter of their lives in a new home and community thanks to the support of a national nonprofit and countless local supporters.
Friends, family and community members gathered to welcome and honor Army Staff Sgt. Timothy Kramer and his family as they received the keys to their new home in Minatare on Saturday morning. The house was built and donated to the Kramers by the national nonprofit organization Homes For Our Troops in recognition of the great sacrifice made by Kramer during his military service.
Kramer was injured by an improvised explosive device on Aug. 6, 2006, while on his second tour in Iraq. Kramer completed his deployment, but after his return to the United States, his health began to decline. He suffered a stroke in 2009 that detrimentally affected the use of his left hand and foot and resulted in bilateral hearing loss, seizures and traumatic headaches.
Saturday's ceremony was the end result of a years-long process that Kramer initially did not expect to reach fruition. He first heard of Homes For Our Troops from a Veterans Affairs caregiver during his recovery process and filled out an application with no real hope that his family would be chosen as a beneficiary.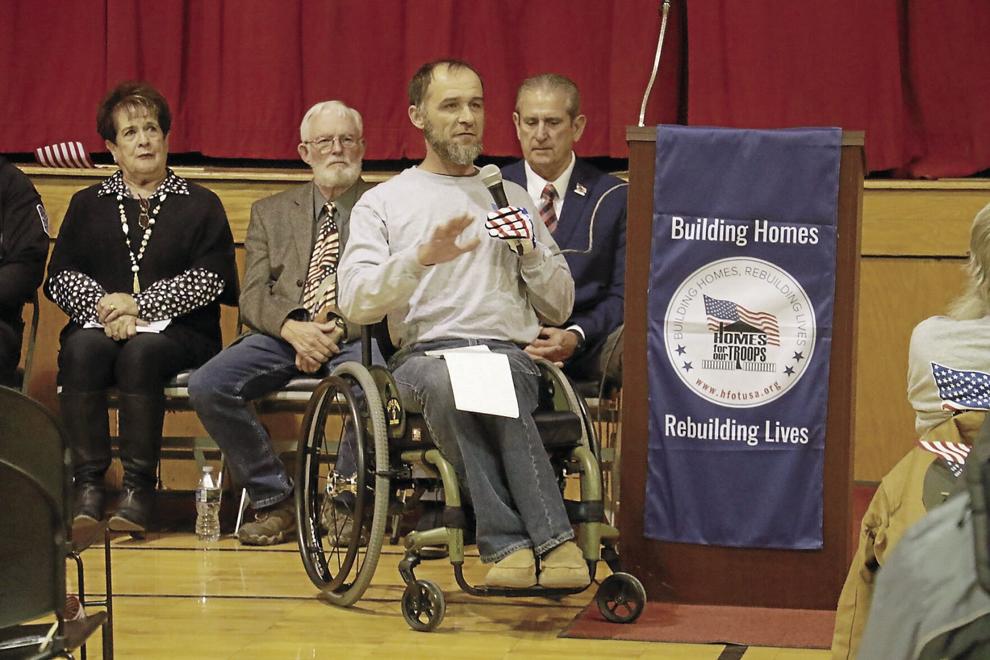 "We filled out the application and sent it off, but that sort of thing just doesn't happen to people out here in the sticks," said Kramer. "You don't hear about winning the lottery — that doesn't happen here — it happens on the east coast (or) west coast."
The Kramers waited for years after being told that the organization hadn't yet extended as far as Nebraska. Then one day in 2019 they received a call inviting them to a conference in Massachusetts. At that time, they had the opportunity to design every detail of the home that would become theirs in March of 2023, complete with more than 40 major special adaptations to provide a good quality of life and additional safety for Kramer.
"Out of all the organizations we've gone to throughout the years, this organization is one of the best," said Kramer. "They truly put the vets first. Not only the vets, but my family, too, and to me that means a lot."
The home presented to the Kramer family is the first built by Homes For Our Troops in the state of Nebraska and the 352nd home built by the organization across 45 states since the organization was founded in 2004. Homes For Our Troops has 69 additional building projects currently active across the country, all homes that will be gifted to injured veterans just like Timothy Kramer.
As Kramer and his family begin to settle into the Minatare community, he continues to fix his eyes on the horizon and continue to serve others in whatever way he can. His plans for the future involve starting his own organization to help injured veterans remain active and involved in outdoor activities.
"I'd like to start something for other veterans who have trouble transitioning into more of a disability lifestyle, injured lifestyle. Showing them that you can still go out and fish, go out and hunt, you can still do all those things. It just takes a little more time and a little more patience," he said.
Kramer and his wife, Cassidy, expressed their heartfelt thanks to every person involved in the process that led them to the home of their dreams, and made sure that they knew what it meant for them and their kids that will get to grow up there.
"As we write this next chapter, I just can't wait to see the memories we're going to make and the fun and laughter we're going to have in our little piece of heaven out there," said Kramer.